Quote:
Originally Posted by
Mohawk Dave
Hey Guys,

I have a CUCV M1009. Weighs in about 7,500 lbs. 6bt with a 47rh trans, 37" Baja T/As now, and 42"s later. Lots of expedition, but some difficult rock crawl, and fast-desert mixed in.

Anyway, I have a 242amg from a 90 HMMWV laying around, and can not get an answer in the chevy forum of how strong these things really are. Chevy guys tell me to go with a 205.

What do you guys think? Obviously the 242amg came in the HMMWVs for a reason, but I wanted pros/cons.

Thanks,

Dave
Here is a chart that I found in another forum that is no longer in print because New Venture gear maybe caput. Hopefully it is of value to the discussion.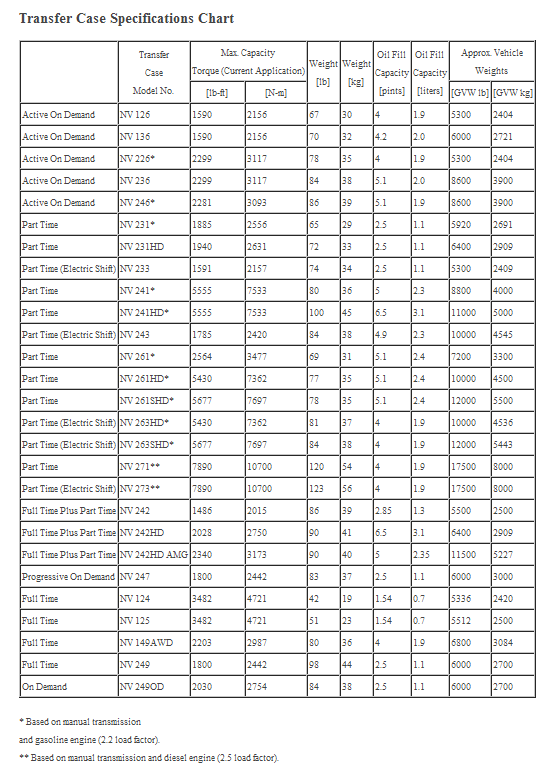 The New Venture Gear Numbering System
The first number is the number of speeds:
"1″ = one speed (high range). Example – the NV 136.
"2″ = two speeds (high range and low range). Example – the NV 241.
The second number is the strength:
The NV 241 is designated "4″ in strength – tougher than the
NV 231, but not
as heavy duty as their largest T-cases, which go up to a "7″ (eg,
NV 273,
for vehicles with a GVW of 17,500 lb).
The third number designates the type of T-case:
"1″ = part-time 4WD
"2″ = full-time 4WD with an open center differential plus lockable
part-time
option – like the Selec-Trac NV 242 of the Jeep Cherokee and Dodge Durango,
or the Hummer's NV 242HD AMG.
"3″ = electrically shifted.
"4″ = not currently used.
"5″ = Torsen-type differential.
"6″ = computer controlled multi-plate wet clutch, like GM's
AutoTrac NV 246.
"7″ = GeroDisc – like the Grand Cherokee's Quadra-Trac
II NV 247.
"8″ = not currently used.
"9″ = viscous coupling.
Looking at modifying my new 242AMG in my willys. Right now I'm in the fact finding stages of adding 2wd to it. Looks like predator offers a new case for $3500 that has a 2wd option. That seems way overpriced as my complete 4L80E 242AMG combo was $5000 from Rod Hall. A while back blue hummer outfitters had a disengage kit for around $800. Anyone have any experience with that kit or converting these cases to 2wd?