Well I had a 79 yota lifted, locked welded rear and so on, nice little rig, traded a guy for a 1992 cherokee lifted with welded diffs, and it was beat to death on the trails, the jeep was the trail armor! Well he said I had to start it by turning the key on and off 3 times and then actually start it, and that didn't work for me so he put in some gas down the TB and it started. Well I figured I didn't want to have to do this on the trails so I wanted to fix it and after replacing all the senors with junk yard ones (all gave me the same resistance) I have 3 sets of the sensors and found tdc a few different times for the distributor, lastly it gave me the no spark at all. So rather than replace a pcm and take a shot in the dark with that I found an 87 wagoneer with the Dana 44 with a engine that needs a head gasket. Everything else (so he says) works fine, and it has some sort of lift he says (I think a 2inch) but whatever its getting the 5.5 off the 92 so.....
Not to sure what I'm in for on the 87 as I have yet to see it in person, but he is bringing it to my door for 350 bucks, and for a dana44 its worth it (to me) I asked how he knew it was a HG and he said he did this and that, and got it to start and it blew out white smoke, and turned it off. So thats what I know there.
So with all that in mind, I have alot of converting to do. I do know that I will have to take off the intakes off both engines and swap out necessary sensors, and the distributor. I'm hopeful that the 87 tranny is good and will bolt to the 92 HO, and work and be fine. I'm going to do a little build thread if that is ok and lots of photos of the conversion. As for some reason I don't seem to find alot of info on it, and I'm on a very tight budget, like the type of budget that the wife says you have two jeeps, you don't need anything else figure it out. So with out further to do, Get photos of both "jeeps" will come and so will the all the fun info to go along with it and all my dismay that is to come. So any build info or anything of that nature bring on the info!!!
Here is a photo of the Wifes Cherokee, rustys 4.5 lift, rock sliders, dana44, is a 1987 limited, and has custom "c" channel bumpers, and sway bar quick disconnects, and lastly 33 mtrs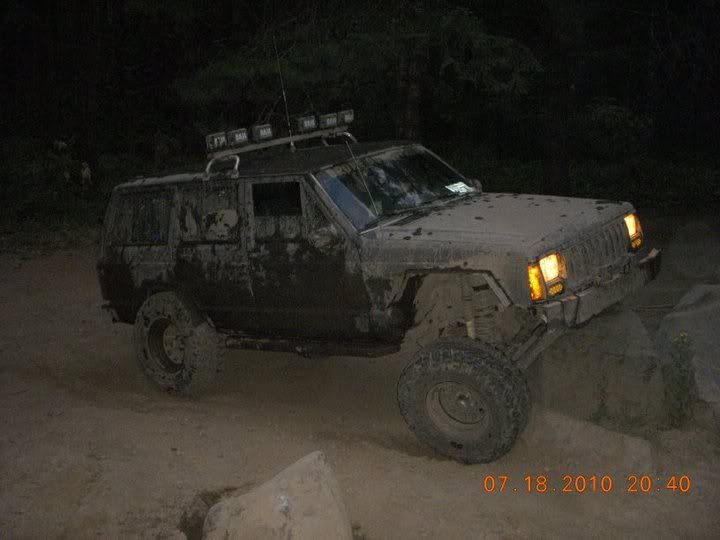 The donor was ummm adjusted in the front to allow 0 approach angle, so it had a zip tied grill, and no side markers, or turn signals. pterry easy removal, I also at this time removed the larger tranny cooler
Seems to have been leaking ever so slowly so this is getting pitched
Radiator removed
Next on the list of things to take off was the electrical. What a PITA So the CO2 has a 9/16 bolt holding on the wires all two of them, next was removing the wires off the injectors.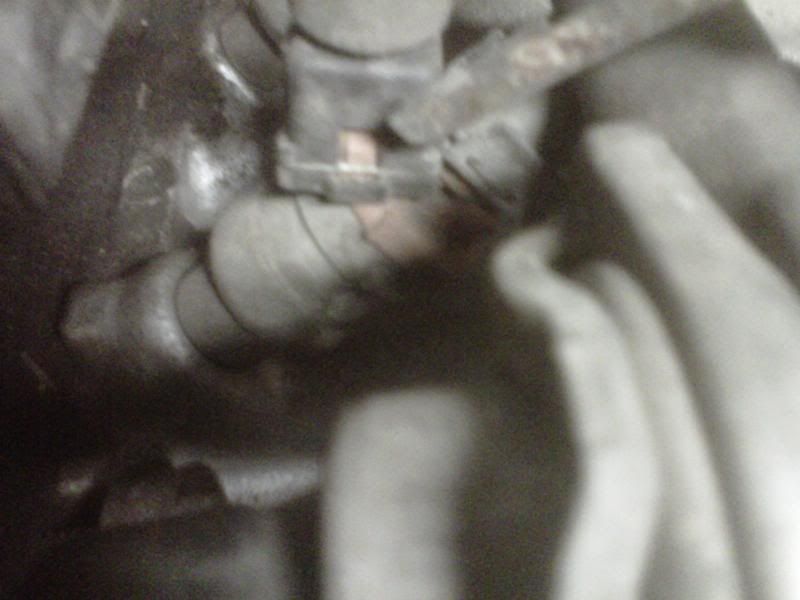 wires removed and calling it a night at 3am
I have yet to get the engine and tranny out, then I think I will remove the lift and front end and stay away from the disco front end. Or maybe I will run it, I don't know yet. I'm still on the fence about it. They don't seem bad, but yet its just another thing to have a problem with later down the road.
next day I had a person come and buy the dana 35 out the 92, making money back is always a good thing!!
So with the day to an end, well so says the wife at 730 (i just relized this is a new york club... sorry) Im in washington. Still though if you all dont mind I'll continue this build just so its here for you all. I have to borrow a engine lift, so I worked on the rear end, took off the hitch as I need it for the 1987, I took off the huge bumper he made off the 92 so that I can put it on the 87, and took off the tail lights to save them for the just incase, lastly I took off the 3inch exaust from the cat back. I do intend to use this on the 1987 but I worry about back pressure as it is a needed thing, it is stock till the cat, and then 3inch back. So it should be alright I think. I'm still on the fence on using the disco on the 87 or just transfering the front end off the 92 to the 87 as a unit.
Here is the 87 that is going to be getting the 92 HO lift and bumpers and rock sliders
below is the 3inch exaust removed and the rear springs off
here is the rear of the 92, I think I'm done back there, i dont think I need anything else off there, but i will remove the hatch
discovered that my extra transfer case is well, "used" and the output shaft housing is cracked
here is just a random view of the front end from under the 92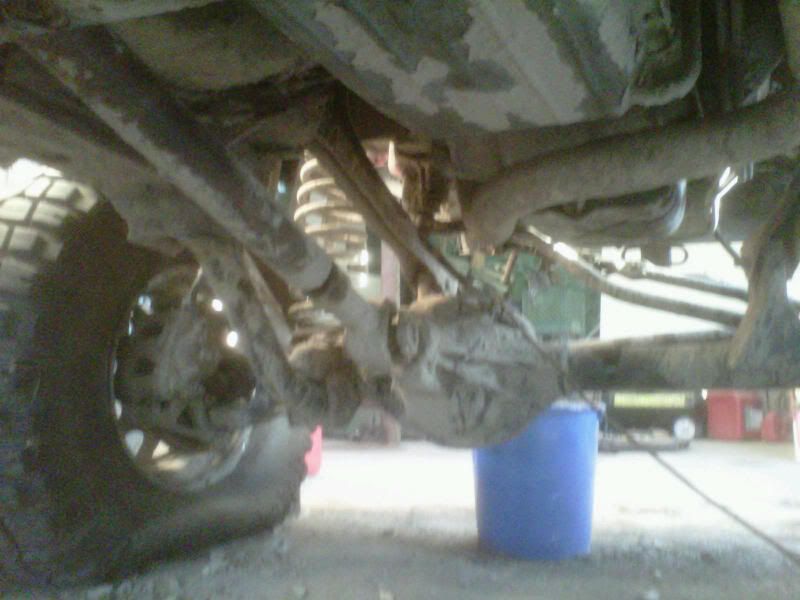 all in all I think I'm making good speed. Keeping the bolts and nuts together and making a plan on what I'm doing seems to work out better who would have thought??? I'm going to do a post on craigslist for a scrapper to come and get the 92 when I'm done with it, as it will not have axels so it will be a PITA to get out of here... I can't wait...