Amigos, desfortunadamente no pudimos participar esta vez en el WRC, ya que Tecate no los dejan participar en ningun deporte motorizado por una poliza interna de su nuevo propetario, la Heineken. Tecate intento buscarnos apoyo con OXXO pero no hiba ser sufficiente para correr en la categoria del WRC en la clase A6. Hibamos a participar en el Rally America Mexico que correr detras del los teams WRC pero no nos combiene aresgar que le pase algo a nuestro Peugeot que esta homologado por la FIA para correr hasta Dec 2013 (ya no hay mas Peugeots en Mexico). Aparte en esa categoria del Rally America Mexico no hay mucha cobretura que buscan nuestros socios y no aparace en la programacion del WRC wesbite.
Varios fans nos escribieron preguntando que si hibamos a correr de nuevo pero lamentablemente Guanajuato Capital perdio su representacion con su team local que fue el primer team local que compitio por primera vez en el 2008 y el 2010 logrando terminar en 2 poduims en la catergoria A6 del WRC
Gracias por su apoyo y esperamos estar presentes para el WRC MEXICO 2012. Por el momento nos sentimos muy agradados por poder representar a uds. y toda la gente de Mexico en el
KING OF THE HAMMERS, la carrera mas extrema en todo el planeta.
. Terminar esta carrera fue un buen comienzo del 2011. Gracias de nuevo por su apoyo.
OPRIMEN AQUI PARA ESCUCHAR LA ENTREVISTA QUE NOS DIO MARCO BARRAZA DE OFFROAD MEXICO.
ANIMO Y VIVA MEXICO!
Felicidades a todos los teams y ahi enviamos al Johnny Despain de nuestro team que fue apoyar a los gringos del Rally Team of Dreams de EUA. Ellos terminaron en el primer lugar en el Rally America Mexico que corre detras de los teams WRC.
Aca mientras seguimos preparandonos para el
BROXTON RALLYE DE PARIS que se lleva acabo el 26 de Marzo en Paris, Texas
Este rallye es muy famoso y dificil, y sera la primera vez que va un team mexicano con un vehiculo europeo homologado por FIA va a competir.
Aqui sale un video del Rallye de Paris
Les anexamos tambien los resultados del WRC MEXICO 2011 donde solo 18 teams de 24 terminaron las 22 etapas.
OPRIMEN AQUI PARA VER LOS RESULTADOS OFICIAL DE WRC MEXICO 2011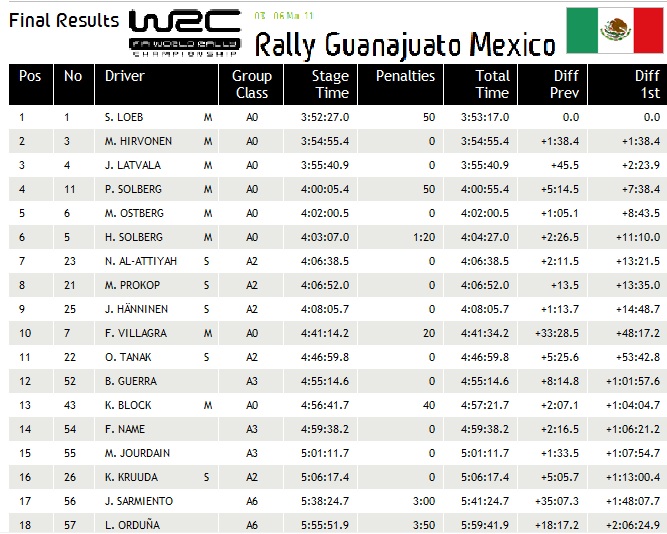 Aqui estan aparacen los resultados del RALLY AMERICA MEXICO 2011 donde solo 5 teams de los 10 enscritos sobrevivieron. Este rally que corre detras del WRC solo tuvo 17 etapas. Oprimen
AQUI PARA VER LOS TIEMPOS DE LAS 17 ETAPAS DEL RALLY AMERICA MEXICO