14885 N. 83rd Place in Scottsdale (right behind Costco) is the location offering demo rides on the new Zero Motorcycle.
Zero Noise
Zero Gas
Zero Emissions
City of Snobsdale, are you listening? Zero reasons to ban us from urban trails now. Oh, yeah the dust thing. Well were working on that too.
Read a little about them, patiently awaiting the KTM electric bike promised in 2010, but the Zero is here now, you can ride it and for only $9,400 or so you can own this 145lb, high torque, super agile, single track eater.
The lithium ion battery is said to last about 4-5 years making the $9,400 price tag a little easier to swallow because other than replacing the battery for about $3,500, there is little other maintenance to deal with, just unplug and go! 8-)
Chuck B & I met Saturday afternoon to take the little bike for a spin in the parking lot behind the dealer (Scott Alan at Electric Car Outlet)
My first impression of the bike was skeptical, I mean it was small & light, but how did it perform? First round of the parking lot, Scott set the bike on "low" the setting you would use for your baby sister.
Acceleration was exactly what I would expect from an electric bike... or a fast golf cart. One loop around the lot and I begged for the faster setting. "Be careful" Scott said as he reset the bike & stepped back. Gently I twisted the throttle and the difference was night & day. The bike lunged forward with more power than my YZ, lifting the front wheel as I jetted across the (suddenly smaller parking lot). 0-30 in less than 2 seconds will take you from throttle to full brake very quickly in a parking lot.
The bike is virtually silent, only a humming noise as you twist it on. The loudest sound is the displaced gravel or the chirping of the tires on asphalt as the Zero propels you with wicked-smooth powerband from corner to corner. No gears, no shifting, no foot brake, no on/off the throttle, this bike takes about half the brain power to ride. Your feet just enjoy the ride, while your hands control brake & throttle easily.
Lighter and torqueier than a trials bike, we scuttled back & forth in the parking lot silently except for an occasional "Yeeeehaw".
You can ride the Zero right up the isle of a church during mass without missing a word of Latin by the priest. Dirt riders at P & D could race back & forth all day without disturbing a single resident. Maybe ride the perimiter of Quinterro without even being notices by the most hearing sensitive putter.
Any faults, well not many.
No aftermarket shark fins or other stuff available yet for the bikes, only 2hrs or 40 miles per charge (two hour recharge) and 20" front, 17" rear.
Honestly if the battery offered double the currentl life & milage, this would be a "no brainer". There is no other downside I could find to the bike. It was a ball to ride and if we only did 35 mile trail rides or 1.5 hour rides, I would buy one ASAP.
Won't be long before they double that battery life so start saving your nickels.
8-)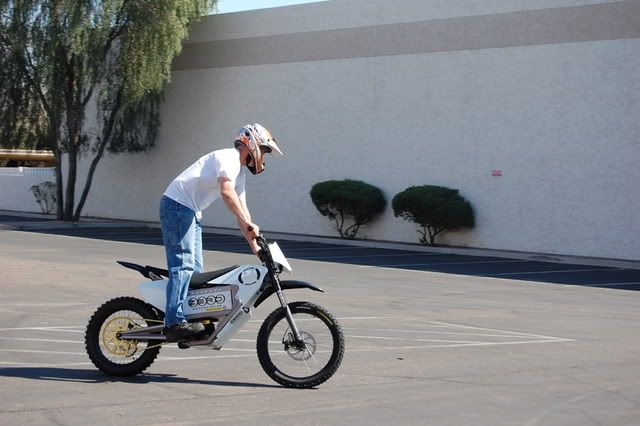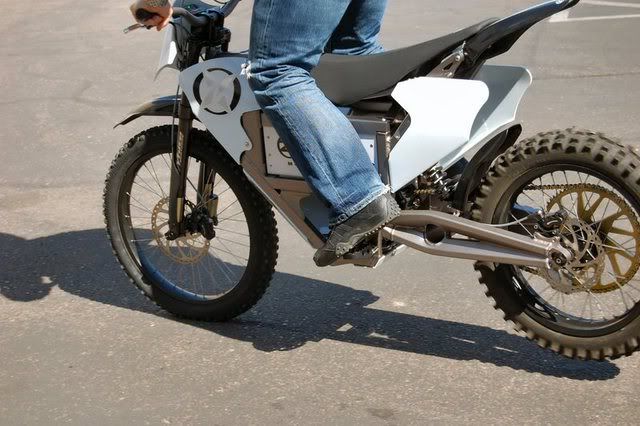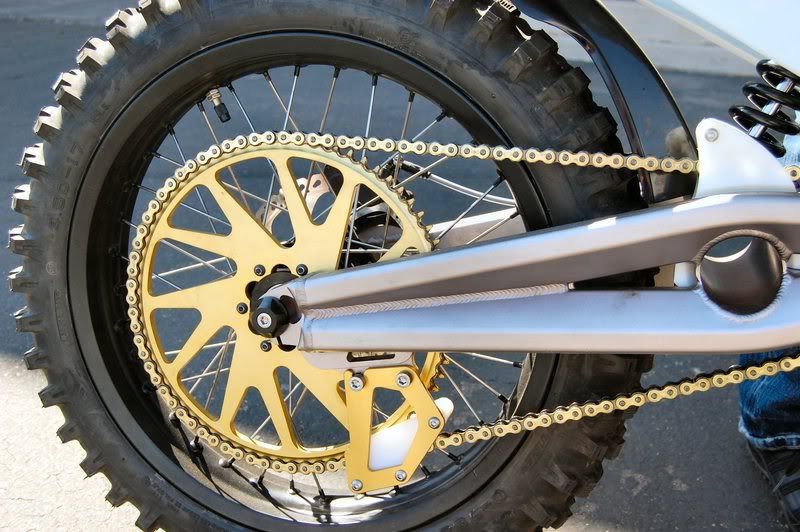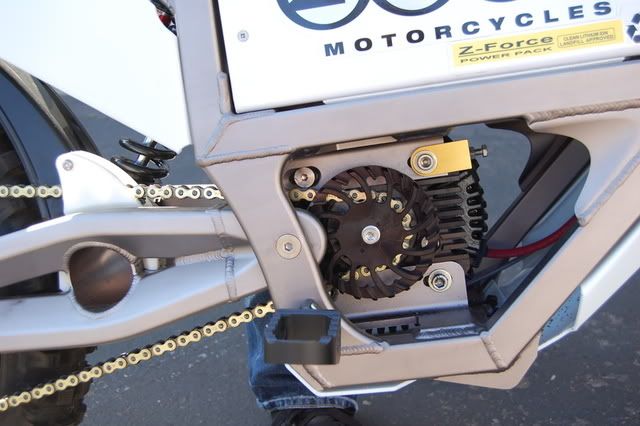 Yup, that thing was a hoot to ride. Love the silky smooth torque & light, agile handling. Not sure how it would hold up in a crash but it is so easy to ride, I bet is would see less crash time than other bikes.
Fun doing sweeping corners w/just enough throttle to make a long, smooth black mark while lifting the front wheel just slightly.
Wanted to hit mtn trails with it so bad!