spring cleanup
-
Cobramatic "push-pull" wire feeder
set up for welding aluminum
has shielding gas and gun water-cooling ports/connections
~20 foot gun included (however, i managed to loose the welding nozzle/tip
)
didnt use it for some time (obviously collecting dust) so it needs to go
reduced to
sorry; SOLD
or best offer
-
Two Lincoln LN25 "suitcase" wire feeders
one (grey case) is set up for fluxcore (includes a 2/3 full 33lbs roll of wire)
gun was acting up some last time i used it, so it may needs a new gun or trigger switch
the second one (black case) is set up for MIG
seems to have a problem with the main board.
however, the feed motor & shielding gas solenoid work.
i replaced the feeder with a Miller unit so i never really looked into repairing it
i`m including it "as is/ for parts" without a gun
i guess parts could be mixed to turn the fluxcore into a MIG
reduced to
sorry; SOLD
obo for the two (2)
-
Miller CP-200 DC power source
industrial welder (200 amp @ 100% duty cycle)
3-phase 208/240/480
older unit but virtually bulletproof (and has a very sweet arc)
$ 300 obo
-
large HD 30 KW Diesel generator
Military surplus
right now set up to produce 220V/ 3 phase/ 60 hertz ... can be set up for 208 to 480 V and also for 120V single phase if desired.
(one "build in" outside double-outlet of 110 V (IIRC 30A) is constantly powered regardless of actual setup of the generator)
powered by a 1800 RPM, 298 cid White/Hercules I-6 diesel (model D298ER)
very conservative rated at 30 KW (MIL spec)
build in 20 gallon diesel tank as well as twin starter batteries
has full instrumentation/dashboard with full array of fuses and line breakers.
completely weather enclosed and mounted on a HD steel skid.
weights approx. 2850 lbs (!) and is roughly 80"L x 55"H x 36"W
older unit (~8500 hours) but strong running and virtually bullet proof
this is the
exact
same unit , just a lot newer (and a lot more expensive
):
http://www.ebay.com/itm/30kW-MEP005A...ht_1296wt_1163
i used it to power the 3 phase MIG as well as my large vertical 3 phase mill (also for sale) ... was cheaper then having the power company run 3-phase into the shop
price reduced to
$ 2500
or best offer
-
pivoting welding arm
home made (made of DOM tubing & flat steel)
17 feet long
ball bearing beam roller "truck"
pivots on two 3/4" chrommoly rodends
great to suspend the wire feeder over your welding table/area
never ever trip over the leads on the ground again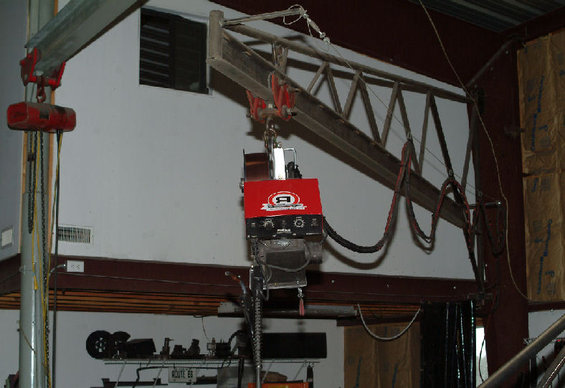 (note; wire feeder and leads not included)
$ ?? ...make me an offer
located between Kingman and Flagstaff
... i may consider delivery for fuel money
pm me if interested