Quote:
Originally Posted by
2oldtosk8
So my son-in-law and I went four wheeling this weekend. After playing around in the snow my son-in-law decides to get a little squirrelly and hits a tree with the front bumper. He's bummed but there is not much damage, and the air bag does not deploy. His truck by the way is a 96 Tacoma extra cab with a 2" body lift. I tell him this is a good time to fabricate a front bumper for him. Plus I am going to sell him my current winch and buy a new one. My question for the PBB is: has anyone fabbed a front bumper for air bag systems? I know on the ARB site they quote: "To ensure air bag compatibility, ARB carefully assesses the vehicle's front crush characteristics and replicates the crush rate into the design of each air bag approved bar and its mounting system."

I don't want to mess with the air bag sensors if fabbing a bumper is going to interfere with the system. I have done an internet search and it seems that this topic is not covered to well. Besides paying big bucks for a front bumper is it possible to weld up a bumper in the back yard and bolt it up to the 96 Taco with no problems?
Don't worry about the air bag sensors, they are up in the fenders. Tacoma air bags are generally pretty difficult to set off. Here is a bumper I built for mine with simple tools. Still gotta finish the top part with some more tube.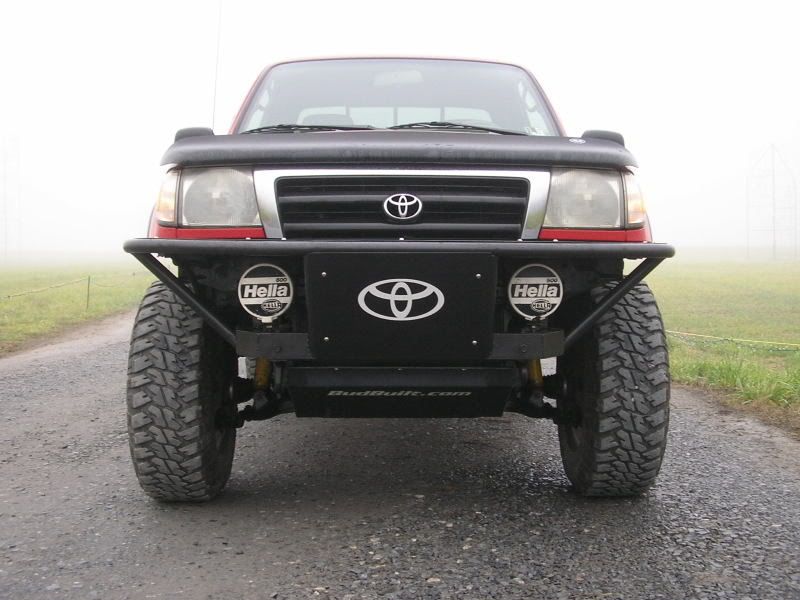 __________________
88 4 Runner, dual cases w/ 4.7's, Tacoma E-locker rear, 37" PB Rockers and no lift, caged