High beam indicator works independent of the headlight combo switch. It actually only indicates that the low beams are not on, as current flows from the headlight relay, through the low beam filament, the high beam indicator to ground as shown in the FSM wiring diagram: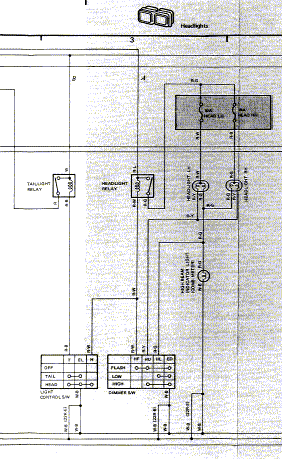 Haynes manuals are never a very good reference, especially for electrical things.
More info:
-
http://www.4crawler.com/4x4/CheapTri...l#HarnessTypes
And the problem is typically in the combo switch contacts:
-
http://www.4crawler.com/4x4/CheapTri...eadlight_Combo
That is if the low beams work fine and in FLASH mode , both the high and low beams come on together. If so, find the contacts that close for high beams (only) vs. the ones that close for low beams (only) and the ones that close in FLASH mode and go from there. Other common problem is a loose connector for those wires down the steering column.