Located in Rogersville, TN (sorry mods)
For sale is my 1994 Chevrolet 1500. I am the second owner of this truck. I bought it from a family friend who drives a truck for a living so it had very few miles on it when I got it. This truck has had an easy life. This truck has been mostly used to pull a 16ft trailer carrying field lines and a crews to job sites. This truck is clean inside and out. My business and I both have seemed to have out grow the truck, so it now must go. Now about the truck. Last winter, this truck was completely re-done. I bought a brand new CRATE 5.7 liter 350 (also new water pump, fuel system, plugs / wires, billet distributor, venom injectors, ect.) along with a rebuilt transmission, computer system, body lift, and a skyjacker suspension lift, NEW axles, K and N Filter Charger, brake controller box, brakes all around, 4wd actuator, and a custom steel rear bumper. all of these goodies have less than 9 thousand miles on them. The wheels and tires that are on it are are black Chevy Rally Wheels and 35 inch summit Mud Dawg Tires. These wheels and tires have right at 3k miles on them. (I have driven the truck mostly with the stock wheels and tires which are in good condition and have plenty of tread left as well. My truck has been adult owned, built, and maintained. All the winner of this auction will need to do is drive it and put it to work or play. Less than 8k miles on. . . . -New Motor -K and N Filtercharger Intake -Transmission -Computer System -Body Lift -Brakes -Skyjacker Suspension Lift -Axles -Custom Bumper -Brakes -Wheels and Tires -Tractor Supply Co. Toolbox.
http://s145.photobucket.com/albums/r...t=IMG_1312.jpg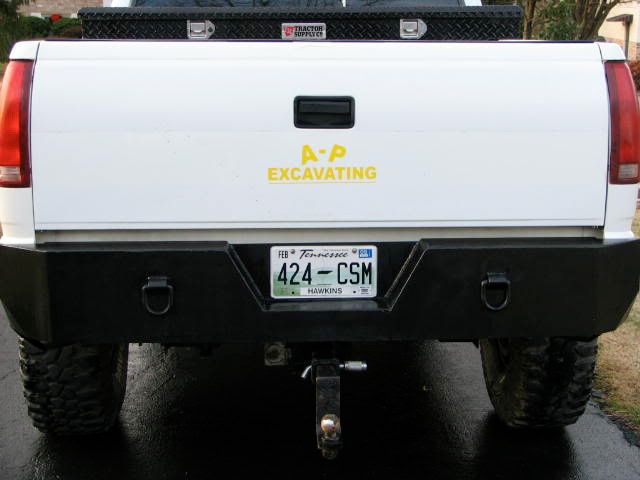 asking $5700 but i can keep toolbox, brake contoller, ect and knock some off the price.
I need this truck moved asap.
Thanks
GRANT