Discussion Starter
·
#1
·
The Jeep was purchased by my Dad back in the 80's and has been in the family as long as I can remember. Last weekend my Dad handed the Jeep down to me.
I live in Colorado Springs, and he lives in Manteca, California. So we met in Nevada and I towed the Jeep back to Colorado. 1440 miles round trip for me and a very long weekend.
This Jeep ran all over the mountains in California and has been to Wyoming and Colorado previously when deer hunting, but has not ran for years and hasn't been run on trails in 7-8 years.
I know I have my work cut out for me and this project will continue to evolve as I get my head around just what I want out of it.
As it sits now, it's on 33x12.50x15 tires with original springs and some longer shackles. It rides ROUGH! It has what I am told is the f-head 4 cyl and possible a T-96 trans with overdrive, but the overdrive has never worked. Not sure what axles or gearing, and not sure on the transfer case.
The steering has been upgraded to a Saginaw steering box. The pedals have been upgraded to hanging pedals with a Dodge brake booster.
As it sits now in the garage:
Last hunting trip 7-8 years ago: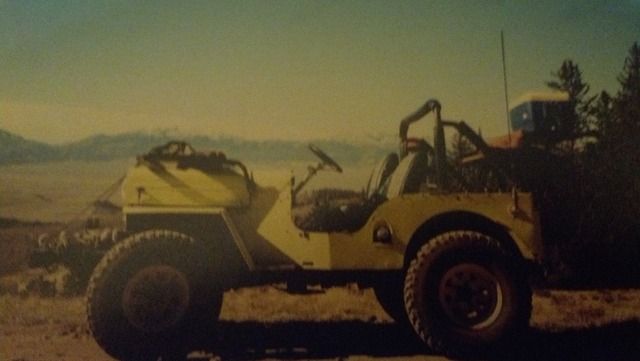 Tilt trailer we use to haul it around: picture from 20 years ago.