Discussion Starter
·
#1
·
So here goes the build. It's going to be done in stages to prevent it from being down for long periods at a time, and money permitting. I had an older build thread that took a few different turns, and it was pretty much all for nothing as I still had an outstanding title issue. Now that it's squared away, I'm getting this thing on the right track.
The plan is for this to be a 3rd vehicle for us and the primary trail toy/parts runner/etc. I plan to be able to drive to the trail and back, however if it gets busted while there, it's not a huge issue. Overall it'll be a pretty mild build with the end result of being a capable and dependable vehicle.
As it sits now:
Lift is RE 4.5 with TF control arms and RK trackbar
35" BFGs
8.8 rear end
HP 30 front with CAD
4.0/AW4/231 w/AA SYE
Build plans:
Pull the motor and go through it
Redo the wiring. I'm thinking of going with an EZ Wiring kit.
OBA
New front axle (thinking of swapping a D44 and running spacers in the rear to match)
Interior improvements
Roll cage
Paint
And whatever else comes along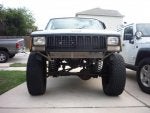 Pretty much how the interior looks now except the dash is a little more put together.....although it's about to come back out to get rewired.