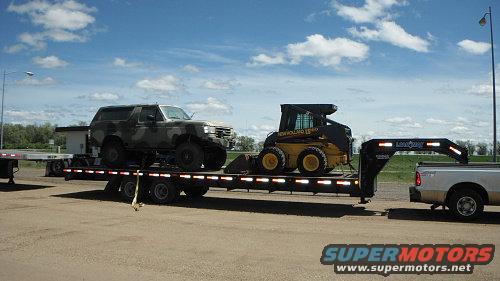 Posting up my trailer for sale. I'm the original owner...Bought it new in Jamestown ND VERY LATE 2014 like Dec.27?...
Its a 2014 Load Max with less than 1000 miles. Over 500 miles but well under 1000. Tandem dual 10K Dexter axles, 30' flat deck with pull out ramps, new spare that has never been used, LED lights, dual jacks up front, tool box under neck, Thompsons sealed deck wood in perfect shape. Never pulled in salt. normally sat inside shop.
Since selling off some equipment and a tractor....I am not needing this any longer. Pulls really well and really is like new. Clear title in hand. Pull it anywhere today...hook up and run it. Was going to haul the Bronco to those far away wheeling destinations and events. Put a camper up front for lush accommodations. ...life is going in a different direction.
vvv LOWERED PRICE vvv
Asking $9,500 OBRO
LOCATED IN ELLENDALE, ND 58436
65 miles South of Jamestown off I-94
locally advertised also
email
[email protected]
g m a i l dot com
or PM