I just got my truck wired up and figured I would share what i found when wiring my 22R bare-bones style. As of right now, i can walk into my garage and start the truck- still haven't driven it, but everything seems to work fine.
This post will show you the minimum wiring required to run your 22R with late model 2 wire GM alternator, and GM ignition parts (which you should use if you are stripped this far down anyways)
I will show the mimimum requirements to start and run only, you are responsible for lights and other b/s. Im far from a wiring genius so don't ask me for much assistance.
There are only 5 wires needed to run:
1. Coil pos
2. Alt power
3. Alt excitor
4. Fuse panel power
5. ignition switch
Thats it!
the fuse panel power is a constant hot. It can be tied to the battery, but in my case, the starter terminal was closer and easier. Should be fine- no?
Sweet diagram:flipoff2: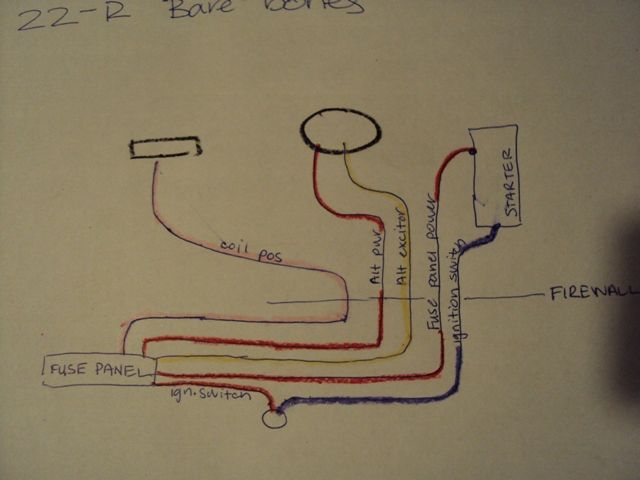 Next up is the GM wiring side. The only wire coming into this "system" is the pink "coil pos" wire mentioned earlier. Other than that, you loop and connect wires as shown. I orig. had the distributor wires backwards, but swapped them to what you see in the diagram and it fired right up, idled great, and throttle worked fine.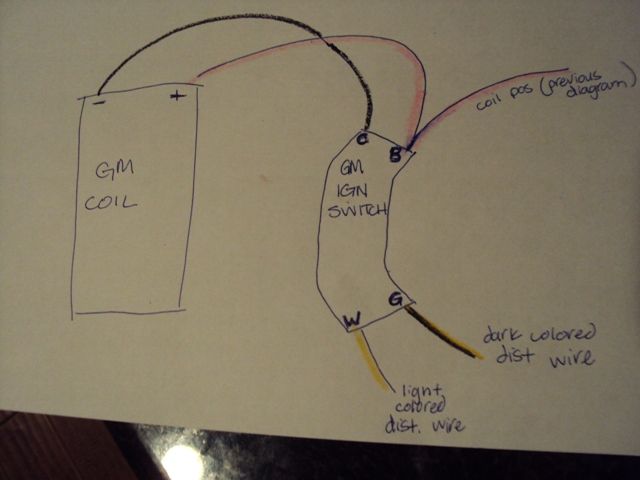 nothin to it! Hope there isn't much wrong here, as I dont want to draw too many diagrams...:flipoff2: