Discussion Starter
•
#1
•
I started this thread over on ECJ5, but I wanted some Pirate feedback. ECJ5 is such a wealth of knowledge, but sometimes projects like this don't get too much feedback.
Hi gang!
I've been trying to get my thoughts straight on what to do with this silly Jeep that followed me home one day.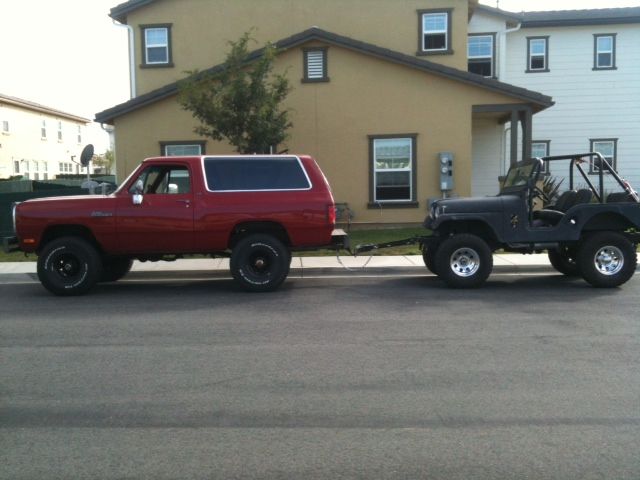 I just so happens to seem that I fell right smack in the middle of an early CJ5 haven. I haven't posted too much, but have been seeing some awesome projects right in my area of SoCal
I suppose a little intro about myself could help.... so I started with Suzuki Samurai's, about five of them to be more precise. Ranging from stockers to springovers with Toyota axles. My last project was gonna run a Tracker engine and auto tranny, doubled transfer cases, linked Dana 44's and coilovers..... never quite got it done though. Life moved me about some and now that I'm settled here, the wife said...... "let's get a Jeep!" No arguments from me. Three days later we own this thing.
It has alot going for it: excellent running 225 V6 with DUI Ignition and headers, recent rebuilt carb, SM420 tranny, Dana 18 Tcase, saginaw manual steering, decent cage, great tires and wheels, 4" lift, AA clutch linkage, solid body, super comfy retro seats
However as I started to really crawl around it and get to know its undercarriage I started to find the sketchiness. Leaking M/C, cross threaded castle nuts on all the tie rods, cracks in the frame, ugly repaired rear spring hanger (ripped off and booger welded and patched back on) very wierd cutout on the cowl (no JEEP badge left!!!) OH and my front driveshaft came up missing somehow on the tow ride home.... and my crossmember is now bent, wonder how that happened
So I do what I do best...... take the whole thing apart!
Plans are to keep the retro feel and driving experience. Very little bling will go into this little guy but lots of fabrication will happen.
Here goes:
Engine: clean it and maybe go with some inside the frame headers and upgraded alternator.
Axles: Narrowed Chevy front Dana 44, Widetrack width, Ford hubs and brakes (5x5.5 bolt pattern) Spring over, crossover steering. Rear will be Dana 44 (unknown source, CL find) offset to pass side, drum brakes, widetrack width, spring over, limited slip, 4.10 or 4.56 gears.
Suspension: Shackle reversal, spring over with stock YJ springs. Goal is to keep it as low as possible and use a flat or close to flat spring for smooth ride. Extend wheelbase about 4 inches front and back, More details on the keeping it low part later.
Drivetrain: Keep it as is and maybe find an overdrive one day, twin stick the D18, oh yeah and get a front driveshaft.
Frame: Box it and fix all the cracks, new fabricated trans crossmember, new front frame horns and new fabricated motor mounts (driver's side was cut for steering shaft) and some beefy slim bumpers.
Steering: Keep it manual..... maybe.
Brakes: Manual with upgraded dual M/C.
Body: minimal mods, but I'll have to radius out the rear wheel wells for the added wheel base (try to make it look stock, more on that later)
That's about it folks.
I just got my new reg for my new Millermatic 180 in the mail so if you'll excuse me I have some work to do.