Ok, so a few folks have asked me to post up pictures and do a quick run through of what I did with my stretch, transmission, 3 link front, etc etc so I am going to throw some stuff in here just to help out and give a positive resource with some ideas.
Before I get a bunch of BS about running a D44 front, which I know I will, I want to throw out a few of my positive sides to the D44 in my setup.
It was cheap out the box for the complete axle, I sold off the brake stands and calipers for more than I paid for the entire axle. It is lighter than a D60, parts are more avail and cheaper to find, has more clearance with my 38s, the stretch was easier because of having less meat in the front, from the housing. Also, I have already aquired the means to go bigger and so far after a few outings and some pretty decent flogging, everything is holding up pleasingly well. Jhama78 can vouch for a night run with some wicked buzz box hill climbs and some clutch drops that other said would have smoked the D44. So whatever, I'll ride it till it breaks.
Specs on the build:
'97 TJ 4.0
D44 '79 F-250 D44 Front
8 lug outers
Blackbird caliper brackets to clear 15"s
Yukon 5.14s Cryo treated
Aussie in a Cryo-ed Carrier
Alloy USA Shafts and Premium lockouts.
Eaton HO72 Rear
5.14s w/ Detroit
Ruff Stuff Disc Conversion
2.5" housing shave
SM465 w/ Novak replacement shaft
NP231D-HD
38" Maxxis Creepy Crawlers
2" x .500" Wall Chromo Lowers
6" front Stretch with Reverse Rotation Box
PSC Hyrdo Assist
Ok, so here is a brief run through. Came across a rear end that looked cool in the Junkyard, so I picked it up, did some research and found out it was an Eaton HO72. Found a few sets of gears and lockers for it and then shaved the housing. Disc brake conversion using Dan's brake brackets... I actually bought a set from him before he actually listed them for the Eaton.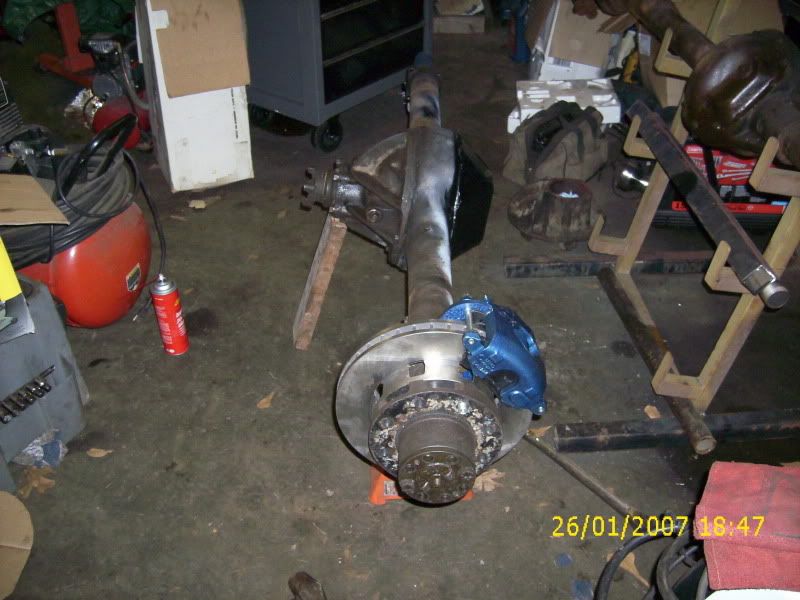 Set it up with a double triangulated 4 link using a custom cross member that I put together and also using adjustable upper brackets that I also fabbed up myself. The upper rear arms are 2' x .250 wall, and are actually my old lowers from my booty fab long arm kit.
Then started in on the Front axle which was a steal in itself. Built a front truss out of 1/4" plate and threw some cross through tubes in there. I was going to go with a wishbone front but scrapped that and went 3 link on the driver's side.
Here are a few pictures of the 3 link front setup.