'74 W-950 Power Wagon
been planning/building this truck for a while - figured it was time to post up.
The rig is being built to get to/from the mountain trails out here in Colorado, and occasionally haul me to work. A long-term project for sure, but the one thing I have a lot of is 'time'....
2015 Edit/update: the truck turned out awesome, and essentially very close to the initial plan, with some small changes and/or upgrades - now back to the regularly scheduled program...
I wanted some real rubber under it and got a set of 46" XMLs, and with the long wheelbase I decided to go woth rocks and take advantage of the strength and the shaft angles, and I found a set under a 67 deuce. The bed is from a 68 M101 trailer that I shortened about 1.5 feet. The frame is from a 92 Cummins Ram that I am boxing tip to tip. The engine is a non-intercooled 6bt Cummins, trans is a 47rh (2wd), a divorced Ford 203/205 (ORD kit), wheels are 'deuce pattern' 20x11s from RBC, and the tires are 46" surplus XMLs. It looks like the rig will have about a 34" belly.
Plans are to mount the front axle 180* from factory (take advantage of some caster) and swap the knuckles to the back and install greasable u-joints. Planning to run crossover steering and twin smaller rams at each knuckle. We're fabricating adaptors for the front rotors (F650) and calipers (F550), with all F350 rear including internal e-brakes. When money permits front and rear Grizley lockers will go in as well as lockouts. Will use either a 99 Ram or F650 hydroboost assy.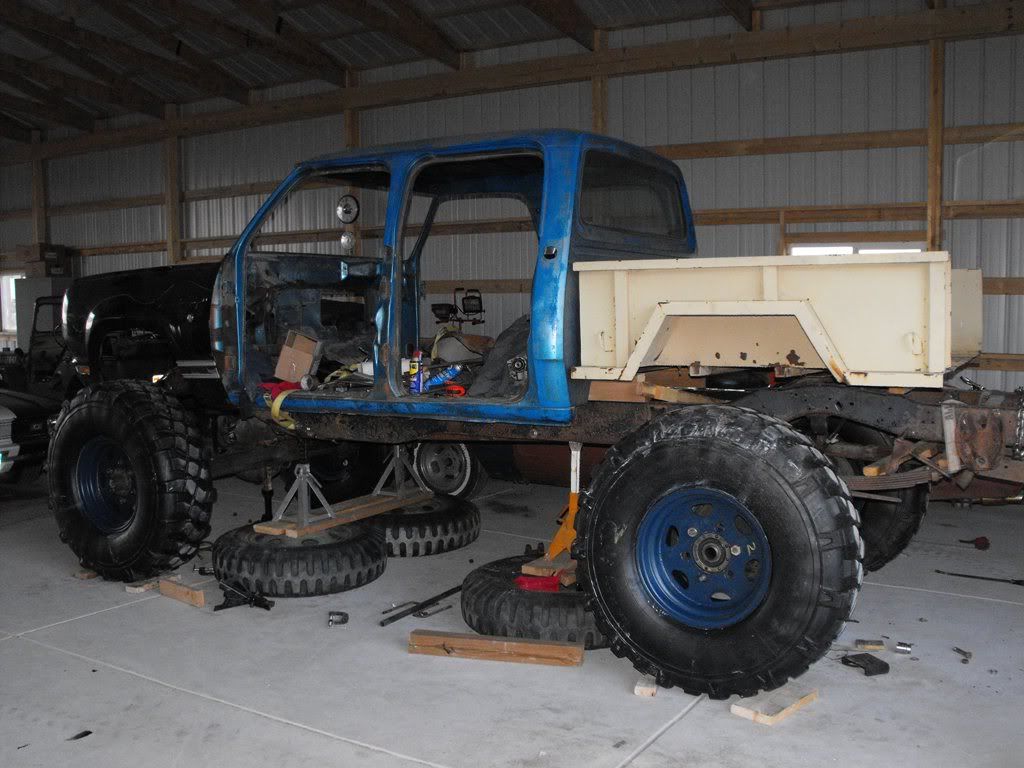 Nothing too major on the engine - just the usual VE44 tricks and good breathing. A Bendix TF750 compressor will be where the factory vacuum unit was, with a Vickers V10F series power steering pump behind it. That should provide plenty of power for the hydroboost and ram(s), and the compressor will provide all the air I need.
Suspension will be 56" front leafs, 63" rears - simple and strong. Interior will be fairly spartan and 'military' themed. I'll make seats from brown heavy duty canvas tarps, and I'm planning to fab up a dash that looks like what would come from a military vehicle. And it needed to be its own make/model, so with a 1/2-ton being a 150, and a 3/4-ton being a 250...well a 2.5-ton ends up being a '950' - so there it is.
Long way to go, but my wife and I are having a bunch of fun designing and building it
this is my crappy artists' rendition of what I think it will eventually look like (a combination of Air Force/Army nomenclature)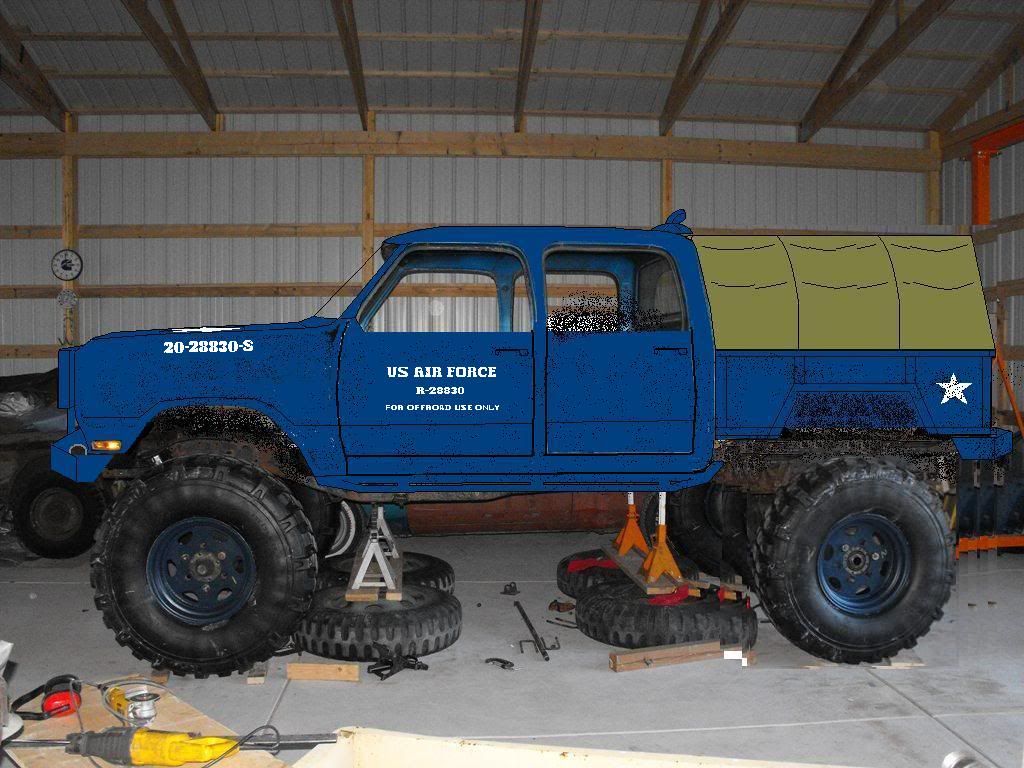 It is all being built as if the truck had actually been contracted by the Air Force in the mid 70's for local or deployable 'search and recovery' missions for down'd pilots/crew. As a result, I'm trying to keep the voodoo hidden as much as possible and use 'low tech' hardware and hopefully keep the rig relatively easy to maintain with as much off-the-shelf equipment as I can muster. Nothing real fancy, just functional and durable. I'm also building it with themes from dad's '52 M-38 Willys, which he restored in 1976.
front brake hardware on right, rear caliper on left (D60 front hub for comparison)
belly cradle - still in mock-up (just decided to go d-side drop...) -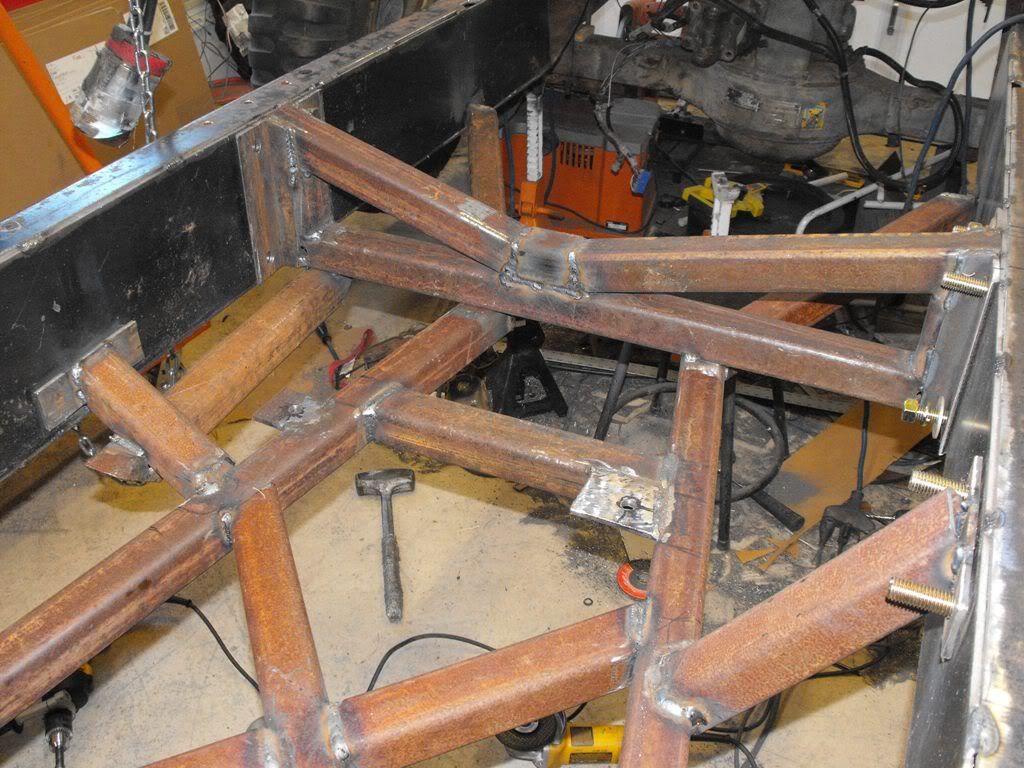 Anyway, I'll post up a bit more when I get some more actual progress - the voodoo is pretty slow right now.
Cheers,
- Sam