Well ladies and gents it is likely I will be getting another Loadstar added to my side yard. :flipoff2:
Today my GF had to borrow the 74 1700 Loadstar for some heavy equipment at her work. (I no longer have the Yellow Loadstar)
I told her she is the only one to drive it.
That and she had to take me a couple times around the block so I can see how she does shifting and braking (air brakes).
Hot damn! This chic can drive a big boys truck! I was so proud inside. Never knew she could drive stick! She never stalled it or anything.
:smokin: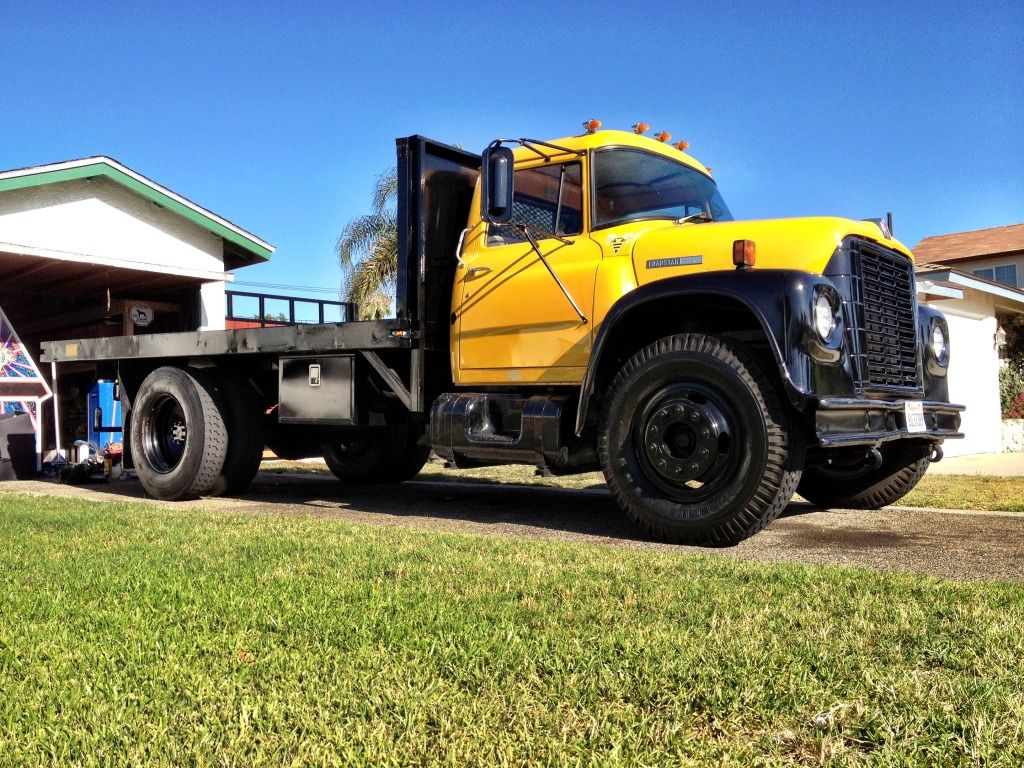 So later today I get a message from her saying she liked driving the truck. She also went the lengths at looking for them on the net. Well, she caught the IH bug and somehow came across this...
1976 International Loadstar Ambulance - $3500 (Harmony)

Date: 2012-06-03, 10:54AM CDT

1976 International 1600 Loadstar 4x4. 12,000 original miles. 345ci International motor. 4 speed manual. Extreme camper? Maintenance truck? Party bus? Drive it anywhere. Runs down the road nice. Starts easy. Great tires. $3500 obo.
Here was part of the conversation I had with my chic.
Jason Guerin: (10:09:57 AM) It would take 29 hours to drive it home.
Hilinai Thomas: (10:56:52 AM) Okay then lets do it
Jason Guerin: (10:57:08 AM) What?! Really?
Jason Guerin: (10:58:16 AM) Keep in mind that that will be an on going project.
It'll need a toilet, water tanks, poop tanks, shower, beds, kitchen and
an AC and possible later find a Cummins diesel motor for it.
Hilinai Thomas: (11:04:41 AM) Ok
Hilinai Thomas: (11:04:47 AM) Lets go
Jason Guerin: (11:05:11 AM) Um...
Hilinai Thomas: (11:05:33 AM) Um what?
Jason Guerin: (11:05:58 AM) Really?
Hilinai Thomas: (11:06:40 AM) Yes. U can fix that up. Or get a school bus and convert it
Jason Guerin: (11:07:52 AM) No Bus. Tooo Big!
Jason Guerin: (11:08:41 AM) Wait...."U can fix that up" You mean me? What about us?
I want you by my side paintin and shit!
Hilinai Thomas: (11:09:28 AM) Yup. I will paint
Hilinai Thomas: (11:09:40 AM) Look at the buses too
Jason Guerin: (11:10:31 AM) Nope, this one is 4wd
So, as you read this we are looking at flights for 4th of July to fly out to MI from SoCA to drop off some cash and drive her back 1,856 mi (30) hours home. My chic has already invited along another couple to come join us on our little excursion.
I have already spoken to the seller and he will be sending more images of the 76 Loadstar tonight. It has new tires, motor is fresh with new oil's. New gaskets cause they were leaking when he bought it some time ago. All lights work on it, gauges work, heater works, new receiver on the rear, new dual exhaust, hardly no rust, a small dent on drivers fender and he even sounds confident it'll make the trip to CA.
With that being said....I'll still be flying to MN with some tools, check up on my AAA card and service and hope to gawd this 20 year vet of a big rig mechanic isnt playin with me. He seems really cool so far. I asked for undercarriage photos and other views so hopefully I can get more pics posted up tomorrow.
My plans for this Loadstar is to build an Xpedition Rig out of it. Normal amenities, possible rockwell upgrades and a Cummins. More ideas to come out soon, just gotta make sure it all happens first and I hope to gawd I didnt jump the gun by piling it all out here.....which i'm sure I did :flipoff2:
More to come tomorrow!