Discussion Starter
·
#1
·
Well, here's the specs:
3 cylinder, 2 stage eaton compressor 16 cfm @ 175 p.s.i., 18 cfm @ 100 p.s.i.
5hp, 1 phase, 25 amp motor (baldor or leeson, haven't purchased yet)
Homemade 3/4" intercooler built from baseboard heat elements
Homemade water seperator
30 gallon tank
Motorguard moisture/particle filter
motor runs off pressure switch like normal, or can be ran non-stop with the unloader valves in the pump heads (keeps the pump pumping air in and out of the intake valves to keep it cool under hard use, when not needed for filling the tank)
There's a check valve installed on the water seperator, and the pressure switch has a bleed off valve that will run from the switch to the line between the pump and check valve. When the pressure switch shuts the motor off, the bleed off valve lets all the pressure off the pump, to help the motor start it again.
Some pics: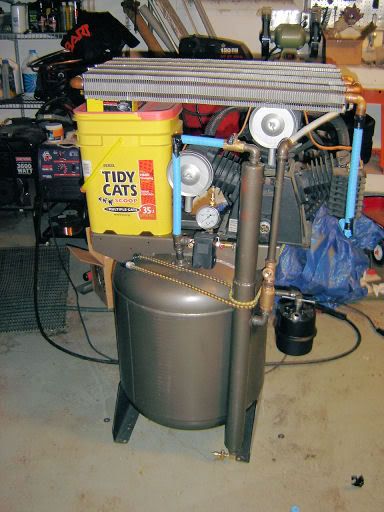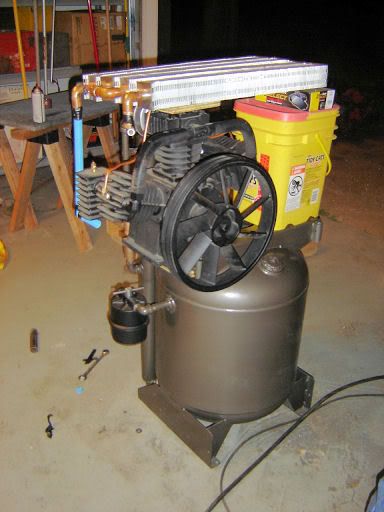 The white and blue hose is just their for mock up to show where lines will be ran. I'm using AN-10 stainless braided hoses for the connections.
I still need to buy the motor ($260), and the magnetic starter ($160), and some AN fittings ($125) to finish it, so it'll be a bit before it's done. My wallet is still recovering from what I've spent so far.
It should provide enough air for the sandblaster/plasma/sander, and be VERY dry air.