Discussion Starter
•
#1
•
I've been building on this CJ for 6 years, and I've been documenting it all on Jeep Forum, but I think it's time for a more hardcore audience. Originally I was content with creating a Rubicon ready rig that wasn't too big, but now I'm swan diving directly into the "tons and fodes" pool.
My rig right now:
-AMC 304
-Ford T18
-Terralow D20
-Waggy D44
-Rodeo D44
-7" stretch (4" front 3" rear)
-Bald 36" irok bias
I don't want to yammer on forever as this place is more about tech than my personal garbage, so I'll try and keep the intimate details on JF. Long story short, I only have room for one crawler at the house, and now that my wife and I have 2 little girls, I need more jeep also. So rather than build a second, bigger rig to run 40s, and rather than sell this and buy something bigger, I'm just going to make my CJ bigger. After all, I dig the project and the fabrication just as much as the wheeling.
Right now I'm in the process of installing an LQ9 in the rig. I'll be doing the upgrading here and there with a lot of driving and wheeling in between. My build will look something similar to this in the future with some added stuff in between:
-LQ9 installed and running good
-1 ton rear and 3/4 ton hubs in front
-1 ton front
-Truckify and ~110"-118" wheel base (see concept below. If that's your jeep, thanks for the good side shot!)
-NV4500 to Atlas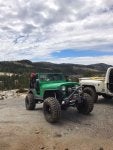 Sent from my iPhone using Tapatalk