Discussion Starter
•
#1
•
Well Ive been threatening to start a thread here on my build. While my work is not up to the standards of some of the guys on here (Skipped Link, WGTactical) and I
[email protected]
sure am slow, Ive been working on this project for a long time and its starting to get interesting. So here goes.
First I should lay out the goals.
Turbo Diesel
Full hydro steering
Street legal
and yes Amphibious
When I began this build, I hadnt decided exactly what it will look like. I knew it would be either a highly modified Bronco or a completly custom aluminum body. As the build progressed, I decided to try to build it to look like a HEMTT. If you dont know what that is, Google's your friend. Its not going to be a replica, just a HEMTT flavor to it. Although this is certainly not going to be a hard core rock crawler, it must be resonably good offroad machine. (big tires, lockers and somewhat flexible) I do plan on driving this on the highway sometimes and it has to have heat and AC.
Since Ive been working on this for several years, I have to catch you guys up. It will take a few posts. I welcome comments and I have thick skin, so bring on the critasisim.
But if your part of the spelling police, please look elsewhere.
Here goes,
I got this 92' Bronco for $1100. I had been looking for a Bronco all over and this one turned up less then two miles from my house. It has the same driveline as my DD. It runs great and is fairly rust free.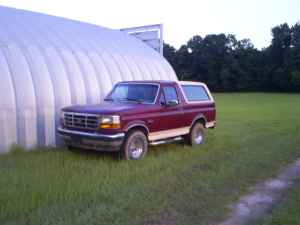 This is the same truck stripped to the frame after a lot of work with a high speed wire wheel and a few cans of rustolium.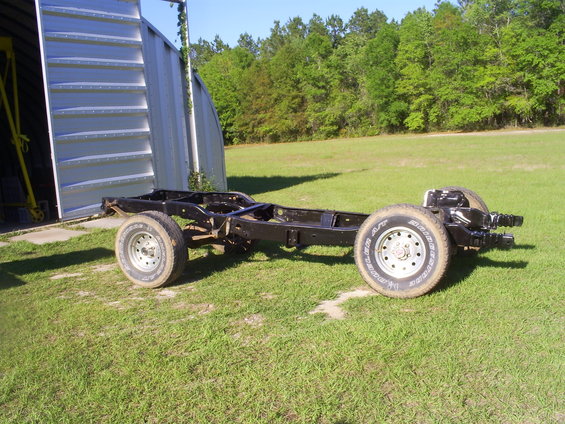 I got a some axles from a 2007' F250 Superduty. At least, that's what the yard told me. I started with the front axle. I told the yard to get the radius arm mounts off the SD without ruining them. They torched the frame about 3" in front and back of the mounts. So I had to drill out the rivets. One thing I noticed was the SD frame is .270" thick. This Bronco frame is .210" thick.
I started by measuring several times and then drilling one ¼" hole. Bolted that and then measured again. LOL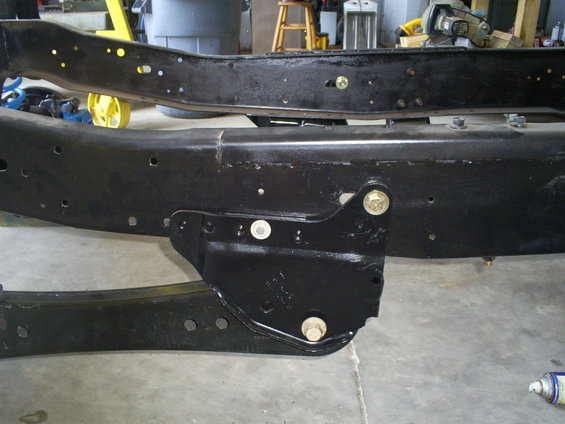 With the back bolted solid (1/2" grade 8's) you can see that the frame seems to be a little narrower. Some other guys put spacers in here. I decided to just bolt it to the frame and let the rubber bushing take the misalignment. If it gives me problems, I can space it out later.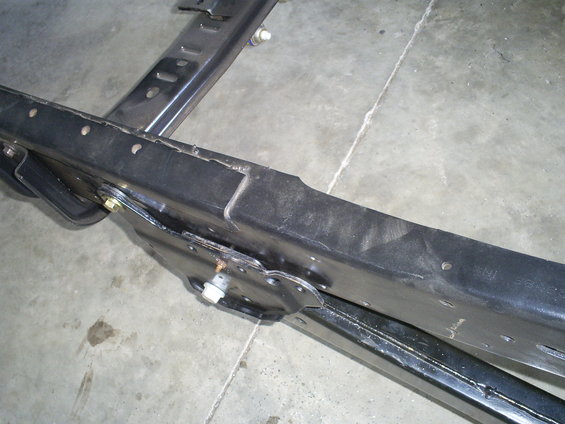 I lowered it down to the bump stops and nothing hits the crossmember.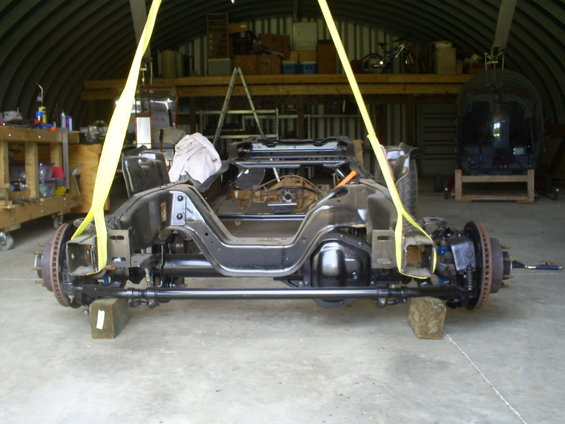 These are the stock springs. The perches are off the TTB. It's funny the stock bolts were not long enough to hold the perch. But the TTB axle pivot bolts were exactly the right size. In any case, I might be changing the sprigs/perches in the future. (maybe even the buckets) But for now, it's OK.
I had to modify the frame side trac bar mount. (off the superduty)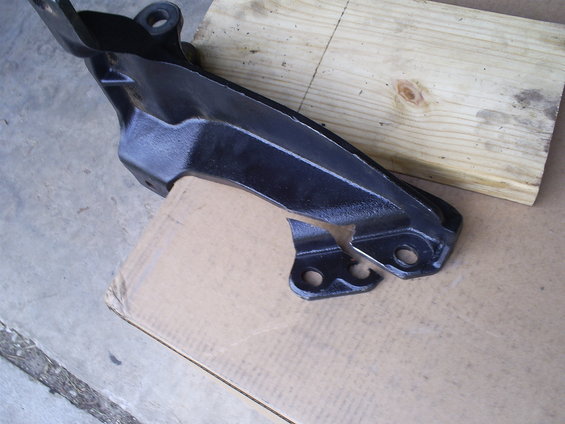 The ear on the left was just hitting a frame rivet. The hole next to it lined up with another frame rivet. (drilled it out and bolted with a grade 8) After that I had to elongate the right hole to make room for a bolt inside the frame rail.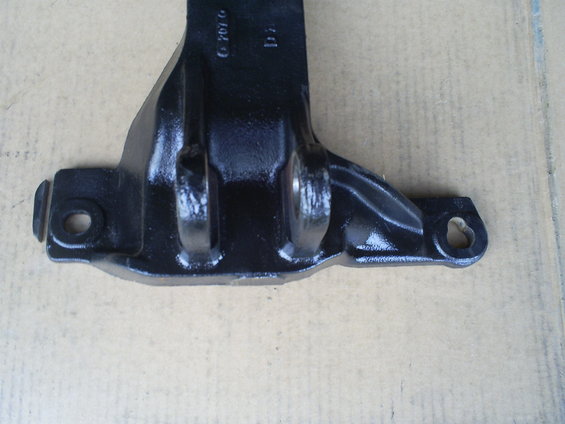 Here it is installed. Note access hole in frame rail. I know it looks like I didnt have to cut off the other two bolt holes. I've seen it done, but then you have to cut the crossmember alot. The mount is alot stronger then the crossmember, so I cut it.
Continued