First off, girl friend named my Jeep Lola because I have been spending more of the last 2 years with it than her. So she named it along the lines of a striper.. :laughing:
Specs:
98 TJ
106" Wheelbase
86" Outside of tires
78.5" tall (4" comp/10 droop)
Engine/Trans/T-case:
-2004 5.3 w/ 224/224 .550/.550 112LSA +4 degrees cam
-Car intake
-Throttle body spacer to clear the water pump neck.
-31 or 32 lb injectors
-Jimsperformance Wiring harness, AWESOME guy, great to deal with.!
-2004 4L60E mostly stock with a cooler w/fan combo to keep it in check.
-Altas 2 3.8:1
-Afco 22x26 alum. rad with pusher electric fan
Axles:
-79 Ford front
-35 spline inners/outers from CM Performance Machine.
-CM Performance Machine Drive slugs
-Detroit Locker with 5.13 gears
-Solid axle diff cover
-GM 14 rear
-Detroit locker with 5.13 gears
-CM Performance Machine truss w/ Upper link mounts
-CM Performance Diff shave w/ Diff Cover
Suspension:
-2.5"x14" SAW Air shocks on each corner w/ 100cc's extra oil.
-4 link brackets from Polyperformance front and rear.
-Dual triangulation 4 links front and rear w/ 1.25" JJ
Wheels/Tires:
-42" x 16.5" Bias Iroks
-H1 Wheels with CM Performance Rock Rings/ Pressed Centeres
Interior:
-PRP Comp Pro High Backs
-RJS 5 point HOT Pink harness... Yes they are Hot PINK.....! :flipoff2:
-Autometer Phantom 2 gauges
-Art-carr Shifter
-Cage with my design bent by a local shop
-RCI 20 gal tank, corvette reg, (Dont remember pump specs will find out), 5 Walbro pick ups (each corner, center)
Misc things:
-Line lock for cutting brakes at each rear brake (for when ARB goes in)
-2 peice front drive shaft with 1350 joints
-Exhaust is a 2.5 from headers with 3" merge than into a 3" summit racing straight muffler untill I change it to a magnaflow
-Direct fit Edlebrock ceramic coated headers.
-PSC full hydro steering
-2300 lb rear suck down winch
To do still:
-Add hood louver
-Some rocker protection
-Some paint
-Fix small vacuum leak
Pics Now: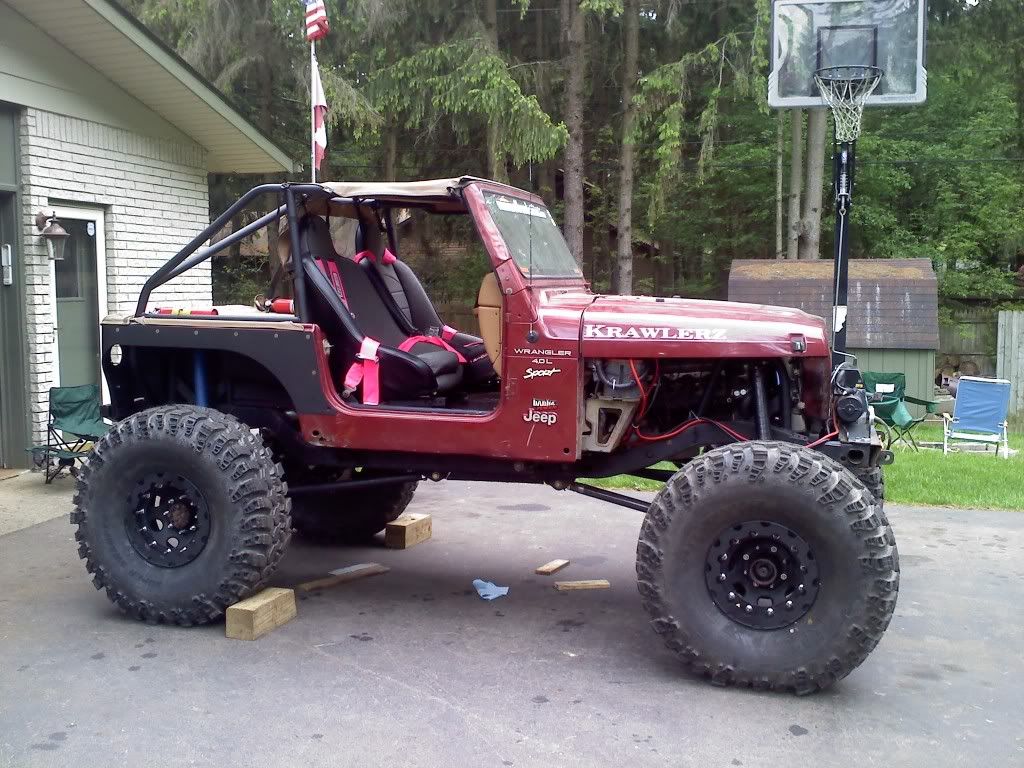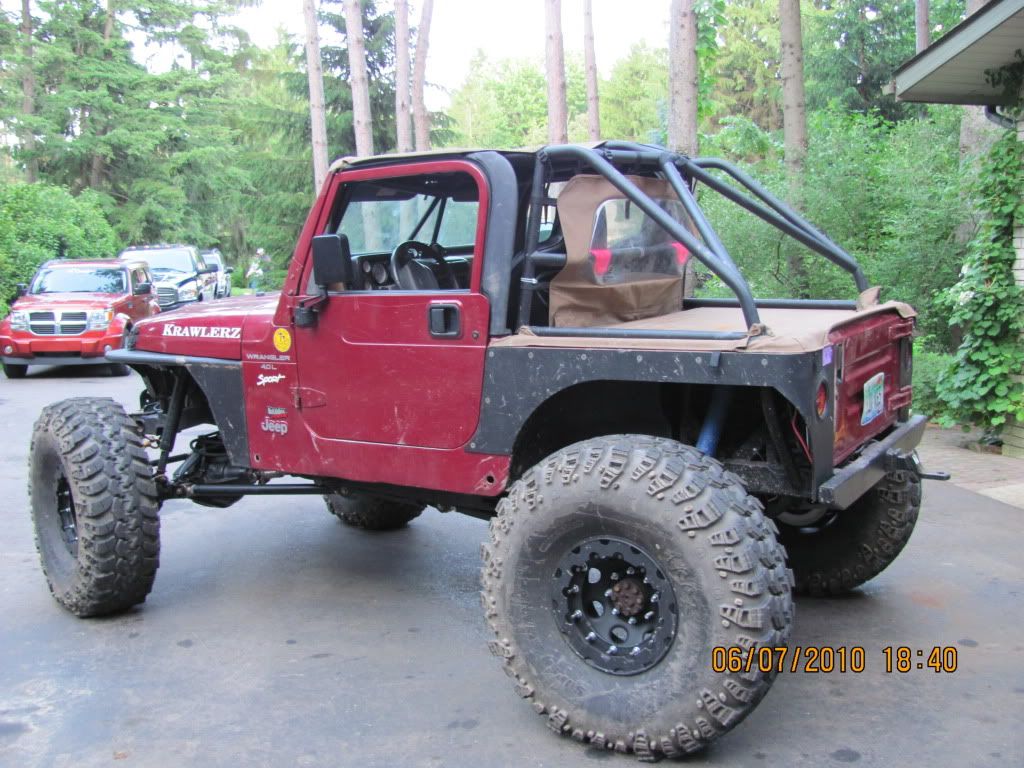 35" tires, Full traction 6" long arm, Super 30/35