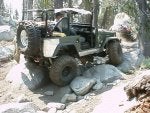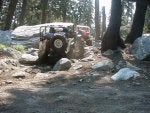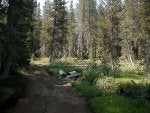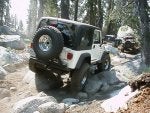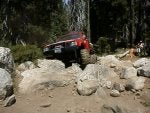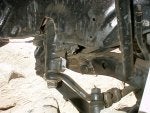 This is the first time I can remember as passenger and I must say I had a blast! Thanks to Jeff, Lance, Scott, and Kieth for all letting me be co-pilot/pilot of their rigs on the Barett Lake trail.
Many people don't even know about this trail and it is one of my favorites, of course there are mixed opinions on difficulty but there are enough rocks that I think everyone would agree this is a great trail. Not only is the terrain fun but the trail is spotless, I didn't see any clowns trashing the trail and the campsite is complete with a nice outhouse and sits right next to the lake.
Now for the trail report...
Before heading off to work friday I through the camping essentials into my work truck (sleeping back, some food and a lot of beer). All day I was dying to take off and at about 2:30 I finally took off and met up with Jeff and Kieth at Jeff's place. I threw my stuff into Jeff's ultimate tow rig (Chevy dually) and we cranked up the ac and headed toward ice house rd. We took the ice house way in not knowing that the other entrance was now open. We unloaded Jeff's cruiser at one of the parking lots near Wrights lake and headin in on the trail. Right after you pass the gate the fun begins with an uphill climb and a couple rocky sections. There was no real excitement on the way in, Keiths new TJ and Jeff's cruiser both performed flawlessly on the trail. Just a bit after night fall Lance "baja" Clifford showed up with Kelly ready to rock! Lance let me pilot his rig into camp (felt good to be behind the wheel!). In camp we met up with Scott Muchow and sat around the fire enjoying a bit of liquid entertainment in the form of beer and some excellent tasty margaritas thanks to Scott. Highlights of the night were when me and Lance were offered Goldschlager and we said we would puke if we did - of course we gave it a shot and sure enough it came right back out for lance and just tortured me all night!
The next morning we all ate breakfast and relaxed a bit before packing up and hitting the trail. As co-pilot I caught a lot of the trip on take as well as a few digital pics so I got my workout hiking the trail. There were several rocky locations were I got some good video action We continued on and the next little excitement was when Kieth somehow managed to drop to tires over the edge of a steep slope and got dangerously close to testing the hard top on his new TJ by dumping it down the hill. A winch was attacked front and back and he pulled back on to the trail and we continued on.
Near the end of the trail Scotts truck said it had had enough wheeling I guess. First to go was the steering box ripping completely off of the frame. We patched it with Jeff's welding and a winch cable for added support. In the same location Scott snapped his winch cable, and that was just the beginning of more to come...
While Scott was attempting to take it easy on t he steering and keep turning to a minimum he bumped into a log which was actually a tree larger than his 35" boggers. Figurung he could push around or over it he locked in the front arb and when he tapped the peddle to unleash his 4.3 engine SNAP! went the axle, it literally grenaded! Of course that is not all, the bumper also split and was majorly tweaked! He continued to limp the rest of the trail and we all made it through the gate and motered on to where we had parked the tow rigs. We parted ways and me and Jeff cruised on home in the tow rig, ac blasting...
It was another great Barett trip, looking forward to next time!