build: saggy bottom girl
Finally time to perhaps post up my build from beginning to never end :flipoff2:.
Started in 2002, I was young, just left the dealership as a tech, starting an apprenticeship as a union electrician and taking a short term paycut to do so. So when a $300 1985 cj-7 popped up i was leary of going to look at it, I had about 7 jeeps in various stages of rust at the time anyway... My buddy talked me into looking at it and after draining my savings to do so, I bought it. It had custom paint on an aj's fiberglass body, absolutely NO rust on the frame (hard to find here in PA), 4 cyl 4 spd and all done up pretty nice, every nut, bolt, part, etc was painted and detailed. the guy was getting divorced and losing his storage. so $300 was the price
!
this is the only pic i could find from stock, I had no digital camera at the time its the jeep cut off on the left.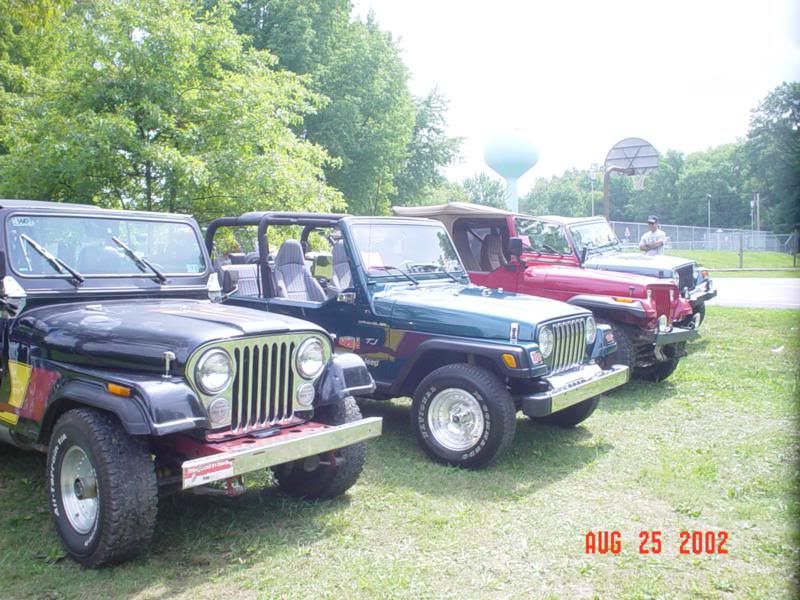 after a couple of pay raises i ditched the 4 popper for a hot running, built 304 amc from a 78 cj7 i picked up. Did a 2" spring, 2" body lift, 35" tires, detroit and superior shafts in the rear and got into wheeling with the local jeep club. I wheeled the piss out of it like this and got bit by the rock bug HARD when I made my first trip to paragon park :smokin:.
The 304 was great tearin up the mall lots, but really sucked on the trail, it was cammed and had higher compression, so it was always loading up.
That winter I went SOA with yj springs and put a TBI 350/700r4/d300 in it. Flopped it twice the first time out, and built a set of axles for it. waggy amc 20 rear and a chevy d44 front narrowed to 60" wms-wms trying to stay PA street legal. I bumped up to 37" mtrs and then 36" iroks... i ran it for quite a few years like this doing little things like cromoly shafts, hydro assist, got a tube bender and started adding things like tube fenders, cage, etc.
my hydro assist install
hydro assist steering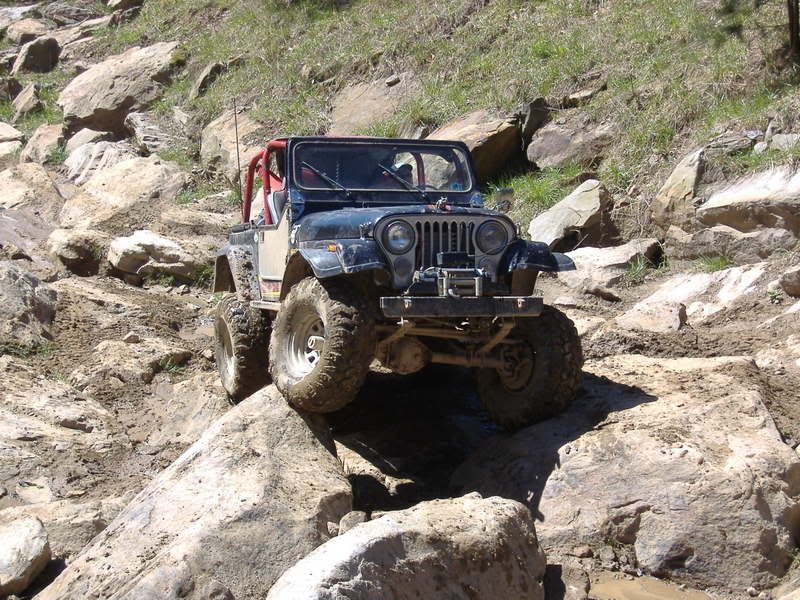 pic of my iroks
I started getting bored and have been intrigued but the go fast racing and bigger better rock crawling... If you arent bored this is where it gets better. I havent wasted time showing tech to this point because what was done has been done a million times.