ORI presents CalROCS at Reno - Event #2 of the CalROCS Series
Story by Kurt Schnieder
Photos by Shana Whitford
[
PHOTO GALLERY
]
Glenn Bonner and Kurtis Harryman continue to impress me. Not just impress me, but amaze me. I have been to my share of rock crawling events. I have been to a few rock races. I have even been to the legendary King of the Hammers race. With that in mind, from a spectator's point of view, this last CalROCS event will go down as one of the greatest 4x4 events I have ever been to. Ever since Glen and Kurtis resurrected CalROCS, each event they have held has gotten more exciting, more competitive and more enjoyable than the last.
When people first heard that Off Road Innovations of Reno, NV, helped Bonner to secure this location at the World Famous Mustang Ranch, there was a little bit of apprehension by a few. An event at a brothel? How will this reflect the sport? Should I let my husband go? Gheesh, should I still bring the kids?
Make no mistake: It was an absolute stroke of genius.
While the event was held at the Mustang Ranch, you would not even know that the event was held at a brothel unless you actually entered the brothel compound. The faint at heart and the spectators with children did not have to worry at all about the house of ill repute being so close to the event.
THE RANCH
When my wife and I first arrived at the site, it was already dark. With little movement in the pits, we went thru the gates and into the parking lot of the Mustang and the Wild Horse. A few of the Nor Cal Night Crawlers were in the parking lot gearing up for a little night run in their rigs. When I asked them where everyone was, they merely laughed and pointed at the Wild Horse. After seeing a few familiar rigs in front, I told the wife we have to go in. How could I cover this event for Pirate4x4.com if I did not research thoroughly? So we took one for the team and walked in the door.
Trust me, the LAST thing you want when you walk into a brothel with your wife, is to be greeted like Norm from Cheers. And that is exactly what happened to me when I went into the Wild Horse. Fortunately, it was not the regulars and the working girls screaming "KURT!" it was a crowd of the Nor Cal Rock Zombies who were huddled up to the bar. They were not really happy to see me, they were just happy that it was my turn to buy the next round, which I did obligingly for the boys of Orangevale.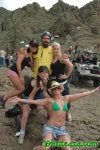 After a few drinks, all of us meandered across the parking lot to the World Famous Mustang Ranch. It is nothing like I had imagined a brothel to be. I was surprised to find out that the Mustang is not just a brothel, it has a top-notch bar and even staffs a 5 star chef. Even more surprising, the place was not gaudy or "slimy" like you think a brothel would be. It was very tastefully done and classy inside. If there were not scantily clad whores walking around and an insanely tall stripper pole on a stage, you would think you just walked into an extremely expensive Italian restaurant.
One of the girls who my wife was talking to at the bar offered to take us on a tour of the Ranch. This is not the Mustang Ranch of old. Nine years ago the original Mustang was moved from its old location to the current one, and it was completely gutted and redone by the new owners. The compound is actually designed like a prison, with the central building the bar. After warning us that cameras were not allowed within the Ranch, she walked us past a series "negation" rooms and outside to the pool area. Our tour guide pointed out a boulder in the pool area that was told us it was used for something other than rock crawling. Along the heart shaped pool and hot tub, there were a series of beautifully decorated rooms, each with a different theme. With massive flat screen TV's, fireplaces, huge hot tubs, stripper poles and furniture that you would only see on an episode of Cribs, even my wife who has a background in interior design was impressed. Well, she was until we accidentally walked into a room where business was being conducted by three people.
THE COMP
We awoke early the next morning and pulled into the parking lot below the ranch. Since the competition was up on the top of a steep hill behind the ranch, Glen had provided trucks to ferry people to the top or you could hike up a trail they had staked out.
Lord knows it was better than that muddy mess at the last CalROCS, and once again, our trek to the top was well worth it.
When I first heard that CalROCS would be held in Reno, I was thinking Moon Rocks, but this wasn't Moon Rocks. Ever see that Star Trek episode where Captain Kirk fights the Gorn? Imagine that alien planet they were on, but with Satan in charge of designing the set. Massive jagged rocks sticking out of the ground like dragon's teeth looked like they would tear rigs apart, and in a few cases, they did. Thunder and lighting in the background during the day added to the effect, but with intermittent sunshine it was beautiful out. And thank God, this time there was no mud! With the light rain the night before, you could smell the sage in the desert air. Then again, that could have just been the whore's perfume wafting up from the ranch.
The majority of the courses where in a half-moon shaped cut out in the rocks. Once again, Glenn managed to find a spectator friendly venue where you could watch the action on several courses at once. It would turn out to be an event of mostly upsets, as many of the middle of the pack guys stepped up to the plate.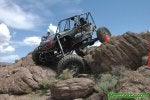 36"-40" Buggy
The talk of the event was Mark "Welndmn" Harris who had borrowed Jeff Mello's KOH rig in order to compete in his first event ever as a driver.While Mark has never driven in an event, he has spotted and run support for Rage 4th in the past. The problem was the buggy has not run right since KOH. After spending literally hundreds of hours since KOH trying to get the thing running smooth, they thought they had it fixed for CalROCS Reno.
As soon as Mark hit the first course, they found out there was still an issue with the rig. Expertly spotted by Nailhead, Mark limped thru it and had to feather the gas the entire way to keep from stalling. On his second run, the rig seemed to run fine, so Nailhead guided Mark over the bonus line which was a steep drop off that required a front dig. Sure enough, as the rig went nose down and Mark romped the gas at the critical moment, and the engine stalled sending him into a horrifying, death-defying endo. Thankfully the rig was undamaged, and Mark drew a deep breath of relief because he was worried about thrashing Mello's rig.
After Saturday's runs, they took off to Sparks and dropped another $500 bucks into the rig to get it running right, and on Sunday it seemed fine. On A1 and A2, they scored a -1 and -2 respectfully, and all seemed well. On A4 however, Mark decided that he really wanted to test his friendship with Mello. Coming down hill he hit the front end hard, and basically broke everything. Tranny, atlas, steering, axle, etc. Mark better take a second out on his home to rebuild Mello's rig.
In the same class, Rock Zombie Brian Tilton was eager to follow up on his win from Brown's Valley and had a good run at the start of the day Saturday, but ended up breaking his rig. In order to get it down the hill, Brian Whitford from Rage 4th helped him out by staying in front of him in his buggy to slow his decent. Tilton rewarded Whitford by slamming into Whitford's comp rig and busting one of Whitford's shocks. After working all night on his rig, Tilton just could not get it back into action. A fierce competitor, look for him to turn up the volume at Donner, because he was not happy.
Nobody can deny that Brian Whitford gets better with every competition. With help from his spotter Mikey Morton, Brian pulled out a third place and now leads the class in the series. He is fun to watch, and made short work of many courses the unlimiteds had trouble on. Once thought an underdog, Whitford is now a serious contender.
John Hall came in second with an unbelievable backwards run down A4, which is the same course Harris demolished Mello's rig on. In the end, Mizzoni took the win in the 36"-40" Buggy class.
Over 40" SuperMod
Once again, Derek Trent reigns supreme and took home the win in the over 40" class, but Pirate Dustin Emick with spotter Little Tim were all over him and took second by three points behind. Their battle came down to the very end and the last couple of cones. Whitehead pulled in with third place, but only because of one bad run on A4 Saturday. On Sunday he had a -16 which was the best score in that class for the entire day.
Rock Zombie Travis Carpenter and Dan Trout also stepped up on Sunday, and they had a total of 1 point compared to Trent's 17. This just goes to show that you have to bring your "A" game on both days of the comp.
Jeremy Hengl drew big crowds with his antics on the rocks, but even with the expert spotting by Big Rob Cook, they ended up in the middle of the pack.
35" & Under
With all the bling buggies rolling around comps, it seems many people do not focus on the 35" and under class. They are definitely missing out on some great action. Dan Patterson can drive. If I had a fraction of his ability, I would be juiced. In the past two CalROCS events he managed to beat Jeff Mello. That says volumes because of Mello's awesome ability. At Brown's Valley, he beat Mello by four points, but at the Reno event he crushed everyone with a -56 for the entire comp! Stansfield was right there in the mix making the 35" and under class very competitive.
36"-40" FB
What in God's name is going on in this class? Last year POR member Bill "Welder Boy" Roulette crushed everyone and went undefeated. We all know the guy can wheel, he's freakin bad ass. So how is it that Mike Bou shows up in a LEAF SPRUNG rig and pulls a -50 for the comp to beat Welder Boy by 48 points? To add insult to injury, Bou beat him at Brown's Valley too!
I can't wait to watch this class at Donner. I think Welder Boy is gonna bring the heat.
Unlimited
I may be mistaken, but I think Brent Bradshaw has a new rig. But there is nothing new about him kicking ass. He was flawless all weekend. Antonucci was right behind him in what looked like another one of Bradshaw's buggies, with Wong pulling third place.
I am not really sure if Glen Bonner and Kurtis Harryman really know how well they have done in resurrecting this traveling series. Bonner is a perfectionist and demands that everything is done right, he stresses on every detail. It's that kind of leadership, organization and dedication that has made CalROCS this successful. My hat is off to both of them, and everyone else that made this event possible, especially Off Road Innovations of Reno.
Next up for the traveling series is one of the premier rock crawling courses: Donner Ski Ranch. If Bonner does Donner like he did the 'Stang, you better not miss it.
[
PHOTO GALLERY
]