First let me explain the "Mater build". Some 6 year old kid saw my truck the other day and says to his mom "look mom it's Mater". I couldn't help but laugh, and said to the kid "yeah it's not very pretty is it?" You will see the resemblance later in this thread, in the trucks current state. I thought it was funny.:flipoff2:
So I've decided to start this build-up thread for a few reasons. One, to Keep track of what I've done. For myself and others who are interested. Two, hopefully people who have done some of the things I am doing or wanting to do can chime in and I can gain knowledge from their experiences. Three, constructive criticism is always a good thing in my opinion. I am far from knowing all there is to this 4wheeling thing. And I'm always willing to learn a thing or two.
So, first off is the truck. Rewind to Oct, 2004. The truck started off as a 1980 K10. It came with a 350/350/205 combo in it. With the standard 1/2 ton junk running gear. I bought it from a buddy who was asking $800 for it. He told me it ran and drove ok. When I went to look at it and drive it he couldn't even get it started. I told him without hearing it run I wasn't interested in buying it for $800. He called me back later that night and offered it to me for $400 as is. So I figured sure why not. I had his brother bring it over to my place with his tow truck and drop it off. I had it running the next day. It turned out that the fuel selector valve wasn't switching over to the tank with gas in it. So when the gas gauge read full it was drawing fuel from the empty tank. I added gas to the other tank and it fired right up.
This is what it looked like when I first got it.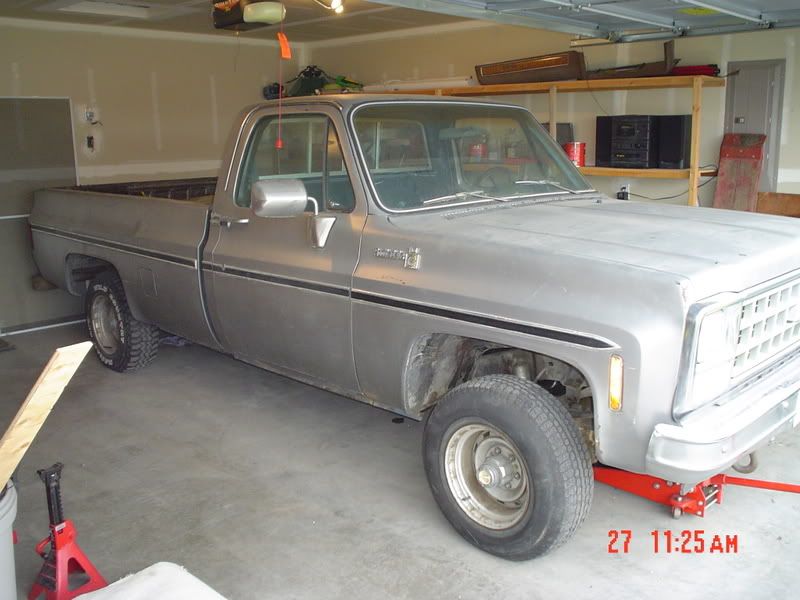 Plenty of room in the garage.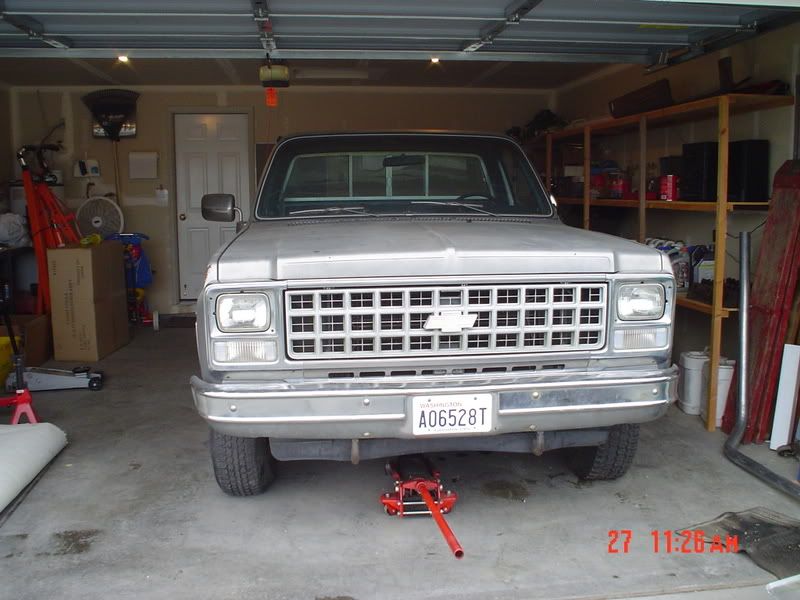 Once the truck was running I found out the tranny had problems. No big deal. Had another buddy who builds trannies rebuild it for $200 + parts. Total cost was about $325.
Once the truck was in driving condition I tried to decide what I wanted to do to the truck. I've thrown together many cars before, but I've never sat down and made a plan and actually tried to stick to the plan. Or even have a plan before hand for that matter. So I decided I was going to build this thing exactly how I wanted it before I drove it.
My plan was to have a truck that was reliable, and capable for my area. There seems to be a little of everything around here so that made it a little tough I think.
My Plan:
Better axles
6-8" of lift
38"+ tires
stroked 400 - 416cid
Streetable/Legal
So the first order of business would have to address the axles. I did a bit of research before I decided what I wanted to use. I decided on a Dana 60 front for the shear strength. I chose a 14 bolt Full floater for the rear because of its strength and cost of rebuilding vs some of the other rears. It was also cheaper to get from the junk yard. I searched for a while before finding a suitable D60. The one I bought had 60K on the truck it came from. Everything in it was in good working order. So I justified not having to rebuild it for paying a little extra for it. I got it for $1175. And it was the only use able one I could find at the time. I know I could have probably found a better deal somewhere. But I was a little impatient at the time as well. Thinking I would have this truck together in no time. I would need the axle right away. That turned out not to be true.
I sourced the 14FF from another junk yard and only paid $60 for it. I knew I would be completely rebuilding this axle. As long as it wasn't bent and the spindles were good I was ok.
Next thing I know I was going to be a daddy and that threw the brakes on my project.