Discussion Starter
·
#1
·
So, I've been dragging my heels for a long time getting a post together about how I did it, but thanks to a few people hounding me, I figured I getter done:flipoff2:
Basically I wanted more gearing and am a cheap SOB. T-cases are the obvious option, but I wanted something i had never seen before. The original setup was a 700r4/sm465. Problems arose with this setup which I will explain soon, and the setup was swapped for my new 465/465.
I'll go over everything quick, and if anyone needs anything clarified, let me know and i'll do my best.
First things first I needed a shaft to adapt the 4 speed to the auto. I took a 10 spline 4-speed input along with a np208 27 spline input to a buddy of mine and told him what I wanted. To make them work together he machined off the clutch input and pressed on a piece of DOM to bring up the O.D. of the input, which was then TIg welded. This was then Chucked up on the lathe and turned down to a press fit diameter for the female input of the 208. The two pieces where sweat fit together and chucked back up in the lathe to true them up before being TIG welded and slow cooled.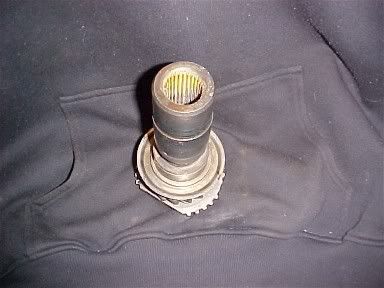 The OD of the old 208 input is slightly smaller than the ID of the input bearing, therefore it is all still capableof being disassembled and reassembled as before. The bearing retainer was then cut to the edge of the seal surface which allowed for the input shaft to fit through,but removed the seal. I welded a chunk of exhaust tubing onto the bearing retainer and used a seal that pounded in nice and sealed tight.