I just picked up a 2.2 NA (L61) for my jeep project and searching shows more unanswered questions than info combined with tons of unverified speculation.
There are some good threads hiding out there with lots of good tid bits of information, but like many unless your searching the whole site or google you don't trip on them.
My ultimate goal is to run the engine in my jeep and still pass an inspection. (Plug in OBDII style) I know there are stand alone harnesses but I'm also looking to be able to use the stock dash etc..
=============================
I'm editing this first post to save/collect all the PNs that work for my swap. Hopefully this will make it easier to duplicate...
R150 transmission
, w/ early (small tip) AX15 input
--- 1986 3.0V6 trans
Solstice
Bell Housing
, PN# 89060089
--- 2005 Pontiac Solstice, 2.4
MA5/AR5 Input Retainer
GM P/N #89048231
Pilot bearing
# FC-65354
--- 1993 Ranger 2.3l pilot, +early small tip input jeeps. Can be ordered with outer sleeve from jeeps applications..
Input retainer seal
in new retainer same as oem AX15 (BH2844E) / Cross ? 223253
---2002 Chevrolet Colorado 5 speed
Concentric Slave Cylinder
- Rhynopac # S0536
--- 2004 Dodge Viper (NEW) this is ~1" taller than the previously used part#
Flywheel
Interchange number = 409-01110
--- 2005 Saturn Vue Flywheel - (stock) Weights 21.5#
--- Flywheel casting GM# 90537277
Clutch Disk
Sachs # BBD4198
--- 1982 CHEVROLET CAMARO 2.8L, 9 1/8" x 1 1/8" x 10T
Clutch Cover / Pressure Plate
-Sachs # SC70305
--- 2004 SATURN VUE 2.2L 134cid L4 FI DOHC
Clutch Cover Bolts
- ARP#642-1000
--- Clutch Cover bolts drilled/tapped to 3/8-16 x 1"
Flywheel bolts
- 12pt ARP #209-2801
Updated Timing Chain Tensioner
- ACDELCO Part # 12608580
Power Steering Pump Cam Drive 'HEX'
GM#24572945
=============================
Still researching if an older 2.2/2200 vortec coil pack module can read/use the 6+1 crank sensor possibly add in a cam sensor.
[My solution ] Yes it can, basically using a 1995 PCM w/ s10 chip running 2 coil packs in waste spare mode. (more below)
Motor Mounts? What did you end up with ? Some links to sand rail sites but I have to join up to see them... Guess I'll join another forum to take a look... [ My Solution ] I made my own motor mounts using poly bushings.
headers? [ My Solution ] I'm running the stock manifold for now.
What about all these cooling hoses on the block? What can go or has to stay? [ My Solution ] using Mojave heater and using existing hoses.
Steering pump? Stock is on the back of the engine, i might can fit that.. BUT I saw a pic the solstice is running one on lower pass side. Makes it wider than before but its an option. [ My solution ] Im using a PSC CB pump.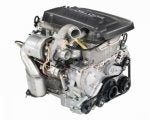 =============================
Documentation: Hmmm can't upload PDFs...
=============================
Links to my research....
Some general info.
http://en.wikipedia.org/wiki/GM_Family_II_engine#D-TEC.2FE-TEC_II#L61
http://prod.gm.gmgssm.com/experience/technology/gmpowertrain/engines/specialized/marine/2009_2400_Marine.pdf
Swap info:
Ecotec AX15 swap info and pics..
http://www.pirate4x4.com/forum/showthread.php?t=949738
Bellhousing discussions:
http://www.pirate4x4.com/forum/showthread.php?t=604219
PSC steering pump bracket?
http://www.pscmotorsports.com/-PK1200E-GM-Ecotec-1200-Series-Pump-Kit.html
any DIY stuff???
Good info: (I think he has a build thread here somewhere?)
http://www.sisoffroad.com/forums/showthread.php?t=8922&page=2
Compression Sense Info:
http://www.flatrater.com/Friends/CS1/CompSense.htm
Older GM DIS info:
http://www.megamanual.com/ms2/GM_DIS.htm
http://www.msextra.com/doc/ms1extra/MS_Extra_Ignition_Hardware_Manual.htm