Falkor - 2001 2500HD
I recently purchased at an auction a 2001 GMC 2500HD Crew Cab, long bed with the 6.0L, 4L80E and manual shift NP263 T-Case with only 147K on the clock to replace the Yukon that I built. Now, you may be wondering about Falkor… Well, if you are anywhere near my age you may remember a movie called the Never Ending Story that had a big white luck dragon named Falkor. After rolling my Yukon, in a fluke accident off a sand dune, I figure the truck is big and white and I am going to need all the luck I can get! Plus, this is just the latest instalment of my never ending story of building 4x4's. You can read the Yukon story here,
http://www.pirate4x4.com/forum/general-4x4-discussion/2171530-mother-lode-2005-gmc-yukon.html
. The truck itself is VERY basic, vinyl floor, manual windows, cloth seats and the reason I really wanted the truck, the manual shift t-case.
The plan for the truck is to copy Timzr2's front suspension design, I have seen and built plenty of suspensions and Tim's is hands down the best I have seen. The time and effort he put into this is beyond belief and I cannot give him enough props that he shared his design for anyone to use, again this is not my design and Tim deserves all of the credit! I will be using the Super Duty 60 just like Tim and if you want to read Tim's build you can find it here.
http://www.pirate4x4.com/forum/chevy/2379705-multipurpose-duramax-build.html
For the shocks I reached out to Ryan at Accutune Offroad and I will be using Fox 2.5"x8" Factory Series Remote Reservoir shocks for the front with custom valveing and a 450# Eibach spring.
From there I reached out to Green Speed Research here in Boise to help me get all the bending and laser cutting done for the front suspension, a few emails and phone calls back and forth and the plate was into production, Patrick at Green Speed had to slightly tweek the design for the tooling that is available here in Boise, it should all be done in a week or so. If you have a chance check these guys out do, they built a bad ass diesel land speed truck that went 209 mph and they are now building a diesel trophy truck that is off the hook! These guys get off-roading and engineering and they were again super impressed with Tim's suspension design.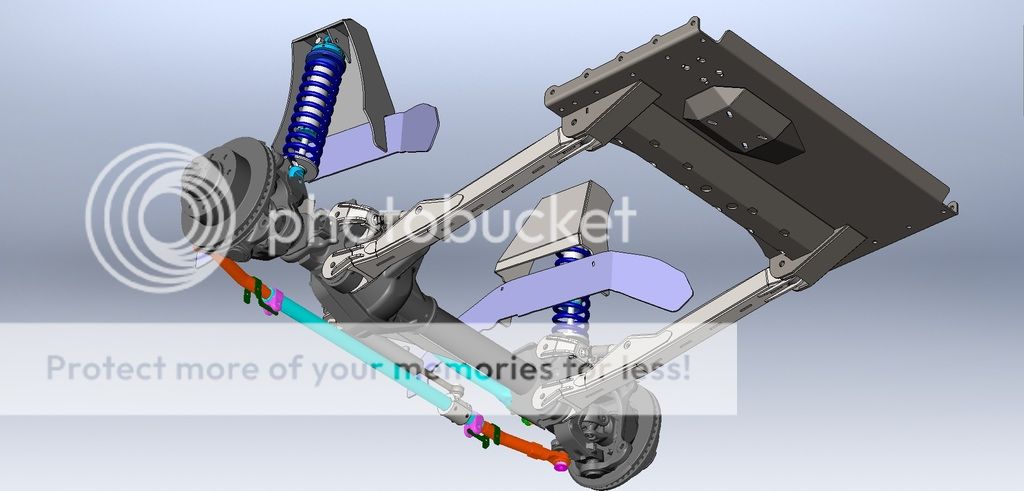 So the back of the truck is where I'm going to go off the deep end… I am going to chop the frame right behind the cab and ditch the bed. I will retain the FF14 bolt out back and will add an Atrec truss along with a dual triangulated 4 link with Smooth Body Fox 2.5"x12", Low Take Off, Remote Reservoir Shocks, again from Ryan Accutune, and will use Firestone air bags with onboard air to support everything. From there I will wrap everything with a tube bed and incorporate a custom 40ish gallon fuel tank and Decked bed drawers that will be built into the tube bed using the top of the drawers as the top of the bed, so it will have plenty of drawer storage and be strong on top, while still keeping weight to a minimum. I will have to substantially modify the drawers to make them work, but I am confident I can make them work!
For wheels and tires I will be running 40"x13.50"x17" ProComp Xtreme MT2's and the same Walker Evans Wheels I ran on the Yukon.
At this point I have everything I can think of on order with the shocks being the longest lead time. I should start cutting on it in the next few months. Here are some pics of the truck.