::edit::: all sold pending funds
Thats right bitches, I am going to KOH to pit for the 707 car! But that is not the reason for doing these bags :laughing: I did a run before and I got more PMs asking next time to do a more "tactical" bag, bigger and more "OH SHIT" and less "sandy vagina". So I have been hitting ebay and the gun shows for the last 6 months to gather up what you asked for.
And it will pay for my KOH trip :flipoff2:
This is a bigger bag, full MOLEE coverage so it can be weaved into your gear or ziptied to a rig. Water resistant cordura nylon and built well. bag description:
Three internal pockets - two medium pockets w/velcro closures and one large mesh pocket with a velcro flap
The two main external sides features eight columns by four rows of Molle
Approximately 500 cubic inches
Shoulder Strap is included
Single drain on the bottom of the bag
Comfortable carry handle closes with velcro
Two high quality zippers
External Measurements
Height - 9"
Length - 14"
Depth - 4.75"
Size using a 24ox monster can
Ok now for the kit.
Contains:
1 heavy duty emergency reflective blanket, NOT the cheap mylar crap.
SAM splint
large watergel burn bandage
2 SOF tourniquets
1 skin stapler
1 NAR N95 mask with 2 pair gloves (sealed)
1 pair black talon gloves loose
2 NAR 6" trauma bandages
2 quikclot gauze (expires in OCT, see end statement)
2 cravats
2 3" ace wraps
1 3" Coban wrap
2 rolls asst tape
1 compressed gauze
5 4x4 gauze pads
around 100+ assorted GOOD bandaids (knuckle/finger/normal/big)
tefla pads
triple antibiotic
betadine pads
FULL SIZE pocket mask
nasal airway
chest seal
14ga cath for general stabbing or needle decompression if you have that training.
1 pair GOOD trauma shears
1ea surgical scissors, tweezers, hemostats
2 folding razors (handy!)
LED flashlight
sharpie
chapstick
bug spray
sunblock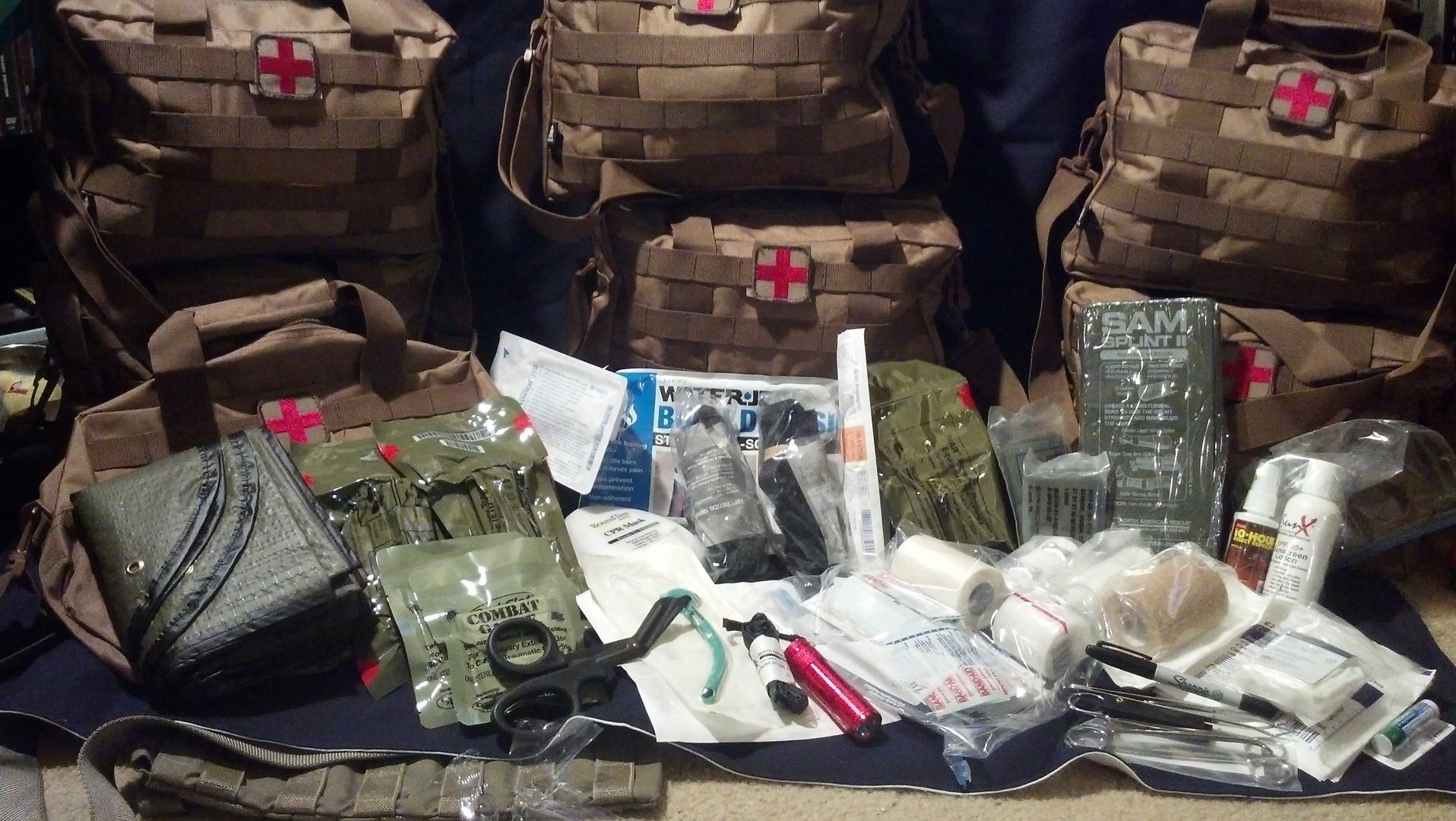 $100 each shipped!!!! usps flat rate and insured
If you for any reason think you did not get a good deal with the bag and the other random crap I stuff in the flat rate box you can post up in this thread and I will refund your cash and you can KEEP EVERYTHING but the bag!
I made 10 of these, they are a bit of work and time to gather this shit up for you at the cost savings of any other shitty bag out there :flipoff2:
POST HERE FIRST!!!! DO NO PM ME!!!!!
Say how many you want and I will PM you, first come, first pay, first serve. Once these 10 are gone who knows how long it will be till I feel like filling my closet space full of this crap till I have enough to build more :laughing:
Ok, disclaimers. Sorry the QuikClot expires so soon, but in reality if the vacuum is sealed it should be good for 2+ years over that date. Its dried kayolin, so there is nothing to go "bad". All the newer stuff I found would have added 40 bucks to the cost of the bag. If there is something in the bag you don't know how to use, LEARN!!! I have some great videos under my same screen name on youtube to help educate and amuse you. for example:
https://www.youtube.com/watch?v=JZO-clmo5n8
If you still don't trust yourself, remove the item. these bags have enough room to customize. and when you get the bag OPEN IT APART! learn what each shit is and how to use it!