Well i ve been getting alot of Pm's with questions about my ranger so i decided to finally post up my build up. It all started off with a $400 88 ranger STX regular cab long bed. I lifted it 6"s upgraded the axles a little then i met some new buddys that all have crawlers. So i decided to ditch the TTB front for a HP fullwidth Dana 44. I bought a 44 off of craigslist for $200 with all the cast wedges on it. I was going to run them with stock radius arms, bushings, and coils but i decided i wanted to flex alot more than that. I Plated the stock arms grinded them down so i could sleave them with 2" 1/4 wall DOM extended them around a foot and got currie HD johnny joints. made the cross member/t-case skid in a few hours got pre-bent Blue torch 1 3/4 DOM shock hoops welded all that crap on. I got a great deal on 14" 2.0 fox air shocks so i was pretty much ready to flex. I scored a massive deal on 8 lug outers/ 5.13's/detroit/ recentered H1 double beadlocks/6 38" TSL radials half tread/high steer/ heimed dom tierod/ Eaton 14 bolt rear end with disk brake conversion with 5.13s and lincoln locked all for around $1200 I decided to stick with leafs in the rear and picked up some 63" chevys
for $50 and inboarded them and made some shackles. Got the drivelines made ( Steve at South Bay Driveline in San Jose).
All in all it turned out great i have run the con/frank reines/ and hollister a few times with nothing broken. To bad i finished it right before "season ended" so i havent been able to run Four dyce like i wanted too. hope you guys like it heres all the pics i know theres a ton just thought i'd be thorough
Update As of 12/6/2011:

Current Specs

88 Reg Cab Ranger Frame
90 Extendo Cab
2.9 Liter V-6 (fancy)
Mitu Trans 5-speed
Stubler Doubler BW1350-1354

Front End:
88 High Pinion King Pin 60, 5.13's, Welded, Plated Knuckles, HighSteer, PSC DE Ram, 35 Spline Yukons with Warn Hubs
2/3 Link with Pan Hard (2" .25wall DOM with 1.25" Heims for links) (1.5" .25" wall DOM with Ruffstuff 7/8s Heims for PanHard)
2.5" SAW Airshocks with Tri-Nitrate Coated Shafts, Poly Performance Limit Straps

Rear End:
63" Chevy Springs, Redrilled
Plans to put 2" SAW Airshocks in back w/ leafs
Eaton H052/72 with Discs. Shaved housing, welded, 5.14s

Cage:
Full Exo around Cab, 1.75" .120wall DOM.

Wheels/Tires:

44" Pitbull Rockers
Performace Cryogenics Recentered H1 Wheels, Trailworthy Fab PVC Inserts
the begining:
the mud days: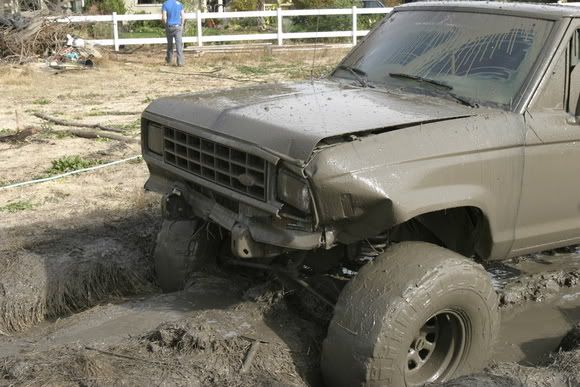 went to the early 90's front clip:
Then 1 Tons 44" Pitbulls etc.