Discussion Starter
•
#1
•
So this may not be a, truggied out truck on 60s thread, but it isn't going to be a "post pics of your XXXX" or "are these rock sliders DOT aproved" either :flipoff2:
Anyways,
I posted up the 3.4 vs 4.3 thread a while back, because I was going to buy a blown 3.0 4runner and was trying to decide between the two, well I bought this instead.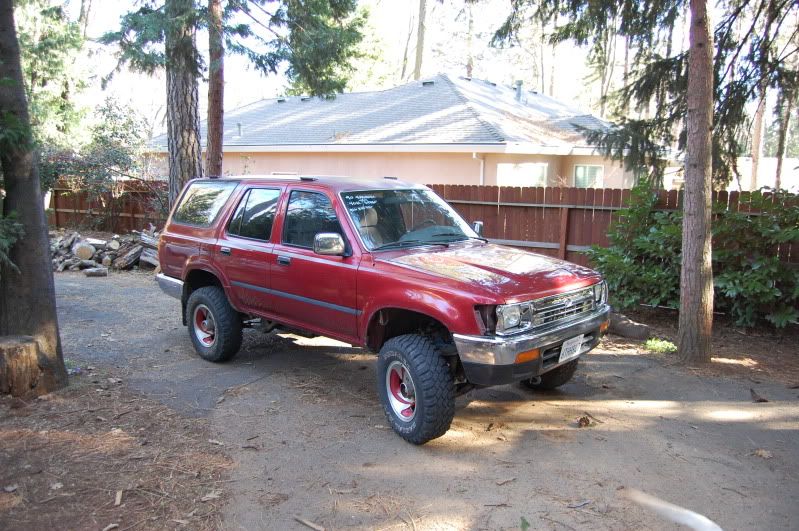 90 4runner, 22re, 5spd, 4x4, 240k miles, SR5, power windows, cruise control :grinpimp:
Paid $2600, smogged and reg till nov.
It runs really good, probably as fast or faster then most 22re trucks Ive driven (pretty good considering the extra wieght, 3750
to be exact with a 1/4 tank, no spare and those SWEET alum rims:barf
Everything works except: right rear window needs help going down, but not up, and A/C, not sure why.
My plans are:
Small amount of lift, 1" BL, FJ80 coils or 2" spacers (anyone make some under $100
) and maybe slight torsion crank
35 kevlars or KM2s
5.29s front and rear (got a whole front diff from a buddy with ridelin)
Elocker rear and
maybe
front aussie locker
Duals with a 4.7 (left over from last wheeler) w/ tripple stick to help keep center console
Good bumpers and sliders (all home fabbed)
Ford tank down the line
Most of all no geheto-gottaweldthisshitontogowheelinthisweekend-fab like my last wheeler. Seemed like thats all it was made of. :flipoff2:
So far all I have done to it is, take off mudflaps and sway bars (may put the rear back on), tighten the Ebrake cable and put in my red top.
I am curious to see how the IFS holds up to light to medium wheelin. If it doesn't I will cut it out and put in a waggy 44 spring under to keep it super low.
Hopefully I will have some Hardcore tech to post soon.