Well, I've been around for years, and while I have asked a few questions here and there, I usually comment on other peoples stuff, answer questions and just research...
Anyhow, my wheeling rig is at a stage where I think a build thread is finally in order.
Little bit of history, I've had the thing for 13 years in various forms, and this is what it looked like in 1998:
2wd, 6 cyl, and I remember being excited about stuffing 31's under it... LOL
Fast forward to '02,
Stuck a F250 chassis under it, factory 460/T19 setup. It was my DD in that form for a good while.
5 years down the road, after languishing in the back yard for a while I drug it out of the back yard, stuck some 35's on it, welded the rear, and abused the hell out of it... LOL
Spring of '08, well, I finally started doing the things I'd been wanting to do to it for years and tossed some new bearings in the engine.
Stuck the 60 under it with the TTB springs... That really sucked...
The 60 came with fresh 4.10's and matching gears for the rear. Wheeled the crap out of it for the summer, and hurt the patched together 460 badly again.
Last summer, I built a new engine for it, and started a shackle reversal with Super Duty springs, but, work, women and other things got in the way, so, it sat until just before Christmas.
Went to drag it in the shop and discovered that A) I had only put straight water in it and it was -30, thankfully the engine survived with no damage and B) even though the diffs and transmission had nice clean oil in them, the transfer was full of water, in low range, and frozen solid...
I've spent a couple good weekends on it since then, this is how it sits as of Sunday night: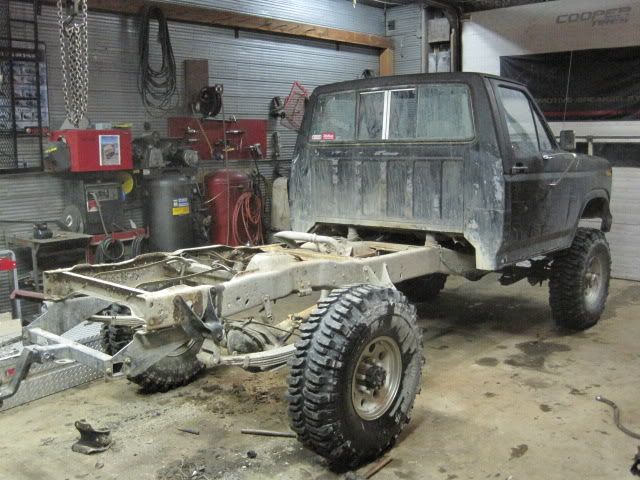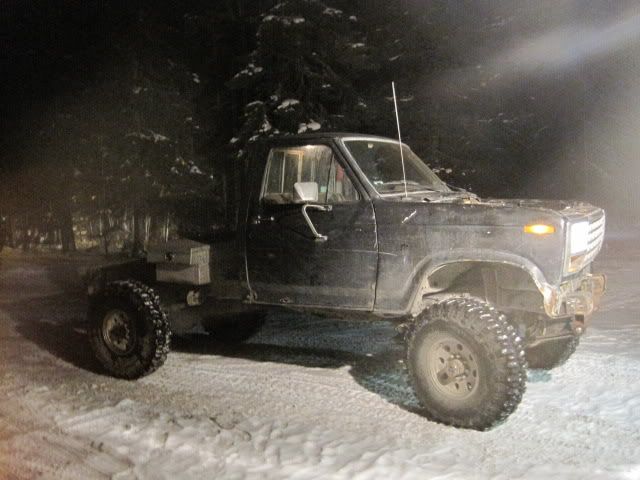 Shackle flip in the rear with a stock bracket for the front of the rear spring, the front springs are takeouts from a '00 Superduty a buddy of mine had laying around in his garage that were pretty much brand new. The not so pretty crossmember/mount they're hanging off of at the front is a piece another friend of mine had built for one of his never finished projects. I need to re-build the brackets for the springs themselves on it as they're just plain ugly, and the bolt for the spring eye is too high, not leaving any room for the spring to twist, but, the main crossmember is 3" .25" box tube. It is currently just notched into the bottom of the frame and welded as you can see, but, I am far from finished with fabwork on the front end.
I screwed up when I located it, it should have come a bit further forward, and I should have shoved the rear mount ahead, as the S/D springs are 2" longer on the front, but the same as stock on the rear, so, it pushed the axle back about 2". BUT, I have a very useable shackle angle, which is what I was looking at when I located the front mount.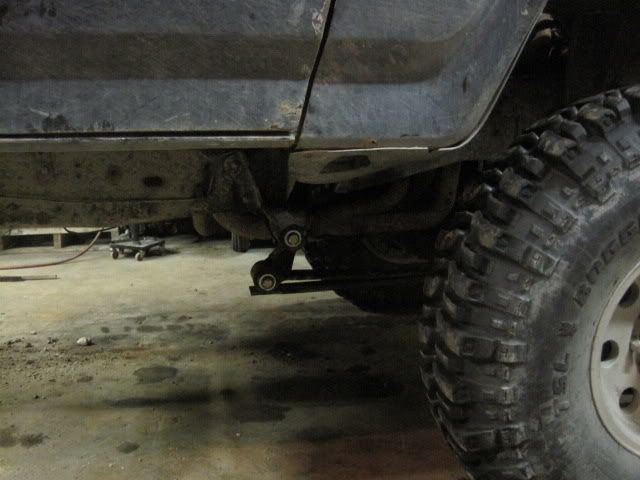 I'm debating zero rates, and/or possibly re-drilling the perches to get the axle back to where it should be. I may still move the mounts ahead, but, if I can get away without doing it, I'm not going to.
I'm currently debating sticking another stock bed on it, or building a tube setup of some sort. That is on the back burner though. Lots of other stuff on the to do list. Most of it in the immediate future is non exciting repairs to existing stuff like screwed up cab mounts and other such fun while I wait on parts, so, there isn't going to be any real noticeable progress for a while. I'm debating yanking the body lift out, but, I do plan on increasing tire size in the not too distant future, so, it may be an unwanted necessity.
But, I did stick some rear disks on there: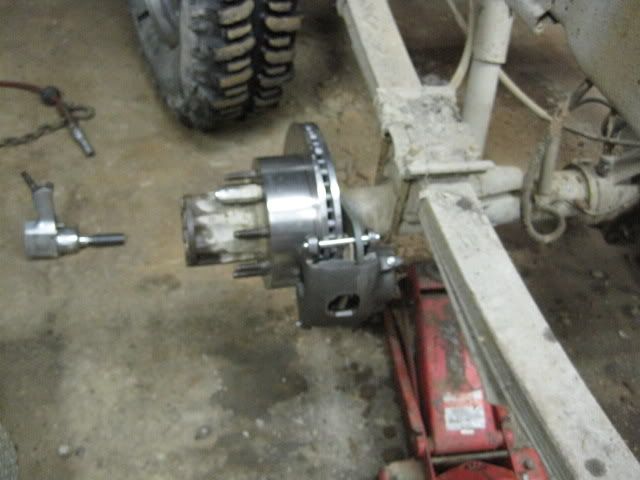 Ruff Stuff brackets on that one.
There is an anti wrap bar for the rear in the not too distant future as well as finishing up the fab on the front end. That crossmember is going to get tied into a bumper/winch mount setup, and I'm sticking a Warn 8200 on the front. For the rear I'm planning on setting my M12K in between the end of the framerails, and anything beyond that depends on what I end up deciding to do for a bed.
There is a 1356 doubler in the plans for the not too distant future also.
Down the road, probably hydro assist and possibly swapping the BJ axle for a KP one so I can do high steer easily. Leaning towards an ARB for the front, and at the very least 35 spline outers.
The truck is staying 100% street legal, so, no dovetailing or any of that fun stuff. It's primarily a trail/exploring/mud truck, not a whole lot of rock crawling to be done in my immediate vicinity, but, I am staying with the idea of building more of an all rounder than anything specialized.