I think I've priced this stuff pretty fair seeing as its pretty much all new unused stuff. If you want the entire setup I'll make you an even better deal though. I can ship if you want but am happy to let you inspect everything in person if your local to the Marshall / Longview East Texas area.
If you want to buy the rest of the setup I'll do a
package deal of $250
Selling some camping gear that never got used. Purchased new from REI in Dallas. My wife and I were planning to use it a lot but she passed away before it ever happened, its been a couple of years and still never been touched so its time to sell.
1. Gregory Baltoro 65 pack, I believe its a medium, I'm 5'8" 180 and it fits me perfectly. Pack is in perfect new condition $175 ($300 new)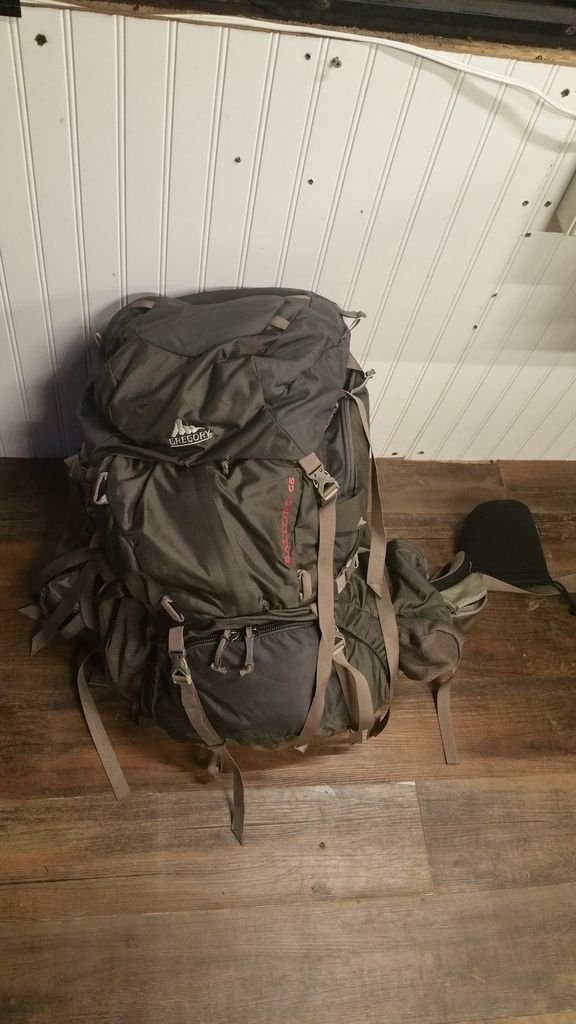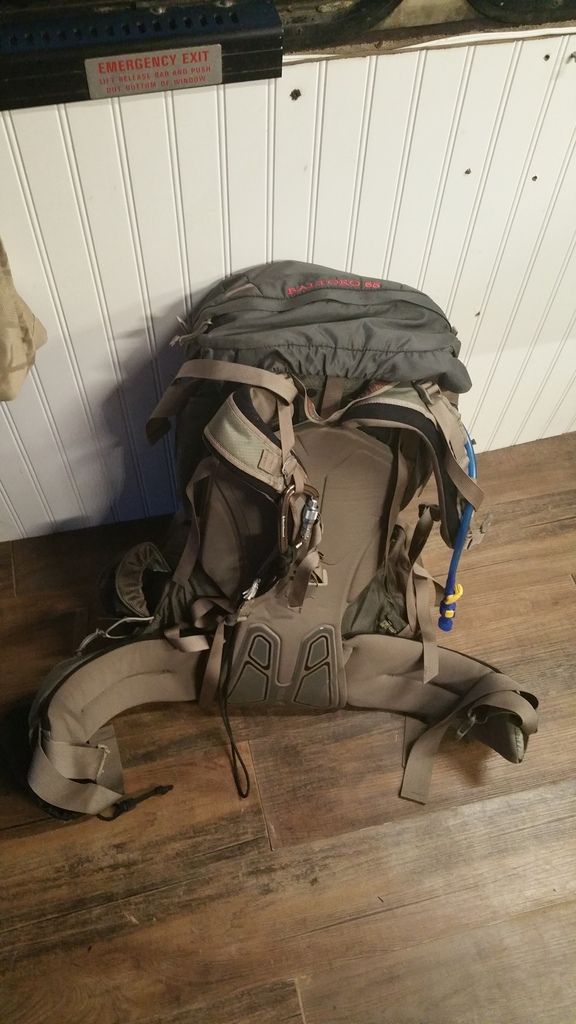 2.
**SOLD**
ENO hammocks. I have 2 complete sets of these, one was never removed from the package the other was assembled in our front yard to practice setup and was laid in once, these are both perfect new condition. This is the complete ENO package hammock, nylon straps, rainfly, mosquito netting they still have the tags on them from REI, I'm pretty sure I even have the nice small red anodized aluminum stakes around here as well but I'd have to look for them. I'd like to sell these as complete packages but will make you a deal if you buy both packaged deals. $150 ea ($220 new)
3. Ponchos cheap versions but the material is thick, bought these instead of suits so we could just throw them over ourselves and the packs and go. Never even removed from the packing. $5 ea
4. REI personal pillows, perfect, new, never used about 12" x 12" $15 ea ($25 new)
5. Titanium fork, spoon, knife set new never used $10 ea ($20 new)
6. 3L Camelback water bladders, we upgraded the mouth bite on each of these to switchable valves that easily pull off so you can attach the water filter also pictured in the ad. This setup allows you to fill filtered water through the blades hose instead of removing the bladder from the pack to fill. $20 ($35 ea new)
7. ****SOLD**** Jet boil summon boiling system. Again, complete, new tried it out once to make sure it worked and make sure we knew how to cook freeze dried meals with it. Purchased from REI. Fuel canister is full although if it has to be shipped I'm not shipping it, not worth any possible trouble on my end. $75 ($150 new)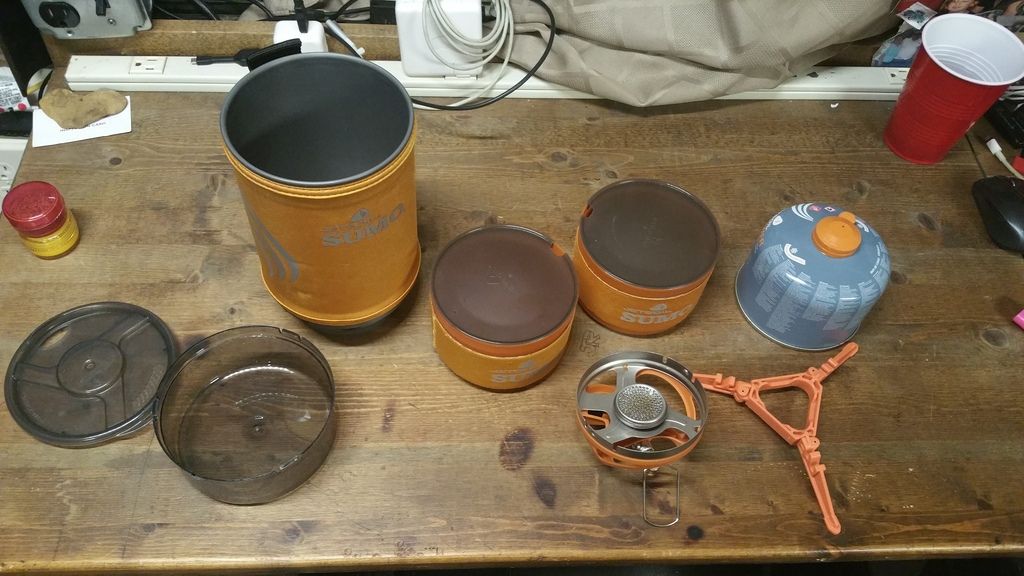 8. ****SOLD**** Katadyn water filtration, new never used never tried. Notice the blue nipple installed, this is an extra item we purchased while at REI, it plugs right into the mouth piece on the camelback 3L bladders so you can easily fill your water supply without having to take your pack apart to get to the bladder cap, very nice to have, at least in theory. Never got to try it. $65 ($100 new)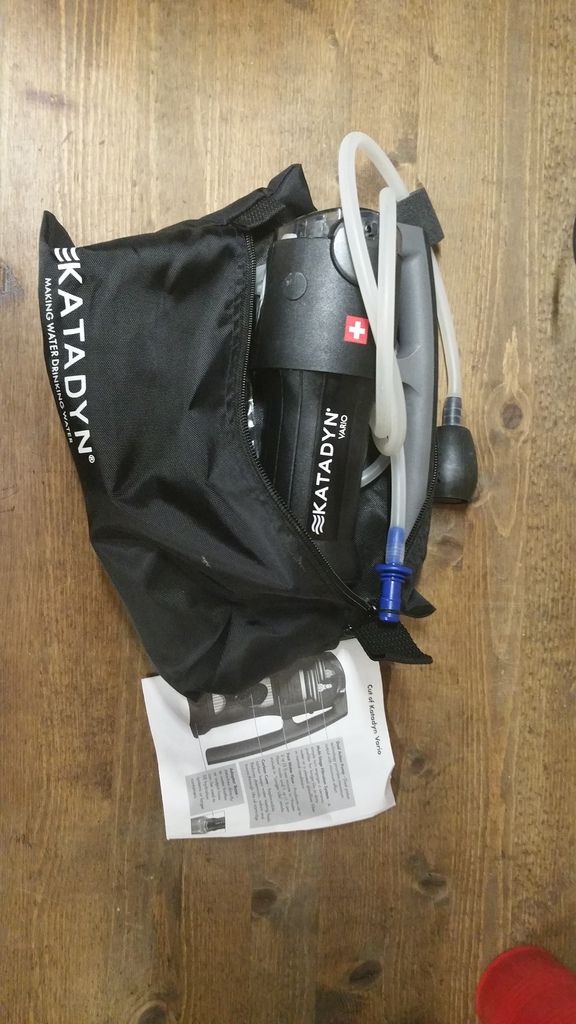 9. Osprey backpack. This pack was purchased used and has a little odor to it but is in good shape it looks to be a medium, maybe 65L pack. $50