Hey!
I just got my rollback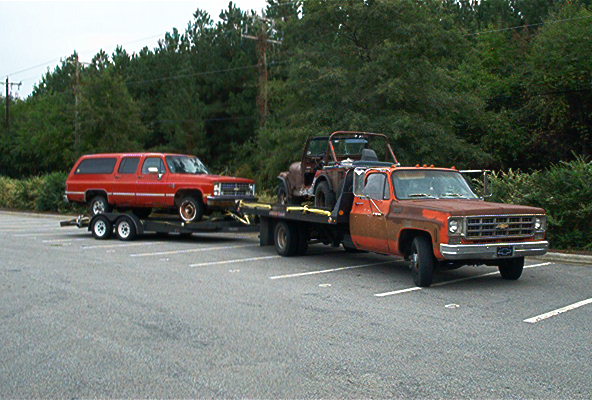 stuck AGAIN this morning. (No, I don't have any pics of it stuck, I am always too mad at the time.) I had to unload the car that was on the bed and have someone drive the truck so that I could pull it out with my Ford 4000 tractor. This truck just SINKS if the ground is even a little soft. The rear tires were sunk at least 8 inches, even though I restrained myself from trying to spin my way out of the hole.
I'd like to put wider tires on the rear to keep this from happening(and I need new rear tires anyway), but the 235/85/16s I have on there now are the widest I can run on the wheels I have without the dual rear tires touching each other.
Does anyone have any suggestions for aftermarket STEEL dually rims that are offset a little more, so I could run wider rear tires? I searched for spacers to space my stock rims apart, but all I could find was this from Stockton Wheel for $525 per pair:
"If you want to fatten-up the back of your truck for that full-figured look, this is the simplest way to go! These 2-inch or 4-inch thick steel, 8-lug (only) spacers are designed to adapt single (rear) wheel vehicles to a dual wheel application. They can also be used between the duals to accommodate wider tires! Supplied as shown."
With a 2" spacer, I could run something like a 285/70/16 and be the same height as my current tires, but 2" wider per tire. But then I'm thinking I might need wider rims too, to go with the wider tire, so if I could just buy rims and no spacers, that would be cool...
I'd like to do this economically, but I also NEED to do it so I can stop getting stuck. Yes, I know I am driving a heavy truck (especially when there is a vehicle on the bed), but I'm not trying to mud bog with it.
I just need to go across some grass or a field every once in a while to pick up a vehicle!
Thanks!!!
Richard