Alright guys here we go!!
I know its been a LONG time since I've posted on here but now I'm BACK! :flipoff2::smokin:
So as the title says ih4ever's revival. It has offically begun, its been nearly two and a half years since I've driven the Scout. I tore just about everything possible on the Rubicon two years ago. I swore up and down the whole trip. I also swore I would be back to conquer that damn trail!!
Over the past month or two I've been slowly putting together my parts and rebuilding things as neccesary.
So the plan is to take my boring old scout with an SOA and dana 44's with 35's and turn it into a big bad four wheeling machine!! Links, coilovers, big motor, the whole nine yards.
I contacted my buddy scouttank and we put together a nice lil plan to get my Scout up and wheeling again!
Probably over the last five years or more, I've purchased a whole lot of shit to throw at the Scout. The list includes, but not limited to...
1990 Chevy 5.7L TBI
1986 700r4 "K" Case
1985 CUCV 1 Tons
and all sorts of other fun stuff :flipoff2:
So the final plan is to....
Run the chevy 350 TBI, to the 700r4.
For the tranny, I just bought the "monster in a box" kit for the 700r4, its rated for 650 ft lbs of torque :barf:
From the tranny, I already have a 4:1 Klune V, mated to a np205 with 32 spine front and rear outputs. With a 1410 front yoke and a 1350 CV rear.
And for the suspension, I plan on doing a 4 link front and rear. Racerunner Coilovers front and coils in the rear. (all suspension links and joints and springs all ready purchased)
**and of course the final product is subject to change**
Tune in for photos of the build to come.
And now for the good stuff!! PHOTOS!
Here she is all loaded up on scouttanks truck and trailer.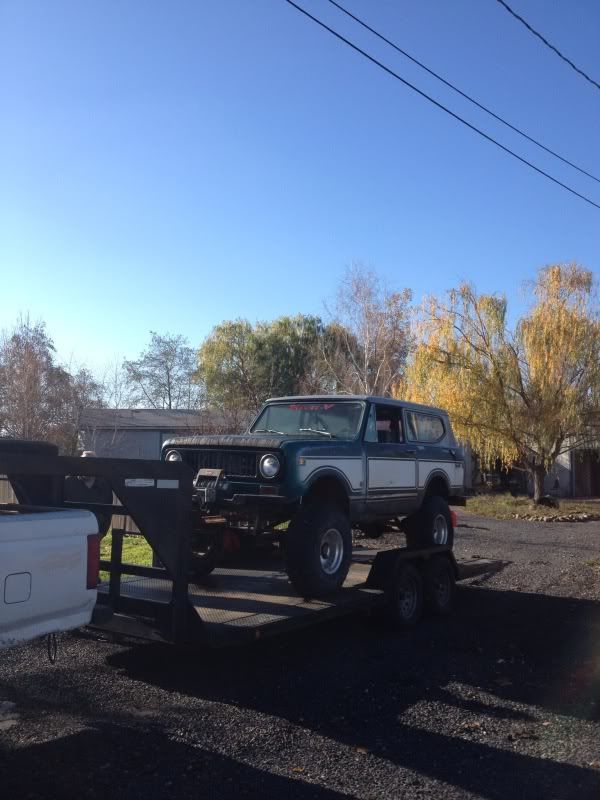 In route to its new home
At its new home. scouttanks pad. Giving it something to look forward too.