I recently installed hydro assist on my Toyota. I modified the stock toyota pump, but found that it did not put out the pressure I was hoping for. I would have to throttle the motor up to about 1200-1300 rpms to get the pressure I needed to steering. I wanted something that would give me better pressure at lower RPM's (600-900 rpms).
I did alot of research and everyone kept saying to buy the $200 (then you need a $50 pulley) pump from PSC or other steering companies. I did not really want to spend $250+ on this mod.
My friend has a 4.0L Jeep and has no issues with his modified Saginaw pump(a modified Saginaw pump puts out more pressure then a modified toyota pump). I ordered a Pump from a 95' Jeep 4.0L with Remote reservoir. Part Number 20-813 . These are also similar pumps to the ones that they are selling for $200. If you compare pictures of the pumps, you will notice the similarities. This pump cost me $78.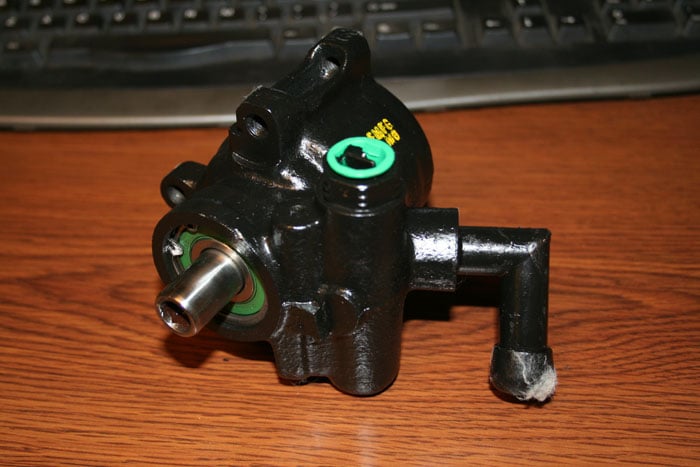 Next, I needed to find a Power Steering Pulley to run with a VBelt, as jeep's had a serpentine belt.
I used part number SUM-340204 from summit racing. It is a Zoops manufactured aluminum pulley. The diameter of the pulley is 5.00", which is smaller then stock Toyota pulley's and smaller then the jeep Serpentine pulley.
I already had a AN fitting power steering hose, So i purchased a Metric to An adapter, 16mmx1.5 oring: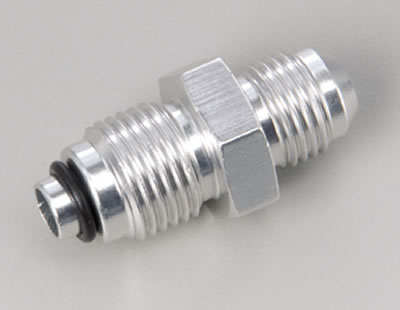 The fitting into the pump is 16mm with an Oring fitting. You can buy these as AN to 16mm or JIC to 16mm. If you were to do some more research, you could probably find a power steering hose that has the fitting sizes you need. Part number RUS-648060 at summitracing.com
Next order of business was to modify the Power Steering bracket. PSC sells some goofy tapped aluminum block. I thought that it looked someone hill billy, So I just modified what I had.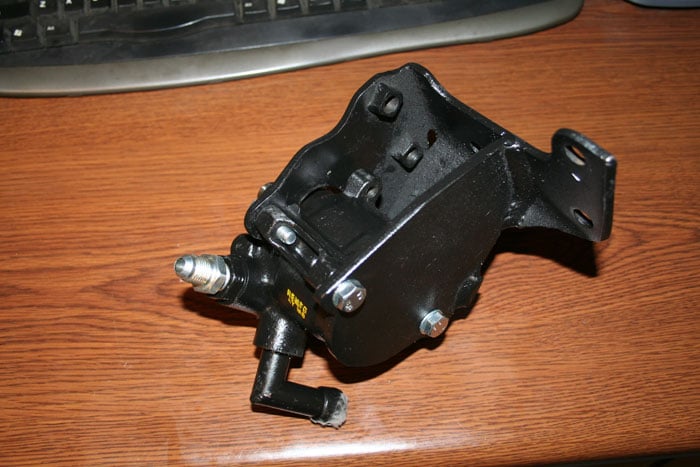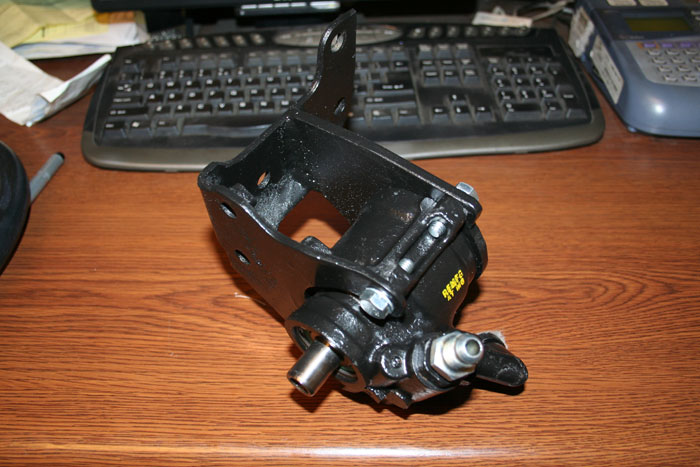 It is just a 4"x5"x1/4" plate that I cut out and drilled.
Linky to another persons adapter:
http://www.pirate4x4.com/forum/showthread.php?t=632601
In order to get higher pressure out of this pump you have to modify it. It is pretty easy and you can follow these instructions:
http://westtexasoffroad.homestead.com/powersteering.html
The pulley is a press on pulley, But I choose to use a button head 3/8" bolt to hold the pulley on.
Here is the pump and pulley installed on my 22r: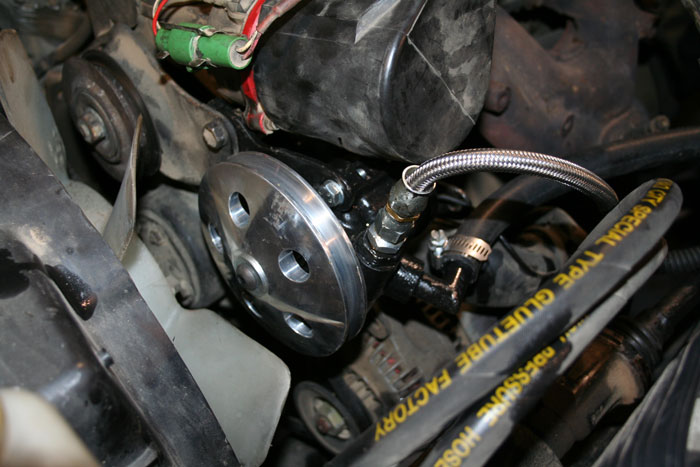 Since the pulley is smaller then stock, you will need to get a new belt. It is .5" smaller then stock. The stock belt is a 17440 (44"), you will need a 17435 (43.5").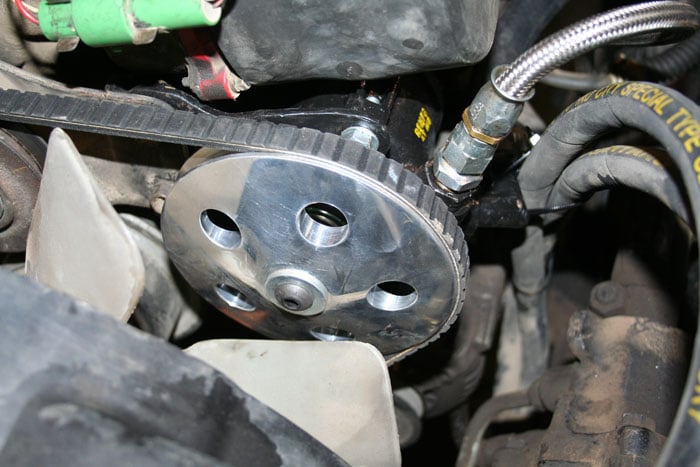 I can now get the steering feel I was looking for at a lower RPM's. The total cost for this mod was:
Power steering pump - $78
3'-5/8" bulk hose - $6
Metric to AN fitting - $9
Summit pulley - $35
New belt - $15
Grand total of $143.