After a looong build, the car is finally done and inthe middle of shake-down evaluations. I figured it was finally worthy of a thread.
Please "like" us on facebook and let us know what you think
http://www.facebook.com/InviscidMotorsports
I want to thank Dale at Ironman Offroad. I have purchased approx 80% of my parts directly from him and never had an issue. He has helped me out with his experience and knowledge of various other vendors (PSC, corbeau, atlas, ETC). Dale can basically get you any part that you can find on the internet, for a great price and better "after the sale" service than most people are used to having. Dale is located near Saginaw, MI.
I also want to thank Mike at Motor City Machines for building the chassis. The chassis design was a collabortive effort between him and myself, with some compromising by both of us. The chassis was based off of his race proven chassis with some major twists thrown in. Mike can fabricate anything you can think of, from Jeep cages to custom suspensions to a complete rolling chassis. Mike (alumCJ) is also 2/2 for finishing KOH, in 2 different cars he built himself. He is located in Fenton, MI.
Chassis
- MotorCity Machines (Fenton, MI)
Engine
- Ford 5.8L 351W EFI MAF conversion, A9P computer
Transmission
- Ford C6 Automatic
Transfer Case
- Atlas II 3.0:1 ratio
Axles
- Housings built by Motorcity Machines, 5.38 gears set by Ironman Offroad
Front
– D60 Rear axle differential, flipped upside down with Ford Superduty C's, knuckles and unit bearings. Branik Motorsports 35 spline axle shafts and drive flanges, with CTM U-joints and a spool.
Rear
– D60 Superduty front differential flipped upside down, full float 35 spline hubs with Branik Motorsports custom axleshafts, with spool.
Tires
- 42" Goodyear MTR competition stickies
Rims
- Raceline Monster beadlocks
Driveshafts
- Custom built by Joint Clutch and Gear (Bay City and Romulus, MI) using all 1410 joints
Suspension
- 16" reservoir coilovers from FOA, 4" bumps from FOA, Coil springs from PAC Racing (Southfield, MI)
I'll try to go through a progression of pictures.
I think this is the first pic I had...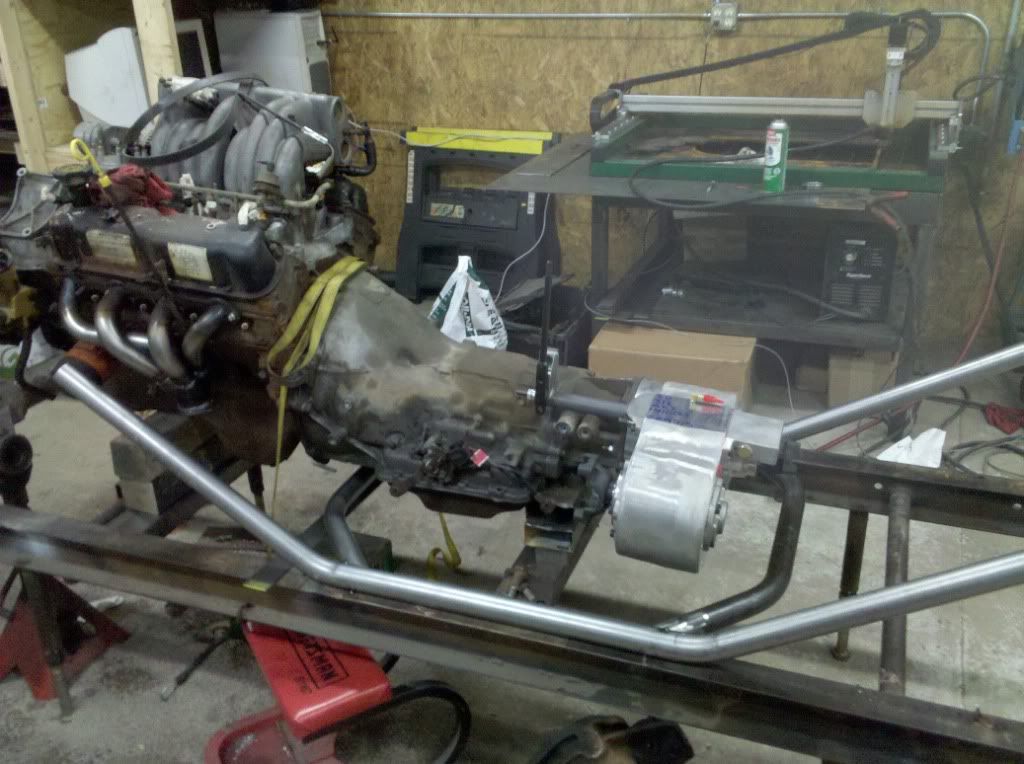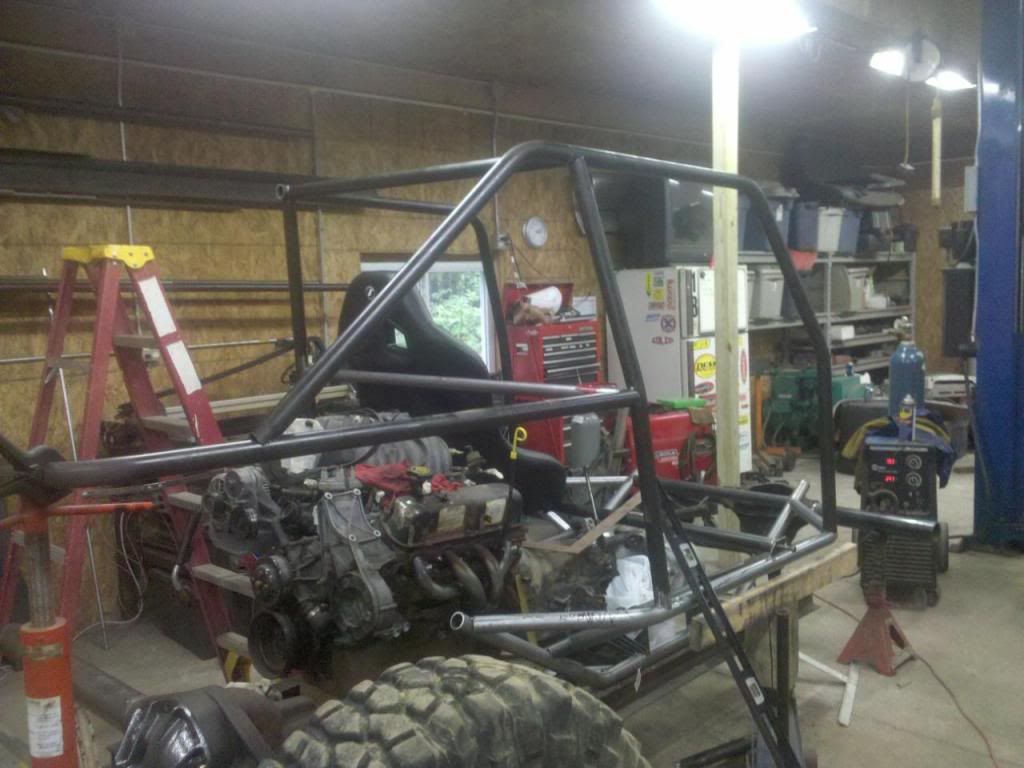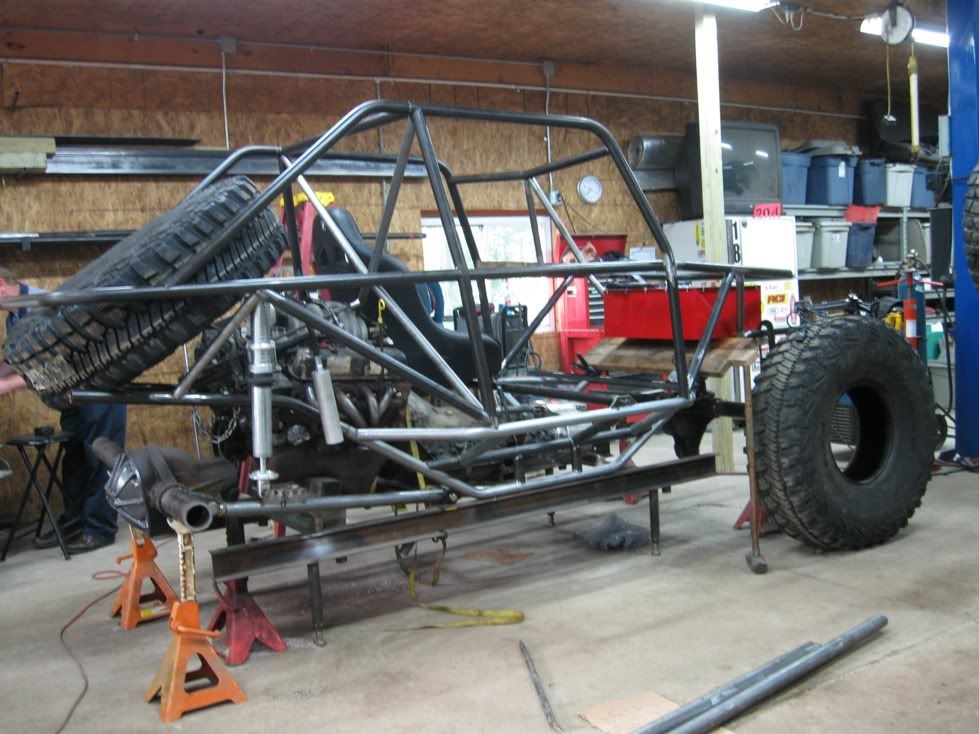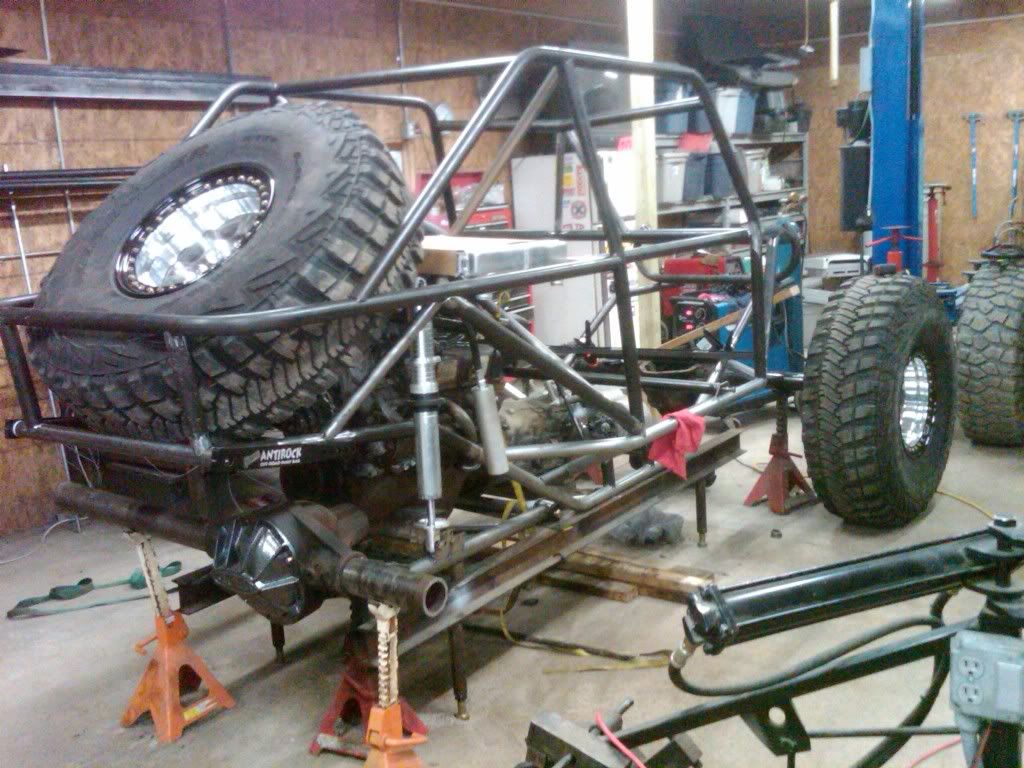 This is basically where Mike left off and I drug it home for tear-down and final build.