We were all fired up about the Jamboree.... My passenger, Mark, from the Sweaty Nipples Off Road Team (S.N.O.R.T.) in Washington State was flying down to ride shotgun with me.Kelly was driving her Jeep solo on this adventure. Kelly picked Mark up from the Sacramento International Airport on Wednesday at 1:30pm. The plan was to head straight to Georgetown when they arrived at our house.I had the rigs all packed up and ready to go when they arrived. They showed up around 3:30PM, so we hung out for a few minutes, and then took off. Since we live in PollockPines, we had to back-track to Placerville to get to Georgetown. The planwas to meet Bobby in Georgetown, and then hit the trail from there.
We arrived in Georgetown around 4:30 or so, and got our wristbands, and souvenier packs. I had managed to get a good parking spot right in on the main drag. There were already a ton of people there.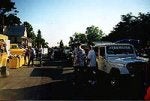 We decided to walk around and wait for Bobby to show up. We had a few drinks, and checked out all the goodies the vendors had on display. We ran into a lot of people that we have met previously on the trail. Then Mark sawBobby roll into town. Being the savage Pirate that he is, he pulled up next to my rig, but instead of parking like a normal human being, be parked up on top of my rig!
People began to gather around the rigs and click off a bunch of pictures. I knew then and there that this was going to be a really wild and fun weekend!We hung out in Georgetown for about another hour before we headed for the hills.....
We usually don't run Wentworth Springs Road because it is such a long, dusty road. Besides, I live in Pollock, which is really close to the Ice House Road exit on US 50. Anyhow, we blazed down Wentworth Springs Road in our 3 vehicle caravan, with Bobby "Ivan Stewart" Roggy leading the way. We arrived at Uncle Tom's Cabin and stopped for some refreshments. Mark bought a T-Shirt, and we hung out for a while and chit-chatted. We discussed how far we would travel that night, before we called it a night. We decided to aim for Spider Lake, where the rest of our gang was already camping. We motored on down the dusty dirt road till we ended up on Ice House Rd. From there, we backtracked to Robb's Resort, so we could load up on Ice and Beer. They were closed, but since we have connections, Dale hooked us up anyhow.
After we were all loaded up with fresh ice and whatnot, we haul bootie for Loon Lake. We got therein no time, and locked em in, aired down, and hit the trail. It was pretty dark now, I don't know what time it was. Mark decided to ride in Bobby's rig for a while. When we approached Ellis Creek, Bobby popped a bead. We quickly jacked up the rig, and got him up and running. For some reason, Mark had taken off his seat belt, and then fell asleep while Bobby and I were fixing the tire. When we took off, Bobby wasn't aware that Mark was not belted in, and as soon as the Commando leaned to Mark's side, out Mark went! We all jumped out of our rigs, to asess Mark's damage. It didn't look good, and Mark was hootin' and hollerin' pretty bad. I decided I would take him down to Marshall Hospital in the Jeep, and Kelly and Bob could continue on... I would catch up to them.
We loaded Mark into the Jeep, and I headed back to the hospital. Marshall Hospital is quite a ways away, so poor Mark had to sit there and take the jarring bumps till we got to pavement. Once we got to pavement, it was about an hour's drive to the hospital. I took him into Emergency, and they took him in immediately. They patched him up with a sling, and some pain pills, and we were on our way back!
We got back to the trailhead at sunrise, and motored on in. I expected to catch up to Bob and Kelly, and the rest of the crew at Spider Lake. We made really good time on the trail, with no troubles at all. When we got to Spider Lake, John Pardi was there, and he told me that the Pirate clan had left for the Springs about an hour earlier. So we motored on toward Buck Island. We ended up catching the rest of the gang on the Slabs in between Spider and Buck Island. We all had elected not to run the "Chute" since we our main objective here was to make it to the Springs in one piece.
Kelly and I switched back rigs, right before we arrived at Buck Island. The mechanics station was already up and ready for business, even though we were way ahead of the Jamboree (they leave Loon Lake at 8:00am.) Grady from the Lake Tahoe HiLos was playing on a big boulder (incentally the local newspaper took a photo of him on that rock) and I was tempted to join him, but we were on a mission.
We stopped at the Lake briefly, and washed up a bit, and then motored on to the Springs. Mark's arm was still hurting him, so I just kept feeding him beers to keep him quiet. He didn't put up too much protest, and happily sucked down his barley pops.
We arrived at the Springs around noon and headed over to our camp which was already staked out and setup thanks to Bob coming in a few days earlier and paying in advance for it. The rest of the day was spent hanging out, and relaxing after a long, looooooong night/day for Mark and I, since we had been driving all night and day with zero sleep.
Friday rolled around, and everything was great. Once again, the day was spent hanging out, partying down, and meeting up with all of our friends we have met over the years of running the rocks, and of course lots of people we have met on the internet! We had a great dinner that night, and the night's activities mostly consisted of hanging out at the campfire, and lots of beer....
Saturday. Ahhhh Saturday. The big day for the raffles, and of course, the infamous Saturday night Par-Tay! Every year we usually crash the party wearing "Togas" (ahhh the high school and college days re-visited) and chanting "To-Ga! To-Ga! To-GAHHH!!!!" - you get the picture.
Around noon, "Camp Master" Dan announced that he and Jack had spoken to a camera crew who was up on the trail shooting some film for the T.V. show "Real T.V." Apparently they wanted to get some killer footage, and wanted to know who could provide it for them. Of course, the Pirates were MORE than willing to get it on for them!!! That explains all of the photos in this trail report - The film crew video taped us doing a famous "Pirate Stack." The pictures to the left are worth a thousand words! Needless to say, the film crew was pretty blown away with our craziness (stupidity) and very happy with the wild footage. They said we would be on the air in October or November, and they would get back to me with an exact airing date.
The Saturday night party was wild, to say the least... I didn't win anything in the raffle though, and neither did anyone in our club. Oh well, next year. We danced and partied it up all night, until the band (The California Cowboys) quit playing. We all stumbled back to our camp for the night. Unfortunately Kelly ended up falling down and messing up her knee on the way back to camp. The next day she was really hurting and not able to even walk.
Sunday was a rough day for most of us, since we had so much fun the night before. I personally swore I would never drink again, like I do every year on Jamboree. We slowly packed everything up, and cleared out of camp for the long ride home. While the Jamboree heads out of the Springs and up Cadillac Hill, we elected to go backwards and head back out the way we came in (we do that every year, it's much faster) because of the gridlock that occurs on Cadillac Hill. The trip out was a slow, and jarring trip, thanks to an incredible hangover.
We finally made it to Loon Lake, and aired up, and headed home (I hate the drive home!) What a wild weekend it turned out to be... Great wheelin, got filmed for a TV show, great food, and great friends... Unfortunately, Mark and Kelly both sustained body damage to themselves, and Kelly is going to have to get surgery on her knee. Even though she hurt her knee, she still had a great time, and can't wait till next year's event!
- Lance Clifford, Pirates of the Rubicon Vice President and Webmaster.