After finally getting things in order after retirement from the Army,I think I am ready to finally work on one of my own projects, I decided the only vehicle platform that would keep me motivated is a 1st gen 4Runner as that is what I have owned for the majority of my wheelin' days. In retrospect, I should have listened to my wife and brought my exo-runner
http://www.pirate4x4.com/forum/showthread.php?t=382882
back from Hawaii with me. Oh well, live and learn.
The first issue with this build was to find a 84-89 4Runner in Pennsylvania in decent shape. Found this for $550 on Craiglist. It had 2 flat tires, the brakes did not work, the rear window did not work, it didn't start and the muffler was gone but the frame and body were in good shape. So I bought it sight unseen. I ended up putting a yellow top battery in it and was able to start it and drive it up on the trailer with 2 flats. The owners Jaw dropped.
I got it home, put on 2 rollers and this is what it looked like day 1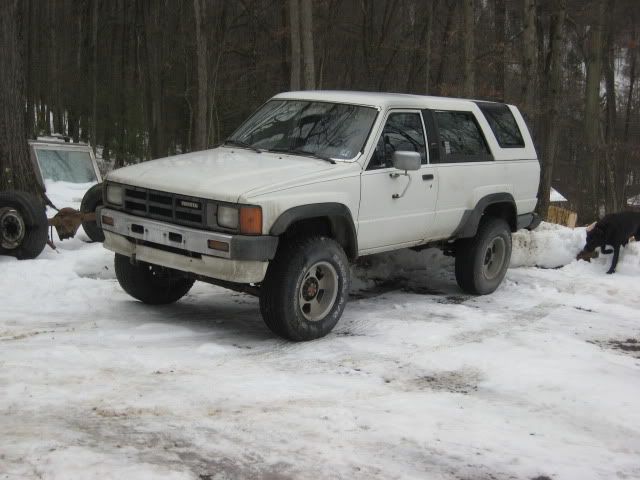 UPDATE 6/9/2011: Since I have shut down my business my origial plan has changed on this and I am building it with no thought of what I sell and need to show case. I have many Trail Gear parts since I was selling their products, I have Corbeau Ultra's for seats since I used to sell them, but no longer sell PitBull tires so I chose to run GoodYear Kevlar MTR's. The goal is still the same though as I want this rig to be able to tackle some decent trails (Blacks/Reds) and still drive down the road.
Current Specs as of Nov 15th 2011:
Bobbed bed
35" Kevlar MTR's
3 Link Front/14" FoxAir Shocks
Stock Rear Springs for now
Crossover using stock Arms/heim joints
Trail Gear Hydro assist ram
PSC Hydro Assist Pump and Reservoir
Trail Gear Dual Cases with 4.7"s in rear case
relocated tank to behind the rear axle
relocated gas door
exhaust exiting through rocker panel
Custom front bumper
Custom Rear Bumper
Custom Sliders
Through the dash internal Cage
Custom short Top
Recent Pic: