Discussion Starter
·
#1
·
I think by now most everyone would agree that ring gear deflection is a large contributor to the short life of Ring & pinions. If you look at aftermarket housing they all have more webbing, thicker castings, heavier hardware and some even have load bolts. This is all done to keep the gears in meshing properly in line with each other. If you have ever seen a Strange Engineering Top Loader rear end you will see how they take a 9" ring & pinon and put it in a box built like a bunker such that they can withstand 2500 hp.
http://www.google.com/imgres?start=...=117&tbnw=213&ndsp=24&ved=1t:429,r:1,s:90,i:7
So what can the wheeler do to achieve ultimate strength in the diff he can afford. Options so far have been to buy billet Main caps, & girdle covers. Now I have a third option, the do it yourself load bolt. With the testing I have just completed you will see that this single improvement will do more than the previous options to prevent ring gear deflection. 1st lets define a load bolt. A load bolt sits about .003" behind the back side of a ring gear opposite the pinion. Thus when ever the ring gear gets deflected under torque it moves until it hits the face of the load bolt thus stopping further defection. A nice picture of a Chevy HO72 3/4t rear end OEM load bolt can be seen at post 56 of this forum.
http://www.pirate4x4.com/forum/showthread.php?t=771317&highlight=ho+72&page=12
Next are a few pics of load bolts I have installed and the Kit I am marketing. Right now I have them for Jana 76 & D70 applications. Although I don't see why I couldn't make similar kits for many other applications.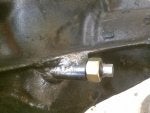 Update:
If you found this thread you'll also be interested in our full product line of Differential Hybrids;
HOW TO INSTALL:
Load Bolts into Stock housings:/forum/axles-tires-wheels/1059807-load-bolts-how-install-yourself.html
D70 into D60s, Jana 76;
http://www.pirate4x4.com/forum/axles-tires-wheels/946421-jana-76-tm-how-install-70s-your-60-a-3.html
D80 into D70s, Jana 87;
http://pirate4x4.com/forum/showthread.php?t=958266
D50 into D44s, Jana 54:
http://pirate4x4.com/forum/showthread.php?t=948996
New 8.9" JKs into 44s Jana K4:
http://pirate4x4.com/forum/showthread.php?t=957491
Holding it all together, Jana Cover Girdles;
http://pirate4x4.com/forum/showthread.php?t=958047