Discussion Starter
·
#1
·
Hey Guys, new to the site, and I have some questions about hard wiring the shift motor on an MP3023 transfer case.
A little back story, I recently inherited a project from a relative (8 years in the making and counting). It is an '82 GMC Sierra Classic on a 2011 4x4 chassis. it is an LC9, 6L80E with the MP3023 transfer case. Very long story short, I do not have the TCCM to control the transfer case (burned up with the cab of the donor), but I do have the harness for the shift motor and 2/4 indicator (my guess on that one). Has anyone been able to hard wire a dpdt switch with 25 relays to activate the 4-high and 4-low on one of these things?
I have seen where everyone usually just swaps out the MP3023 for an NP241C. I have one on hand, but I am needing more of those green pieces of paper that everyone loves so much to get a new input shaft and get a rebuild kit for it.
Right now I have a 4wd truck with no 4wd, and it makes me upset. Font axle activation is not an issue, I found how to do that, but it seems like no has done or has tried to do a hard wire set up on this. I have looked at several sites and YouTube university and came up empty.
I found a wiring pin out on a tech write up that has the Red/Black wire as battery voltage, Tan is motor A control, and Orange is motor B control. I am guessing that Tan and Orange are grounds since there is only one power wire. The smaller Tan wire is a lock solenoid control, which is what I am guessing holds the clutch fork in place. Pins E through H don't affect me since I don't have the TCCM.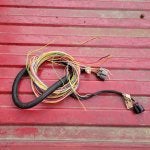 The truck is still a work in progress, so don't judge it too hard. Did I mention that I am limited on funds for this project?
Any assistance with this would be greatly appreciated,
Big Al