Been getting several PMs about this truck, so I'll compile everything and put it in this thread.
The goals for all of my vehicle builds are similar; Capability, Reliability and Usability are reoccurring themes. This truck is a unique platform to me, as it has about 3x the power and torque that I'm used to working with. Due to the performance aspect, I've spent a lot of time trying to come up with a design that wouldn't hinder/restrict the ability to put the power down.
Here is the spec list on the Engine/Drivetrain:
1998 12v 215hp P7100 Engine
63/68/13 ED Turbo
5x.014 ED Injectors
#100 Fuel Plate
Adjustable OHV
KDP Fix
4k GSK
60lb Intake/Exhaust Springs
18 Degrees
ARP Head Studs
5" Exhaust
Built NV4500
Valair 3650 Dual Disc Ceramic Clutch
Dana 60 Front
Dana 80 Rear
3.55 Gears
Haven't had it on a dyno yet, but I'd estimate it to be a 500hp/1000tq combo. Runs like a raped ape for a 7800lb truck.
When I first got the truck, it definitely looked pretty rough. Had some oil leaks, and a big trans leak. Here's a pic: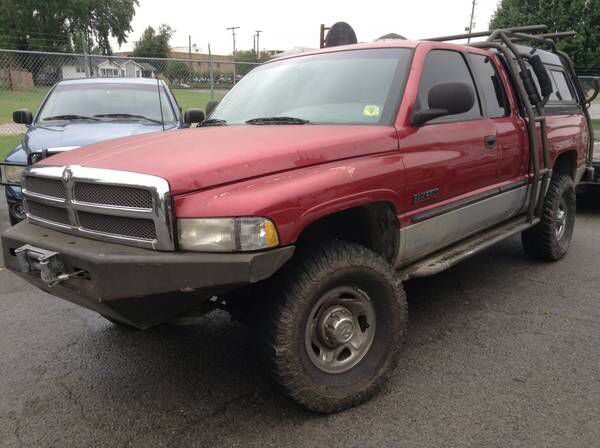 Can't see it from this angle, but the passenger fender was caved in pretty good as well.
First thing that I did was cut the rear exo off and remove the topper. Not a fan of the mid-top or high-top shells. Then fixed the big transmission leak. It ended up being a torn shift tower gasket. Filled it back up with the Mopar liquid gold, and it hasn't leaked since.
Also picked up a nice black toolbox to put all my junk in!
Pics: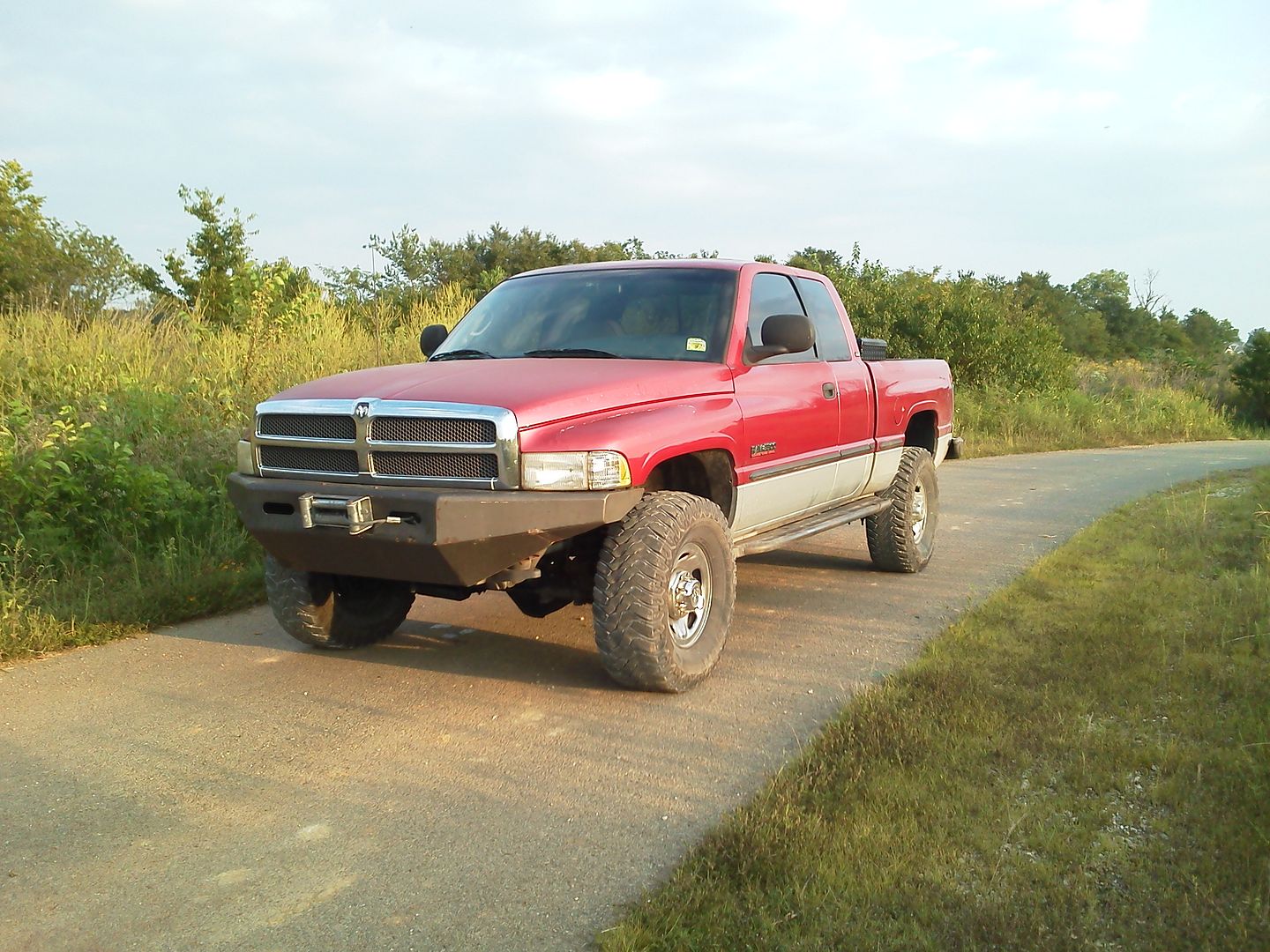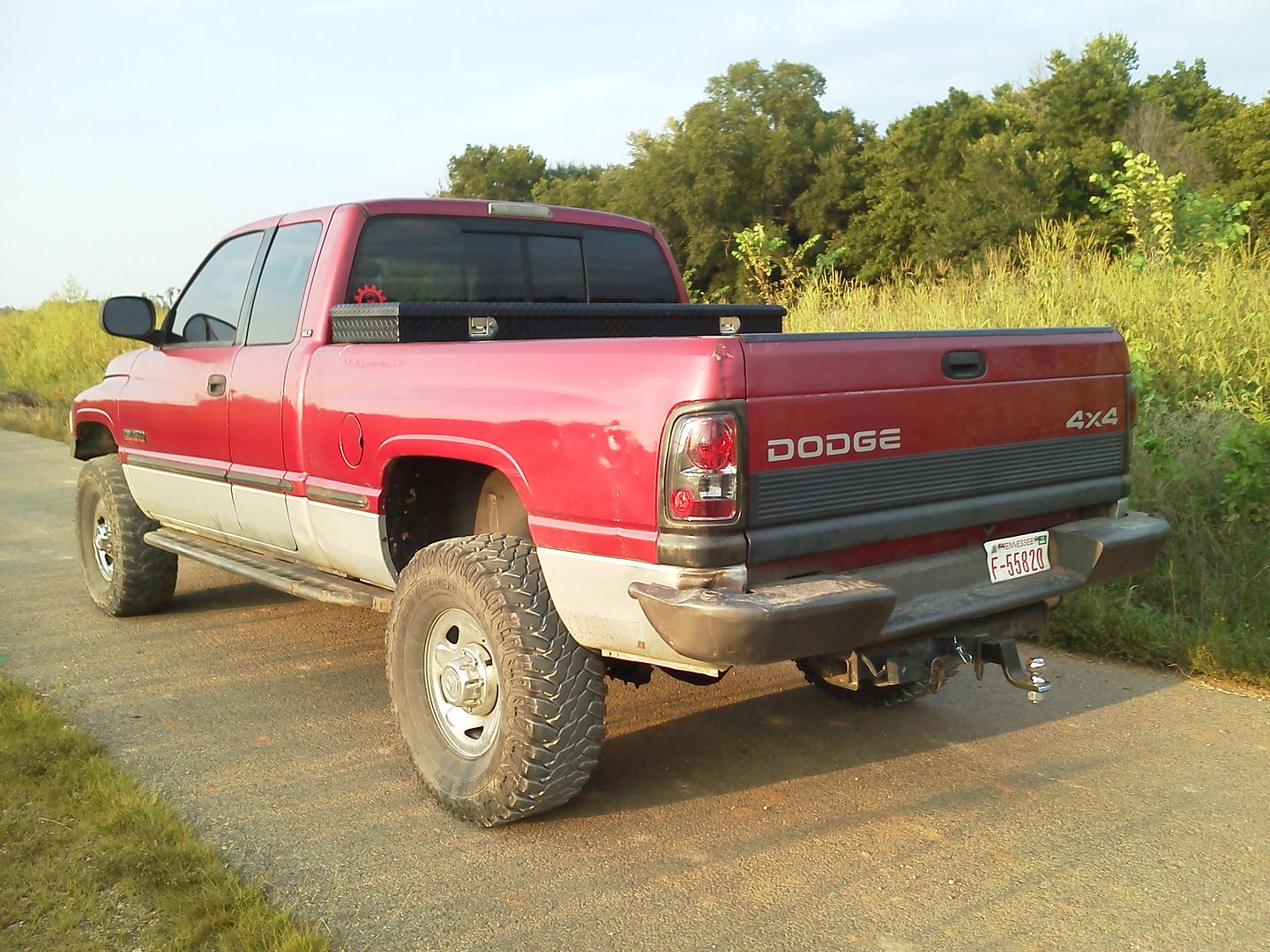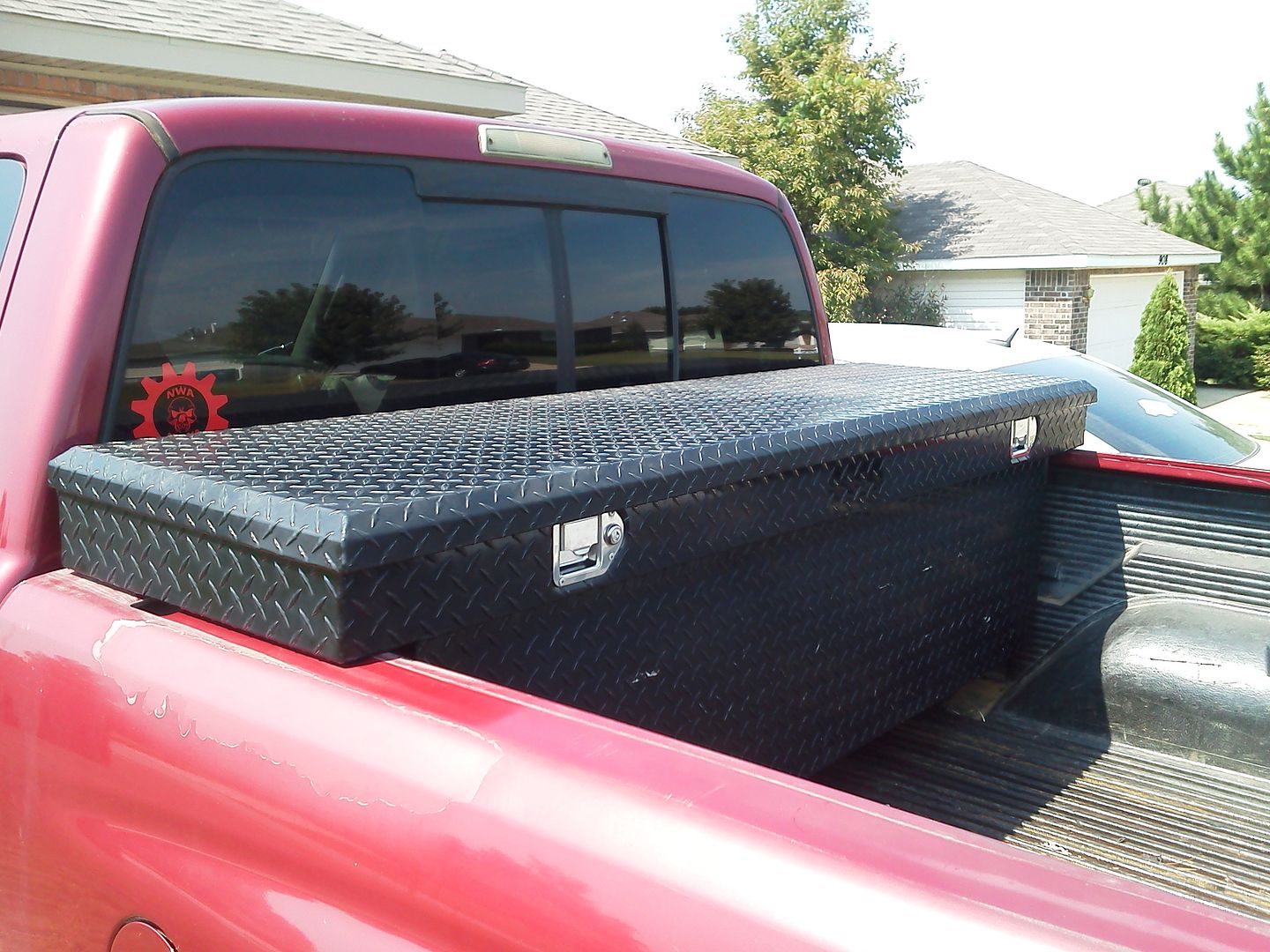 After that, I took it to the local diesel gurus to work their magic on the injection pump timing/head studs/4k GSK/Springs.
The stock suspension was pretty well worn out at this point, which was fine as I knew I'd be replacing all of that anyway. I knew that I wanted something that wasn't too tall, very high quality, and would let me really open it up in the rough stuff. Not a lot of options out there for the 2nd gens...
Started looking at Thuren and Carli suspension setups, but Thuren told me that he was pretty much done making stuff for the 2nd gens, as the 3rd and 4th gen trucks were occupying all of his time. Understood.
Carli still has some options, but nothing that I was too impressed with. All of the kits that I saw either used the stock control arms, or replaced them with a stock length control arm...
Then I found Dodge Offroad (DOR), and found that they were local to me (3hr drive).
They offer a full long arm kit, which looked like it would fit the bill perfectly. After many back-forth emails and phone calls, I placed my order, and 3 weeks later, my kit was delivered. Delivered by Danny himself. Great service.
My setup isn't typical by any means, and I believe it's one of a kind at this point. However, after some trial and error during my install, I would say that it's now a ready-to-order combo and would make a LOT of 2nd gen guys happy.
Here's what I ended up with:
Full D.O.R. Long Arm Setup
2" x 0.25" DOM Control Arms - Bent for body mount AND tire clearance
2.5" Progressive Coil Springs
Drop Trackbar typically used on 6-7" lifts
Drop Pitman Arm
Front axle pushed 1.75" forward
Swaybar Links
Shackle Flip - Factory block removed - Nets 1.5" rear lift overall
U-Bolt Flip
Fox Shocks all around
The install requires cutting off all of the old control arm mounts on the frame, trimming some of the floor pan (lower skin, doesn't protrude into cabin), modifying a couple body mounts, cutting off old shackle mounts...ect.
So why spend all of that time/money for the same lift height as you get from the typical "leveling kit"?? :flipoff2:
Performance. This is the best driving truck that I have ever been in. From cruising around town, to interstate driving, to pounding dirt roads, to catching some air while ripping across a field at 70+mph.
No issues putting all the power down on any terrain.