Discussion Starter
·
#1
·
I figure if I start a post on it, you guys can heckle me until I get it done
So here is what it looked like when I got it back in the early fall: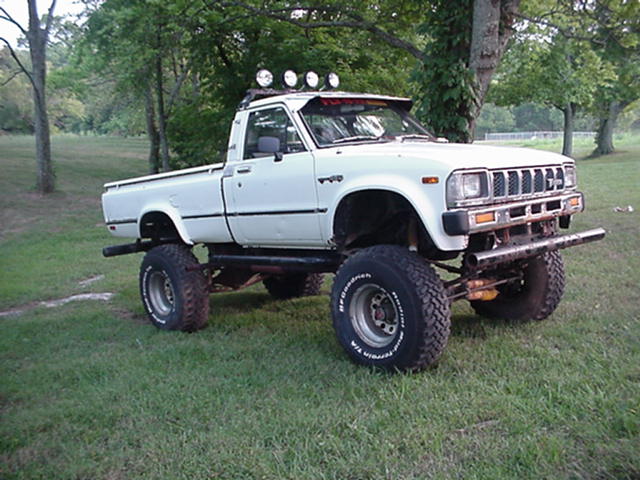 Stats as it came to me:
-1983 Toyota long bed 4x4
-Stock axles, 5.29's
-3" body lift
-5" front springs, 4" rear blocks w/ add-a-leaves
-35" BFG M/T's
-carbed Chevy 350, TH350, adapted to Toy case
-lots of items that guarantee this was once a show-type truck to *someone*
Here's what I already have for it:
-Stock 72 Chevy Dana 60 rear, 65" wide
-rear weld-on disk brake brackets from
www.metalfusionfab.com
-4.88 gears, welded carrier
Narrowed Dodge 60 front to 63.5" wide
-Custom one-off 3/4 ton brake disk brackets (same calipers & rotors front & rear) from
www.metalfusionfab.com
-stock 4.88s
-ARB
Front springs are a combination of a used Skyjacker 5" pack using top 2 rear main leaves. Front hanger will be 1" forward for a total of 3".
Rear springs will be the ones from my 90 truck - stock 90 model upper 2 main leaves combined with the rest of a used Skyjacker 4" pack.
Wheels are Hummer w/ magnesium beadlocks, runflats cut off. Tires are well used 42" TSL's (till I figure out what works on here).
Shocks are 9012's front, 13" ProComp's rear
Still undecided on steering - I have the IFS box, but may go full hydro on this.
The carb on the 350 is getting tossed in favor of a prolane setup, using a 40 gallon tank in the bed.
I am pulling the single Toy case out and will be installing my dual case setup from my old truck.
My old truck was MUCH nicer than this one will be, and I wish I had the time to build it back up, but I am barely finding the time to get started on this one - so it will have to do.
Anyway, that is what I have so far - I will update this weekly with pics and details of my progress