Discussion Starter
•
#1
•
I'm installing front and rear Yukon Ziplockers and regearing my 2016 JKU Sport, going from 3.21 to 4.56. I've started with the rear Dana 44 and would like some input on the patterns I'm getting.
I started with the stock pinion shim, which was .048 thick, and the pattern was really deep. I don't have picture of it and I've tried a few different setups before I started keeping track. One thing I've noticed is I cannot get the drive side to move any closer to the toe then what you see in the first attempt.
Legend for the pictures:
P = Pinion shim thickness
RG* = Shim thickness on the ring gear side of the carrier*
NRG* = Shim thickness on the NON ring gear side of the carrier*
BL = Backlash (Spec: .006 - .010)
* The master shims on both sides of the carrier are .177 thick and are not included in the shim thicknesses shown in the pictures.
Spreader tension was removed before running patterns.
First attempt:
Second attempt (Backlash is to tight):
Third attempt: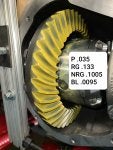 I appreciate your guys input!