Discussion Starter
•
#1
•
Well, this is the build thread for my new truck.
I TRADED THIS:
Crazyblaze Build Thread
The CraZyBlaZe was pretty much topped out unless I tore it totally apart again to go full buggy. To go wheeling anywhere near KC it is at least a 1.5 hour tow. Most of my friends had gotten out of wheeling/camping or moved away so it just wasn't as fun as it used to be.
One last hug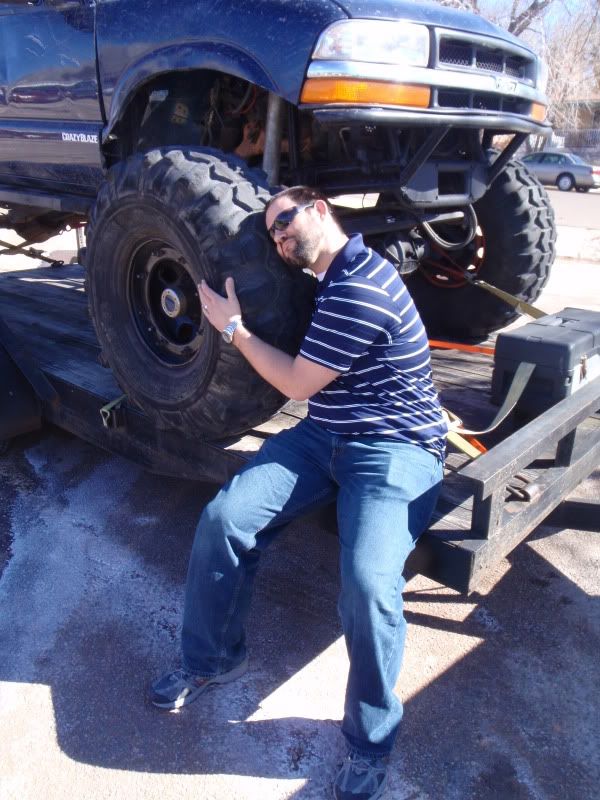 FOR THIS (plus some extra parts):
Specs copied from his sale thread:
1971 Chevy short bed. nice truck but needs some paint and little body work to be super nice. Runs strong, motor and tranny have maybe 300 miles on it.
Dana 44 front, open 4.10
14 bolt ff rear, open 4.10
Turbo 400 custom built for motor and truck from phoenix transmission
Np 205
37"x14" iroks 99% tread
16x10 imitation welds
Engine started life as a 2 bolt 454. now solid roller 496
Bored .060" with torque plate
Decked
line honed
milodon splayed billet maincaps installed
Eagle 4340 forged 4.25 stroker crank
Eagle 4340 forged h-beams 6.385"
SRP forged pistons .230 dome 10.6 to 1 comp. ratio
File fit moly rings
King race bearings
Fully balanced to less than a gram
Milodon hv/hp oil pump
arp main and head studs
Howards solid roller cam and lifters 285/290, Lift .660/.675
Pro comp 320cc rectangle port aluminum heads
Fel pro mls head gasket
Stainless steal roller rockers
gear drive
heavy wall comp cams pushrods
edelbrock vic jr 454r intake
Pro form 950 race carb
Dynoed 565 hp @ 5500 585 ft/
[email protected]
4500
Made over 550 ft/lb from 3000 up
Hooker competition headers, dual 3" with flowmasters
If you look closely in the bed of the truck above, he included a complete chevy DRW D60. Also included was a full hydroboost unit.