To start the build name came from my Dad. He says that every time I tell him about a new part that I am getting it reminds him of the Johnny Cash song, and all the different years. Much of this build thread is a catch up to get to where it is now. Nothing is too crazy just your average Toyota build. Anyway on with the specs, and then the pics for those that like them.
86 4runner
22re
.40 over with engbldr street rv head, lc double row timing kit, and lc headers.
w56 with marlin 1600 lb clutch swapped in place of factory auto
single stock case for now, dual stock cases in the future.
Trail Gear Creeper Locks
37 Pit bulls
13.5" bob
rear fenders cut 2"
Front axle:
5 leaf Ruf
High angle driveline shaft
Tg high steer
Aussie locker
5.29's
30 spline Longs
Chromo hub gears
ifs hubs
Front Range Tacoma brake kit
Tundra rotors and calipers
longfield wipers
soon to have six stud mod on the hubs when I get to it
14" Bilstein 5150's
Rear axle:
f150's
Detroit
5.29's
Ford 13" Monroe shocks
Davez disc brake brackets with sfa rotors and calipers
Future plans:
Tube work (cage, sliders, bumpers)
Duals
Links in the future
On with the pics:
Starting point paid 950 with a blown motor and messed up front end.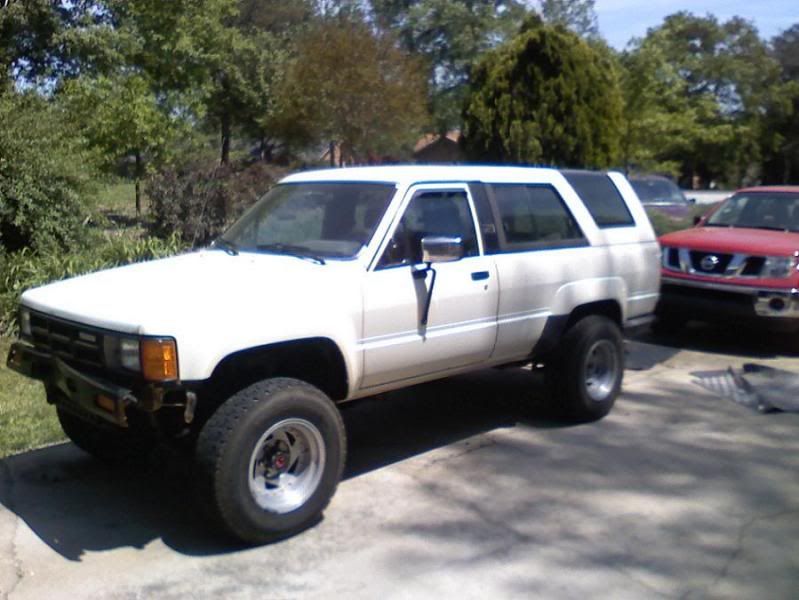 Ran 31's for a while, and then threw 33's on. Blew the front end apart first trip out with them.
First I swapped the ford spring while I gather parts for the sas. Ran explorers for a while then went to f150's. Used sky's 63" swap kit.
Mounted rear shocks in a worthless position
.