Welcome to the Tech Garage! Here you will find:
The world-famous BillaVista Tech Articles
Technical product reviews based on real tech and facts
A wealth of technical reference documents, charts, and tables
BillaVista's Tech Based Product Reviews
BillaVista's Data Mine
| | |
| --- | --- |
| BillaVista's list of "Must Read" technical and fabrication books / references | Billa Vista's HUGE collection of Technical and 4x4 related .PDF files |
| (you need | |
Billa Vista's Tech Articles
** Important note. Most of the tech articles are large and with many pictures. **
2011 Articles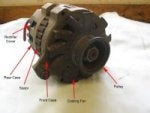 Fastener Tech
- In this monster article Billa Vista covers all aspects of fastener tech, including answering the following questions:
Should I use Grade 5 or Grade 8 bolts?
Should I use a bolt or a stud? What's the difference?
Lockwasher, castelated nut, or Nylock nut - which works better and why?
What's the proper method for setting and checking torque?
Fixing a sloppy shifter.
A quick and dirty little article about fixing the notorious SM465 sloppy shifter problem. Worth a look for other manual tranny owners too, as the fix will likely work for other models too.
Best of all - it showcases the incredible talent of my new graphic/technical artist, Lonny Handwork.
Check out the full size pic of the 3D cutaway of the Sm465 shift tower - amazing!!
2004 Articles
Inside the Dana 20.
Part 2 of project "Uber-20", this is a combined tech article / product review showing every single step of the teardown and re-assembly of a Jeep Dana20 transfer case with the Tera Manufacturing Low20 3.15:1 low range kit.
Also includes some calculations and discussion on available gear "ratio stepping" - a concept of great interest to all - regardless of which transfer case you run.