1997 Spider Lake Cleanup - Trail Maintenance
P.O.R. Trail Maintenance Program
Spider Lake Cleanup, 1997
The Pirates of the Rubicon held it's first official Spider Lake cleanup September 1997. The project was an overwhelming success - the club and other volunteers gathered an amazing amount of trash! 30+ garbage bags (40 gallon bags) were filled in all! In addition to the bags of trash, we also recovered two sunken boats! The bullet ridden boats had been resting on the bottom of the lake for a long, long time. One of the boats was wooden and badly decayed. The other boat was of aluminum construction, and last registered in 1969.
The Pirates are conducting it's 2nd annual Cleanup in September. If you are interested in joining us, email the club president for more info.
Here is the SCUBA crew in the Zodiac scouting out a section of lake to dive.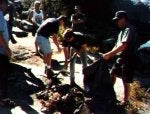 Here the Technician is scooping trash into a bag. This trash was recovered from the bottom of the lake.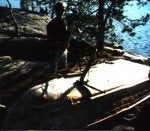 Here is the old aluminum boat we found at the bottom of the Lake. It was last registered in 1969. The cleanup was a success. We would like to thank everyone who joined in and participated. We plan on doing it again next year, and could only hope to be as successful as we were this year!