Fresh off rolling and parting out my 4runner I traded my high school project car for this colorful lady.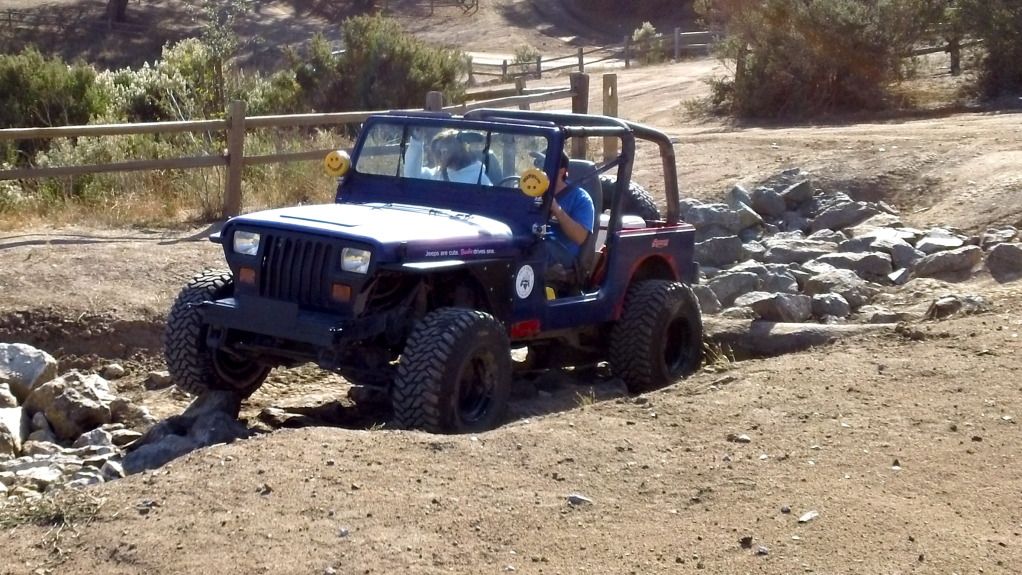 How I got it:
95 YJ 2.5L with ax5 and 231 with 185k
3" SUA lift springs 33s d30/35
Had a blast with it as it was, went on a few trips, added those fancy tube fenders, took it on a few more trips and redlined every shift around town.
After my rolling experience I thought I'd get on the safety equipment ASAP. Used a Synergy sport cage with some tweaks.
Welder buddy getting after it.
Jeepin
Added some Crow 5pts and suspension seats. Here is how the cage ended up, I know the distances are a little off and I should've had all those top tubes converge at one point, but oh well.
I bought an 03 Super Duty D60 and a 14bolt, air shocks, an SM420 along the way as well with big plans/dreams. Couldn't figure out if she should go under the knife asap or just stockpile and blast the 30/35 combo.
Kept wheelering it, blew a bead up at a Bald Mountain snow trip (when we had snow)
Got tired of taping my tail light on so I bought some Poison Spyder comp cut corners and was installing them on a Friday night and someone suggested Pismo the next day. I wasn't happy on the idea, but I went along anyway.
Poop. I did it again.
Passenger and I walked out unscathed. Very lucky once again, but having the cage/seats/harnesses definitely saved us a trip to the ER.
Landed shackles first. Broke the springs, punched the front output side off the tcase with the driveshaft, etc.
That was 2 years ago this week.
Replaced the front springs with some 7 leaf waggys and got a CJ grill, hood, and windshield frame/windshield as those were all casualties.
Doing some mock up.
Dicked around with the d60 more, sold the 14bolt, was broke, was lazy, then realized what the hell am I thinking. Having a tow rig and trailer is not feasible for me right now and a one ton 4cyl yj isn't really what I want to be driving to the trail. So I broke down and sold my 60 and decided I was happy with 35s.
Bought a full float 9" housing out of a dirt track car on CL for what I thought was a steal, but after all the added parts, building a 3rd on the cheap and getting it all to jive it turns out CL axles are expensive. Ended up with a "nascar takeout" detroit, 4.86s, 31sp inner 24sp outer, full float 9. Used Chevy front brakes, unknown rotors, and bored out wheel adapters to convert the 2.5" Gran National hub's 5 on 5 to 5 on 5.5. That only took a year to piece together.
Bought a 241C with an SYE, changed the input to a 21spliner, and got some yokes to work with the 1310s and that is sitting in there.
Stretched the rear at first with some tacoma leaves but they turned out to be too flat. Now have some 2wd F150 springs and the added arch really helps.
On Taco springs:
Now I've sank my teeth into a front d44. Bought it thinking it was a waggy 44 but after getting it mocked up it looks like it is ~64.5" WMS to WMS. The inners I got with it seem to be closest to a late model J10? It now has matching 4.88s, an ancient but unused prior RD07 ARB, chevy flat tops with high steer knuckles, blahblah. Again, had a hell of a time piecing this thing together. Finding parts for a 44 is not as easy as I thought it'd be, but I am cheap.
Still have some machine work to do on spindles for the front, still need to get the 44 under my jeep.
I'm considering cutting the front of the frame off just forward of the motor mounts to run some 2x4 straight forward and get rid of the hump in the frame and to have a clean slate for steering box mounting. I do intend to use those same waggy springs though, I'll probably have to build some crazy drop hanger.
Posted this up to hopefully keep me motivated. I miss being the pilot on wheeling trips and I want this thing to move again.
TLDR Edit: Had jeep, rolled it, jeep hasn't moved in 2 years. Trying to chip away at the mass of project I've created.