Hey everybody, here's my version of "another YJ build" on Pirate.
Like many of you there have been many changes that go into your rig as you own it, this is no exception. I got this Heep at the ripe old age of 16 and have been continuously dumping countless hours and paychecks into it since then, finding out what does and doesn't work along the way. As of now it sits like this
Since I got the rig I have been working part time at the local Auto Parts store, finishing High school, and getting through college so needless to say funds have always been tight to say the least. There hasn't been too many occasions where I could justify busting out the plastic money to get some Jeep bling. Pretty much anything I could build I did because I personally would rather spend 10 hours in the shop rather than 10 hours at work paying for a pre assembled kit. Not saying anyting is wrong with those, but I personally cant go that route
As I have accumulated hundreds of pictures I will try to highlite the key points of this build.
When I got the jeep it had a 3 inch body lift, bald 31's, and a ton of fast and furious neons and seatbelt pads. It also burnt about a half quart of oil every gas tank. I dont have any pics in that state but I immediatley rebuilt the motor, lost the BL in favor of a 2 1/2 Rubicon express lift with homemade 1 inch shackles, chopped the flares off, made the first version of rockers and bumpers and got some used 33 in swampers.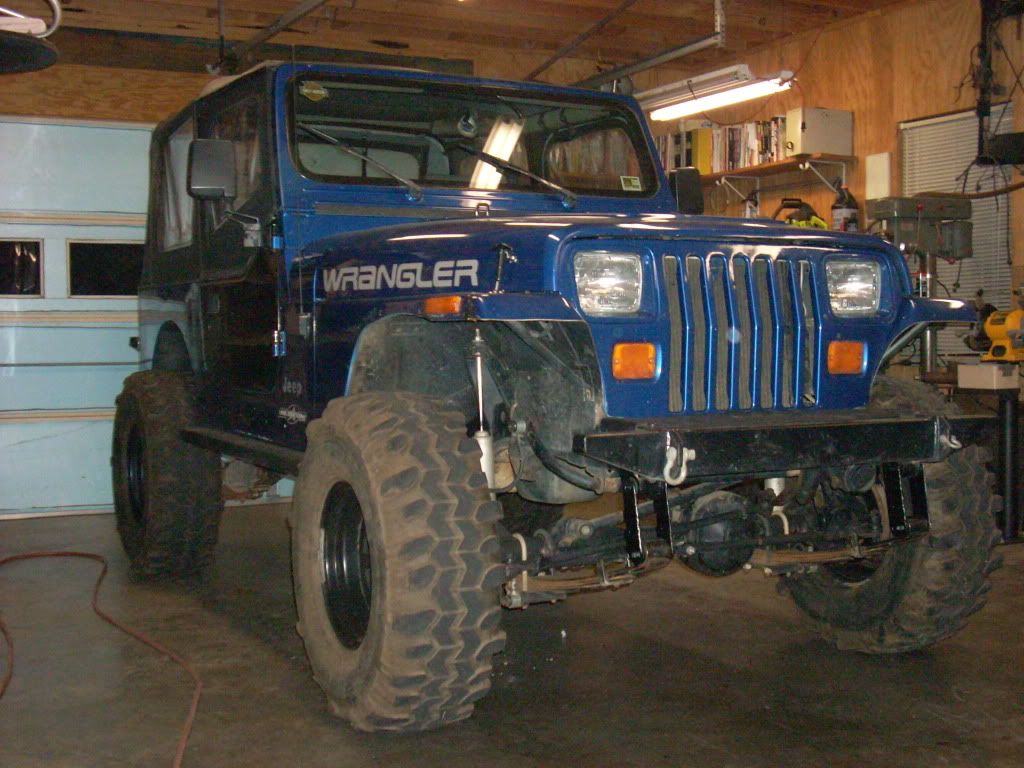 Diddnt like those so I added a miter cut stinger since I dont have a bender and a tire swing bumper in the back. Got a used SYE off a buddies rig, chopped down a cherokee front shaft, sold the stock axles and got a set out of a 4 cyl wrangler with 4.10's, trussed the turd 35 wasted more money on it with a powertrax, trussed the inner c's on the 30, TJ axle shafts, and put a powertrax in it as well.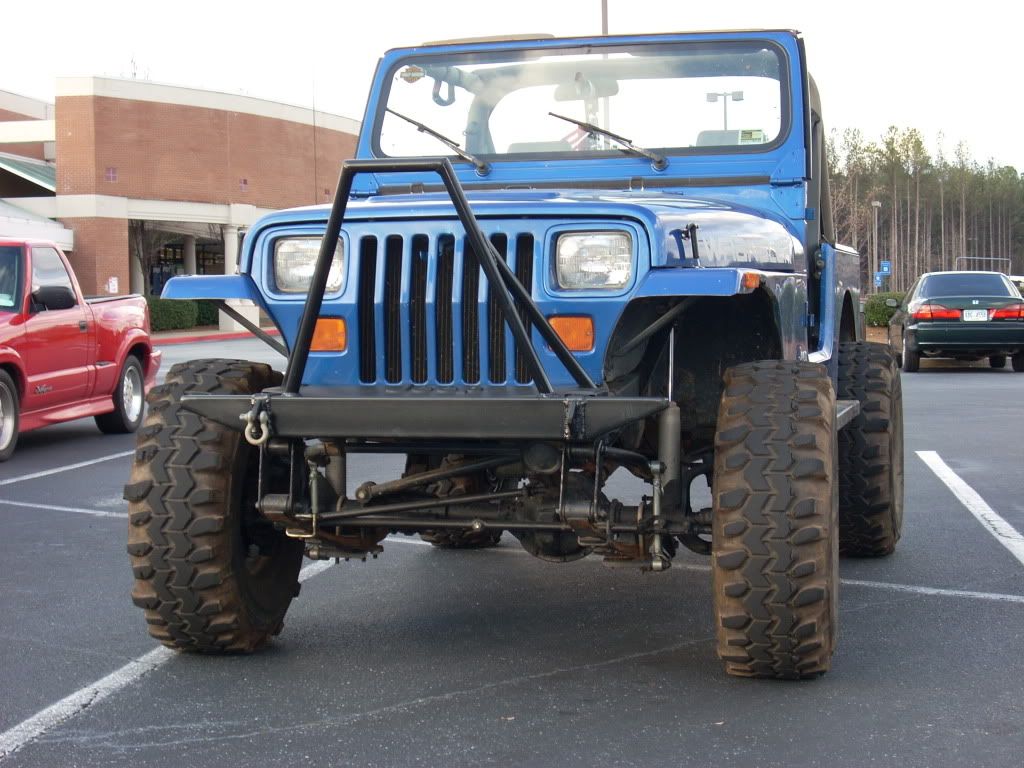 Wheeled and daily drove it lilke this for a while with no complaints except it was still pretty much a bunch of bolt on's. so I decided to strech it with cherokee springs but still keep it level with the front and throw in an 8.8 welded with 4.10's. I got some mystery leaf I had in my yard cut the eyes off and booger welded them to the frame as the shackle mounts. And I obviously didnt know how long the shackles needed to be hince all the holes. First I tried stock cherokee springs with a add a leaf which sucked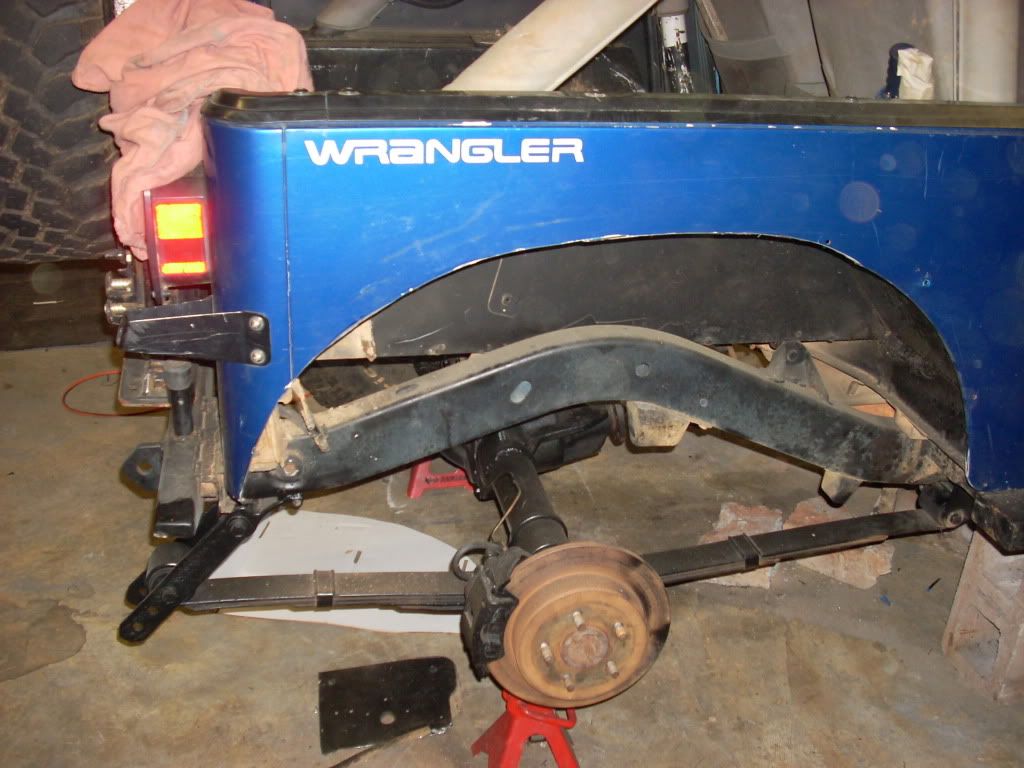 Pulled them back out and pulled the bottom 3 leaves and the military wrapped leaf out of the RE pack to get it to ride better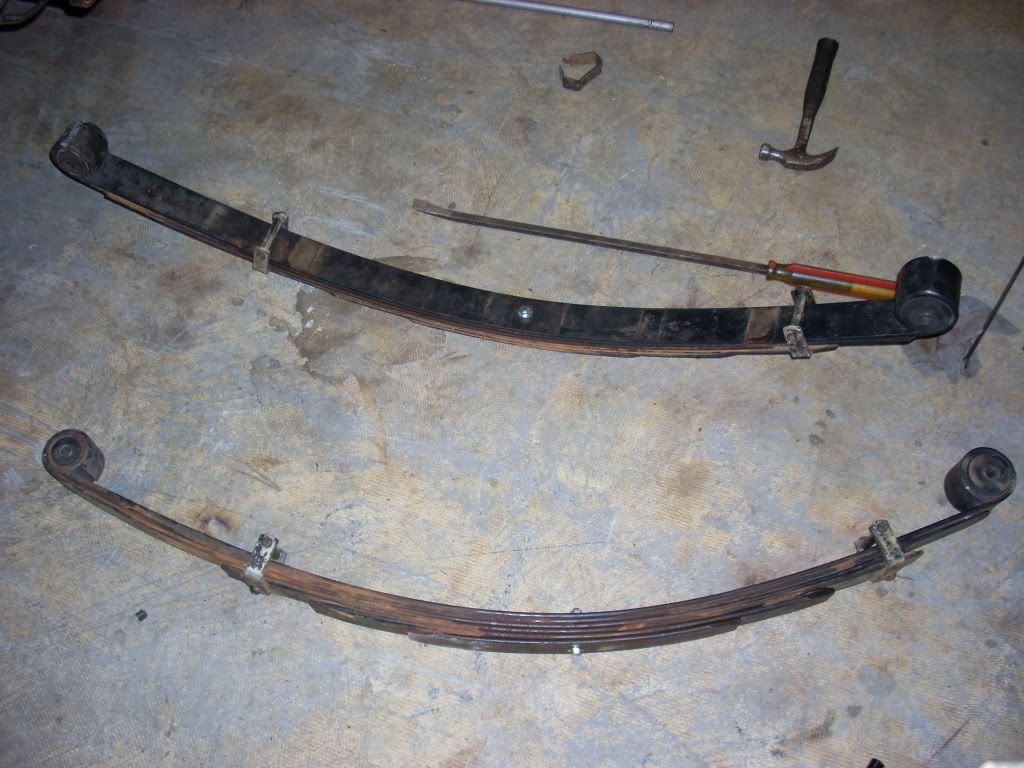 As I am entirely too cheap to buy a fuel cell I moved the tank to the bed, flipped the sending unit 180 degrees and ran lines to the factory hard lines on the frame (holes are now grommeted)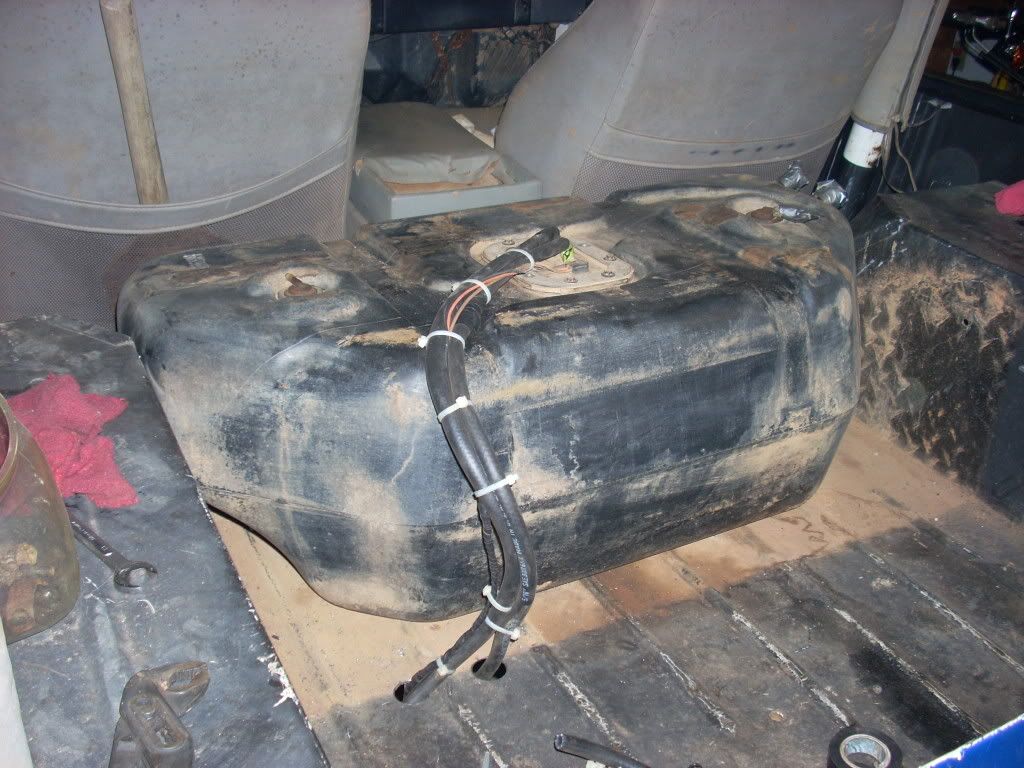 Worked well but I realized that even though the back is spring under you NEED a anti wrap bar with cherokee leaves, oh and shocks help too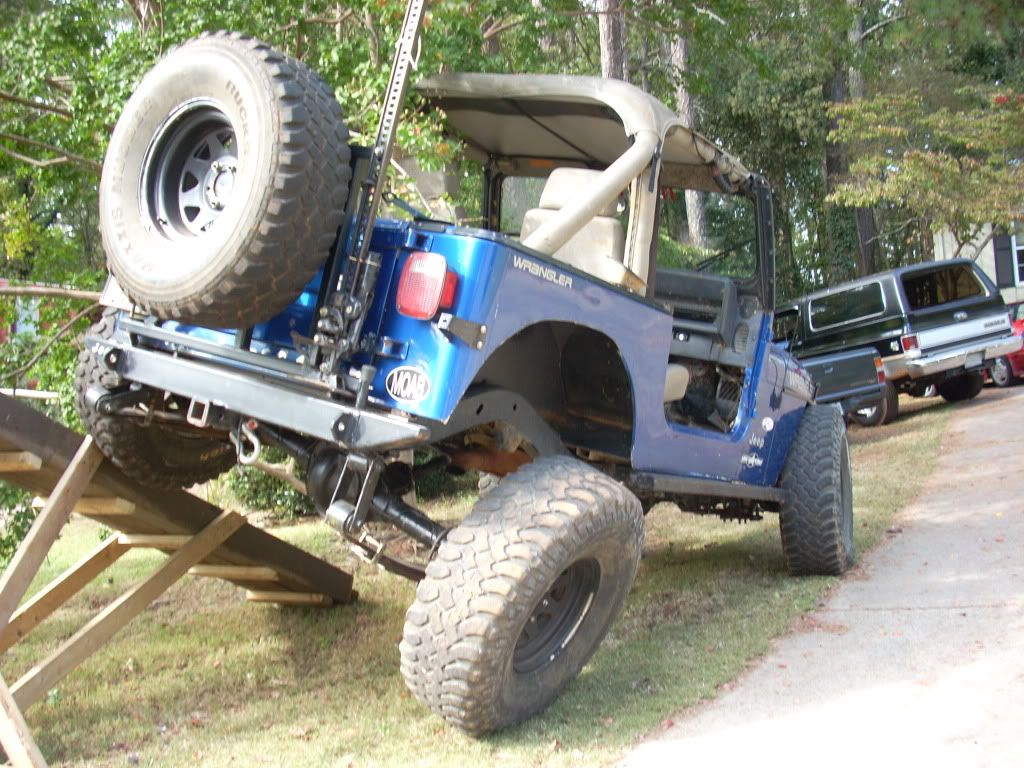 Digging around in a junkyard I found that half ton chevys are spring over and have the u bolts facing down, so I swiped those and put them facing up and a piece of half inch plate under the leaves to mount my shocks too on bottom. The plate between the axle and leaves is just there to level the jeep, no purpose other than that.
Again drove it like this for a while and man I can say the extra bit of wheelbase is pretty cool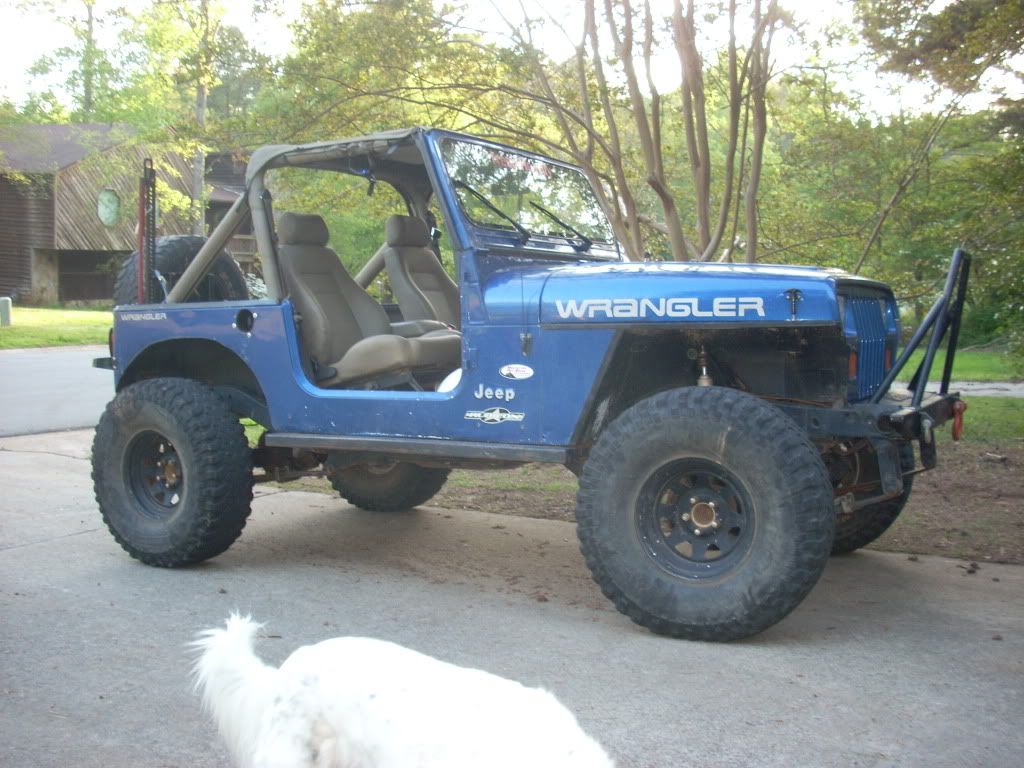 Gotta go to class, Ill put up the big swap next, 44, 14 bolt, 4 inch strech up front, 231 300 all that good stuff