Gettinmg started on a new Winter project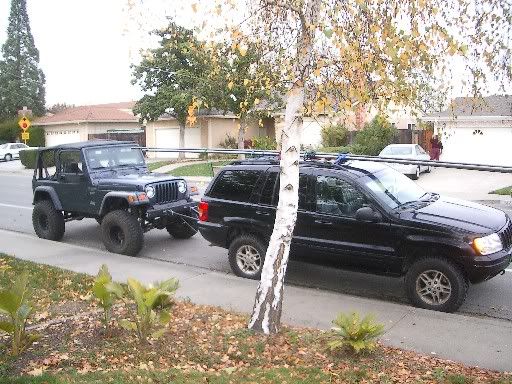 No, my YTJ (see my sig) is not done, and you can not use the words "done" and "Jeep" on the same phrase, that is just wrong
The story behind it: EDIT (forgot to mention, hehe, this is all Doug's - "blueovalyj's fault
, all started with a PM from him "I have a friend sellinga Jeep..." and went downhill from there
I then bought the Jeep from the original owner, the Jeep was in an accident, it slid back, hit a tree and pretty much beat the tub pretty bad, bent the frame, destroyed the gas tank, etc etc. The Jeep is a 2001 TJ,
only 10K miles
, that was bought mainly for mild wheeling, and has a list of goodies, like a D44 rear, 4.56's, great Rubicon Express Long arm kit with 5.5 Inch lift, 35 MT's in great shape, SYE, etc, and even AC (I will be spoiled)!!
The Jeep tank and pump are toast, along with the tub, frame, cage, tie rod and drag link, and some other misc parts. My initial plan was to just chop the rear of the tub, and extend Unlimited wise, straighten as much as possible the frame or redo the rear of frame as much as possible, and get started on a build (bigger axles and meats), but luckily was able to find a guy parting out locally a TJ that had pretty much everything I was looking for, great tub, frame, cage, tank, etc etc, and could not resist putting it back together
I bought and towed the parts Jeep home after the whole Jeep was scavenged of the parts the guy wanted to keep or sell, and am starting the tearing down.
The first step will be to remove the tank from the tub jeep (Donor), get longer fuel lines, and put it in the back of the TJ, so it can move again on its own, along with fixing the steering.
I am debating buildup plans at this point, and coming up with some ideas on what the buildup will end up like. I have been looking into doing a portal axle build and this could be a good candidate. At the same time my fiance is digging the Jeep and the project, so how build it will end up, could depend on that.
So options right now are:
A) transplant parts between Jeeps, (most likely from the Bent Jeep to the Donor, and leave as is, have some fun with what it has and possibly build more in the near future
Sell some of the stuff off (suspension, axles, tires and wheels, and extra $$) then:
B) transplant some parts, extend wheelbase, portals or one tons
C) Canibalize my current rig for the axles, and parts, then sell my current rig (I think I can not bring myself to do it yet
.
Well only time (and $$) will tell, but the project is getting started now